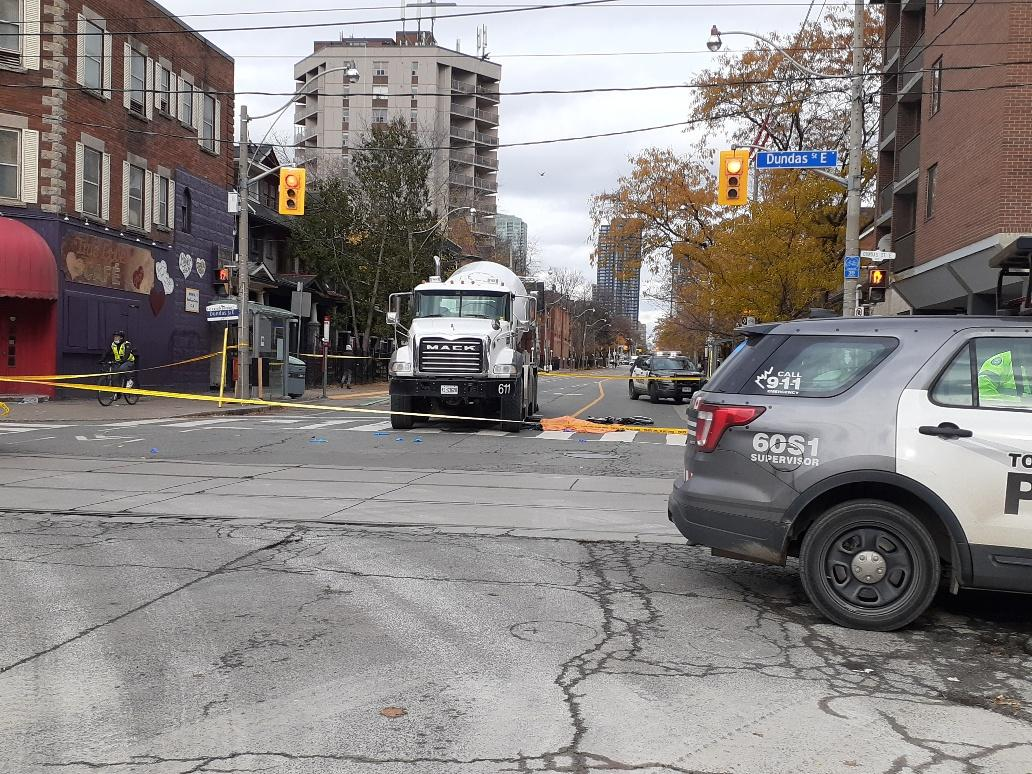 Her name was Christine.
He was 59 years old, he was homeless and used a wheelchair.
Christine, a familiar face, who was indigenous, often begged at busy downtown Toronto intersections.
Christine died Nov. 18 after being hit by a cement truck driven by a 56-year-old man near Sherbourne and Dundas streets, Toronto police said in a Nov. 23 news release.
They are also asking anyone who witnessed it, including anyone with video footage of the area or incident, to contact them.
At the time of the incident, which occurred around 10 a.m., several people were nearby and saw what happened. Her trauma was compounded as it took hours to remove the woman's body from under the vehicle, social worker Sarah Ovens said. toronto.com.
Ovens and his colleagues at All Saints Church and Community Center were unloading food from a truck at the time of the accident.
"This is not the first fatal pedestrian collision I've seen in my time (at All Saints)," said Ovens, who, five years ago, unsuccessfully advocated to make the Sherbourne-Dundas junction safer for vulnerable riders. Of the road.
"(My efforts) never got anywhere," he said, adding that many drivers do not take into account the number of pedestrians entering and exiting traffic at that intersection.
He said more signage, lowering the speed limit and installing lane dividers are simple solutions that would make a big difference.
Downtown Toronto MPP Suze Morrison agreed, adding that more must be done to "ensure that all vulnerable road users are safe in our city."
In a Nov.18 statement, it pointed to the Vulnerable Road Users Act, which requires stricter penalties for driving offenses that result in the death or serious injury of vulnerable road users. That day, her colleagues, MPPs Jessica Bell, Bhutila Karpoche and Doly Begum, reintroduced the law.
"Today's tragic event highlights the urgency with which road safety measures are taken in our communities. These preventable tragedies should never happen on our streets, "Morrison said.
Local accountant Kristyn Wong-Tam said she is "deeply saddened" by the loss of her constituent, someone she said was "well known to neighbors, community leaders and service providers in the center east."
He said the intersection has been on his radar for a long time as it presents "considerable safety risks for pedestrians in the area."
The Toronto Center representative also said that the "significant homeless population" who live in shelters or use services on a daily basis in that area need more assistance, particularly more affordable and supportive housing.
"We have seen for years that they are an additional risk of vehicular injury if left to fend for themselves without adequate and sustained social support," Wong-Tam said in a Nov.18 statement, outlining his plan to revitalization for the Sherbourne-Dundas Neighborhood.
"We know this will increase the opportunity for structurally vulnerable and marginalized people to access healthy and adequate homes."
He also said that with the rise in pedestrian fatalities in Toronto, the city's Vision Zero initiative should be prioritized.
"We must continue to invest all available resources to address road safety concerns and understand how other structural inequalities impact road safety for different communities, especially in the Central East," Wong-Tam wrote.
"Today we have seen firsthand the tragic result when these systemic barriers are not addressed."
Those working to support low-income and homeless people say that access to decent, affordable housing and adequate support will ensure that people do not have to risk their lives begging to survive.
The day after Christine's death, Diana Chan McNally of the Toronto Drop-In Network and street nurse Roxie Danielson took to Twitter to share their thoughts.
A few hours after the fatal collision, a Toronto Native Urban Ministry minister came to make a spot.
Discussions are also taking place for a memorial / healing circle in early December.
Anyone with information should contact the police at 416-808-1900, or Crime Stoppers anonymously at 416-222-8477 (TIPS) or online at www.222tips.com.
Reference-www.thestar.com