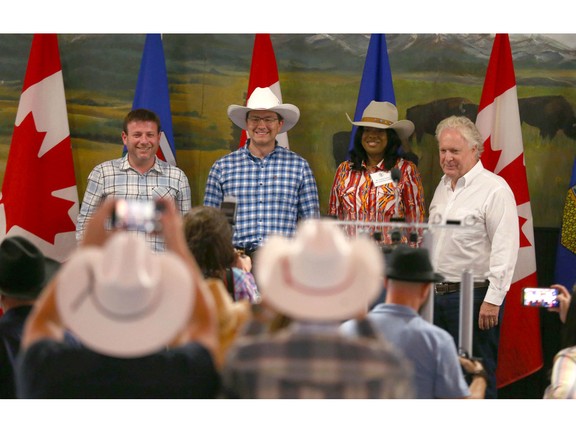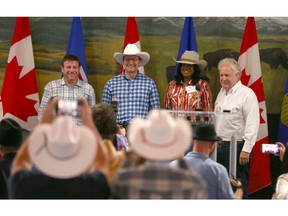 .
According to Calgary Herald columnist Don Braid's account of last weekend's Conservative Federal Stampede BBQ, the divisions within the Conservative Party of Canada were "on full display." Maybe Don should have listened a little more closely. And certainly, the asshole who booed Jean Charest should have. Because if you listened carefully, you saw a window of opportunity, not just for the CCP, but for all of Canada, to defeat the liberals' "one size fits all" approach to governing Canada and rediscover the old and truest meaning of Canada's diversity. : federalism.
.
Charest, the former premier of Quebec, publicly endorsed all the key elements of the Alberta Fair Deal report: replacing the RCMP with a provincial police force; collect our own taxes; control our own immigration; and most importantly, withdraw from the Canada Pension Plan and form our own Alberta Pension Plan. Quebec already has all of these programs, and there's no reason Alberta can't as well. As Charest said, an Alberta pension "it would be an extraordinarily powerful economic tool" for the province.
To address our concerns about the net $20 billion a year that Ottawa drains from Alberta, Charest promised to meet with Alberta's next premier within the first month of his election, to craft a new "Alberta Deal" and bring it to a first meeting of ministers within the first six months. All of this is doable.
.
Quebec Premier François Legault has publicly stated that he wants Quebec out of compensation transfers. Ontario and BC can and should be allies on this issue. Per family, they lose almost as much as Alberta a year: $2,400 a year vs. $2,700 a year. In gross terms, Ontario is the biggest loser at $15 billion to $20 billion annually in recent years.
Rather than perennial adversaries, Charest sees Alberta and Quebec as partners. Both are tired and willing to challenge the "one size fits all" policies that have been surging in Ottawa, and dividing Canadians, for the last five decades. It has happened in the past and, with the right leadership, it can happen again.
In the constitutional negotiations of 1980-1982, Alberta Premier Peter Lougheed worked with Quebec Premier René Lévesque to protect provincial rights against political intrusions from Ottawa. Together, they succeeded in achieving Section 92A to better protect provincial control of natural resource development against any future National Energy Programs. Both prime ministers supported the power of Section 33 even though it allows provinces to override Supreme Court vetoes of provincial legislation. A few years later, in 1988, Alberta and Quebec were strong supporters of the Mulroney government's NAFTA free trade agreement with the US.
.
In 2010, when he was Alberta's finance ministerI went to Montreal to meet with Quebec Finance Minister Raymond Bachand. My mission was to persuade him to join Alberta's challenge to the proposed new national securities regulator. After consulting his prime minister, Jean Charest, Bachand agreed. And together, Alberta and Quebec persuaded the Supreme Court to strike down the new federal law as an unconstitutional intrusion into provincial political space.
A decade later, when the Kenney government challenged the constitutional validity of Trudeau's carbon tax, Quebec intervened in the Supreme Court to uphold Alberta's claim. Although Quebec supported the idea of ​​a carbon tax, it agreed with Alberta that this is a decision that can only be made at the provincial level.
.
And this year alone, Quebec and the other eight provinces have joined Alberta's constitutional challenge to C-69, Trudeau's "no new pipeline" law. Alberta and Quebec are not the only provinces that have had enough of liberals trampling on the rights of Canadians to be governed by politicians who come from their own towns and neighborhoods, rather than distant and irresponsible bureaucrats and judges in Ottawa.
More and more Canadians are realizing that the Liberals' "one size fits all" isn't working and won't work. Canada is simply too big geographically and too spread out demographically. Federalism is itself a way of protecting the rights of minorities. Each province is a minority. Yes, Quebec is a different society. But so is every other province in its own way.
.
That is why the founders chose a federal form of government instead of a unitary state. It could be said that it worked well until Pierre Trudeau arrived. Since then, liberals have thought that the challenge of national unity can be solved with more and more federal intrusions into policy areas that clearly belong to the provinces: health care, education, the environment, and now even child care. After 60 years, it is clear this is not working for anyone except the Liberal Party of Canada, which dividing Canadians has ruled Canada for 40 of the last 59 years.
As Braid correctly reported in a previous column, Charest is the first federal Conservative leadership candidate to make such specific promises to Albertans. But none of the others disagree. For Alberta native Pierre Poilievre, it goes without saying that he agrees. As for Leslyn Lewis and Roman Baber, they cannot afford to disagree, given the importance of Alberta in the CCP's leadership election.
And only two days later in a Alberta Stampede Fairness Breakfastthe five leadership candidates to replace Kenney have pledged, if elected, to pursue the "more Alberta, less Ottawa" reforms endorsed by the UCP's Fair Dealing Panel.
The stars are aligning. A window of opportunity has opened. As Peter Lougheed used to say, for Alberta, the time is NOW.
Ted Morton is Executive Fellow of the School of Public Policy and Professor Emeritus at the University of Calgary. He also served as Alberta's minister of finance and minister of energy.