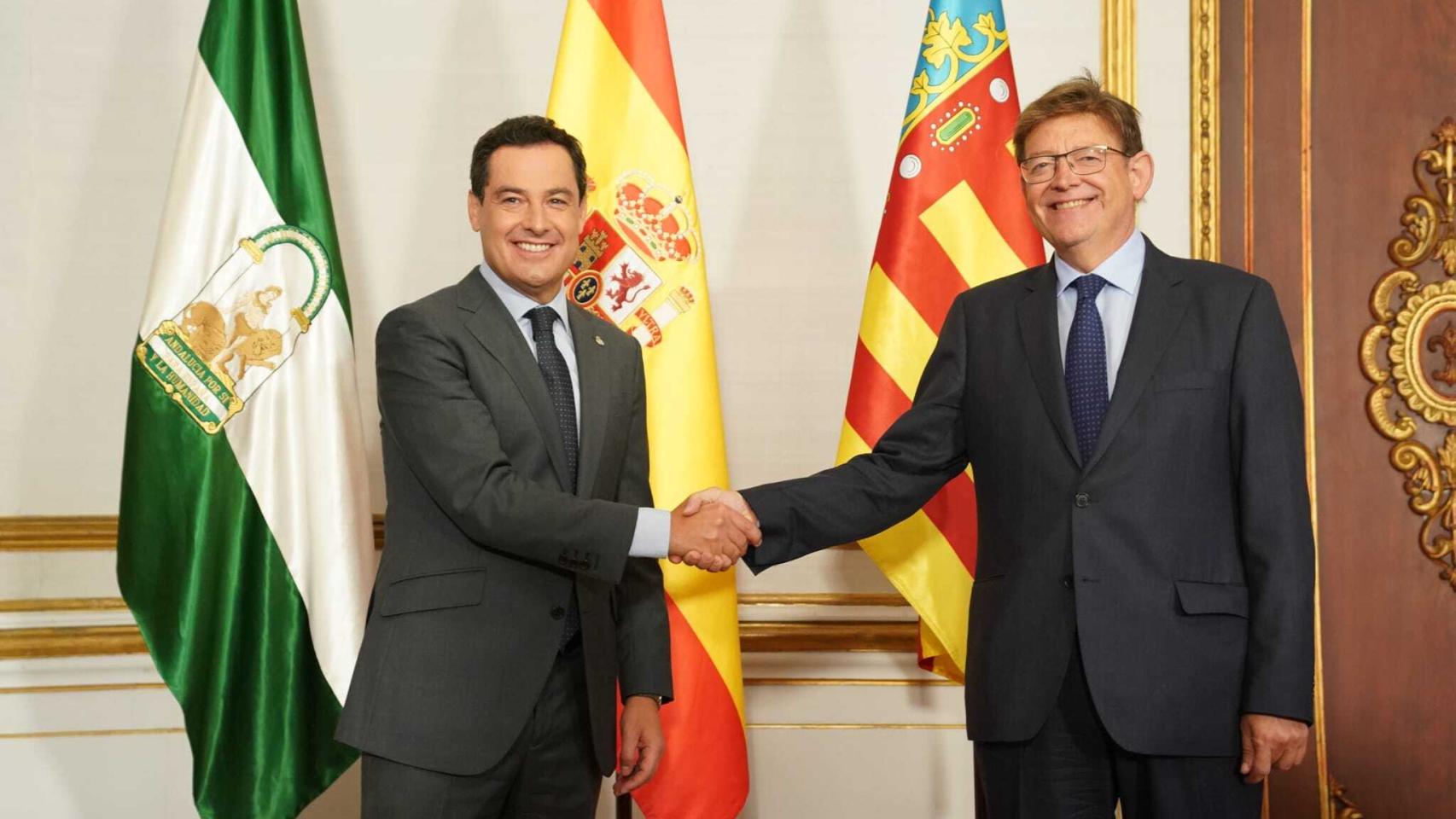 The presidents of the Junta de Andalucía and the Generalitat Valenciana, Juanma Moreno (PP) and Ximo Puig (PSOE), announced this Tuesday the "alliance" against the under-financing of both autonomies, which are, by far, those that receive the least funds per inhabitant from the State. Both launched a concrete proposal to correct this scenario in the short term: the creation of a "transitional fund" with "at least 1,700 million euros" that the Government of Spain allocates annually to the two territories.
"We have tried to forge an alliance for what unites us and that urges us," said President Puig, who stressed that both regions add up "almost a third of the inhabitants of Spain, 30%". "We must stop the financial hemorrhage," claimed Moreno. "We need urgent measures, and the proposal we are making offers us a way out," he added.
The two presidents, without abandoning the demand to "undertake a reform of the autonomous financing system", advocate this "temporary" solution to alleviate their under-financing per inhabitant, which is around 100 euros for each resident in Andalusia and 200 euros for each inhabitant of the Valencian Community, as specified in their appearance.
In sum, Moreno Bonilla encrypted the underfinancing of Andalusia as "800 million depending on the year, on occasions it has risen to 900 or 1,000. "In the case of the Valencian Community, the amount exceeds each year 1.3 billion of euros.
News in update
We are working on expanding this information. Shortly, the editorial staff of EL ESPAÑOL will offer you the update of all the data on this news.
To receive the latest news on your mobile phone, you can download the application of our newspaper to iOS devices and Android, as well as subscribing to access all exclusive content, receive our Newsletters and enjoy the Ñ Zone, only for subscribers.
Follow the topics that interest you
Reference-www.elespanol.com