"This was the biggest match of my career and I'm glad it was here, because I grew up in this neighborhood and have been coming to this tournament for years."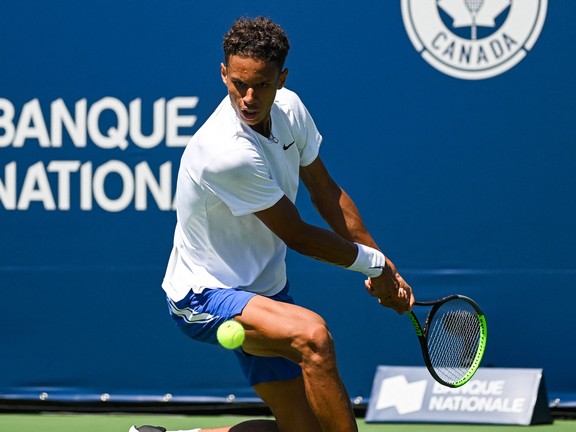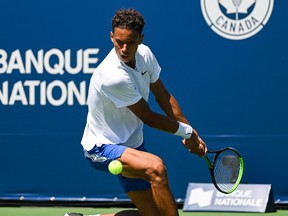 .
Gabriel Diallo said he was nervous when he took the court for his first-round qualifier at the National Bank Open on Saturday, but it didn't show when the 20-year-old Montrealer defeated Australian James Duckworth 6-3, 7-6. at IGA Stadium.
.
"This was the biggest match of my career and I'm glad it was here, because I grew up in this neighborhood and have been coming to this tournament for years, and I worked this tournament in the stringing room when I was little. 15 and 16," Diallo said. "It was great for my family and friends to see me play here."
Diallo is a bit late. He trained at the National Training Center until the age of 15 and then moved to Quebec City to train with Félix Auger-Aliassime's father, Sam. As his youth career drew to a close, he decided to head south and accepted a tennis scholarship to the University of Kentucky.
"It was a no-brainer," Diallo said, adding that he needed time to mature and grow into his 6-foot-7 frame.
"I like the coaches there and my teammates are great, and it's an opportunity to get a good education," said Diallo, who will return to Kentucky to play and complete a bachelor's degree in finance.
.
He reached the quarterfinals of the NCAA singles championships in May and helped Kentucky advance to the team finals before losing to Virginia.
Diallo won an ITF Futures event this year in Michigan and reached the finals in two other Futures events. She has earned enough points to reach No. 665 in the ATP rankings. His performance on Saturday marked his first appearance and his game against Duckworth, who is No. 59, indicates he can play at a high level. Nerves aside, he showed the ability to improve his game on key points.
Diallo will play Hugo Gaston of France on Sunday for a place in the main draw. Gaston, who is No. 74, had an easy run through the first round when Michael Mmoh of the US withdrew with injury after falling behind 3-0 in the first set.
.
Diallo was the only Canadian to make it to the second and final qualifying round.
His Kentucky teammate, Liam Draxl of Newmarket, Ontario, lost to Taro Daniel of Japan 6-4, 6-2.
Daniel Altmaier, a German ranked 79th, had too much experience for Jaden Weekes, a 17-year-old from LaSalle. Weekes, who is ranked 21st in the International Tennis Federation junior rankings, showed strong service and volley play in his first ATP appearance. He intends to focus on professional events after concluding his junior career this month at the Canadian international junior event in Repentigny and the junior US Open in New York.
Juan Carlos Aguilar, who was born in London, grew up in Montreal and attended college in Texas, pushed Frenchman Arthur Rinderknech to the limit before losing 6-3, 6-7, 6-4. Aguilar played the Davis Cup for Bolivia, but has since switched his allegiance to Canada.
Canadian Davis Cup player Steven Diez, a native of Toronto and based in Spain, was eliminated by Australian Alexei Popyrin 6-3, 7-6.
Ontario's Kelsey Stevenson lost to Italy's Fabio Fognini 6-3, 6-1.
Local star Auger-Aliassime gets a favorable draw for the National Bank Open

Leylah Fernandez de Laval enters the bracket with World No. 1 Swiatek at the National Bank Open

Rafael Nadal withdraws from the National Bank Open due to abdominal injury