Bermuda. Flip flops. Let's do it.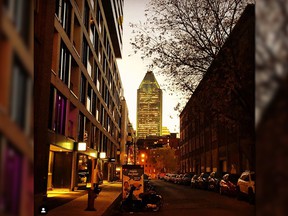 Article content
Today won't be the warmest November 9 we've ever seen (that was in 1945, when it reached 19.4 C), but the average temperature for this day is 7 C and we're going to more than double.
Environment Canada is calling for a combination of sun and clouds with a maximum of 15 C. There will be sunshine the next few days, but then prepare for rainy days and days with temperatures dropping during the week.
At night: Possibility of showers. Minimum of 4 C.
Don't forget to send your Montreal photos via Facebook, Twitter and Instagram by tagging them with #ThisMtl . We will present one per day right here in the morning archive. Today's photo was posted on Instagram by @zoeboudreau .
Quote of the day:
We live in a society that is exquisitely dependent on science and technology, in which almost no one knows anything about science and technology. – Carl Sagan
This is what the traffic looks like right now:


Reference-montrealgazette.com