In 2013 began Fashion Mexico in the state of Veracruz, under the direction of Thalía Garla, actress and designer and as deputy director Daniel Alarcon, communication scientist and designer. Both joined forces and creativity to make a fashion day regional, with the mission of exalting the designers of the region, supporting musicians and entrepreneurs. This path took a pause and now under the "International Festival of Xalapa and its Culture"And under the slogan" Life can stop, fashion cannot ", Moda México returns with the mission of resuming the desire and enthusiasm to dress and put aside the rest clothing that made us adopt this confinement so much for the Covid-19 pandemic.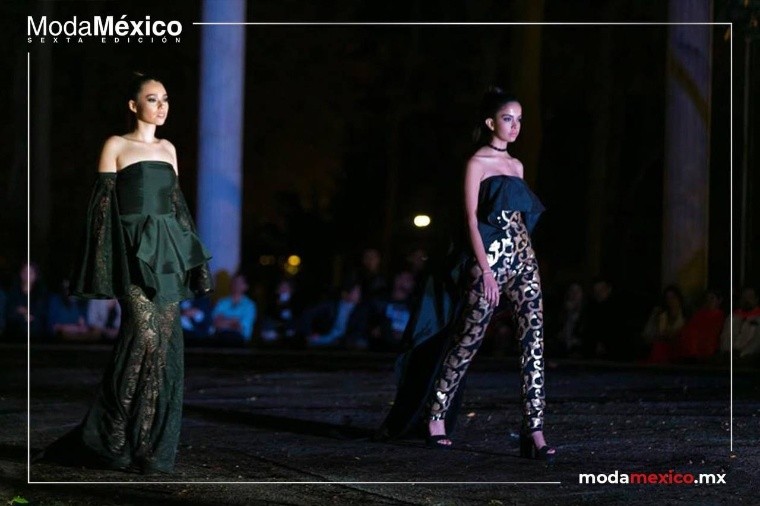 To witness catwalks in the states of the Mexican Republic is new and historical for Mexico, the emblematic monuments of the states had never been filled to show the fashion and haute couture that these corners have; After the hit of the pandemic, the reactivation of the fashion industry began to be seen not only in the big cities but also in the corners of the country. Previous months, Fashion Week México presented great designers in different states: Monterrey, Yucatán, Quintana Roo, State of Mexico and Nuevo León, to close in CDMX, now it is Moda México who takes the reins of fashion in the state of Veracruz and it will be this November 21 when the Xalapa Viaduct become catwalks with contemporary fashion proposals.
This time the designers and firms that will be present are: Xavier Arcos, a firm that creates maximalist, elegant and sensual clothing, this brand has celebrated sexual diversity since it began; Pedro Ceja, a peculiar brand for putting details on its garments, shiny finishes and colorful textiles; Iker A Secas, brand for both sexes, minimalist to wear at special events; Robin Mota with your signature "Berlin Del Real"Is a firm specialized in street wear comfort and urban planning; Maria Sainz is a designer of Saenz, firm of luxury dresses for women; Thalía Garla, is the designer of the firm that also bears her name and is clothing for women, her proposals are dresses for all occasions always with a sexy and elegant touch; Daniel Alarcón designer of his signature "Hipstah"Which is urban, youthful and colorful clothing and finally Alex Zepeda and also a homonymous firm full of garments with uneven cuts and silhouettes that make their proposals special.
"Everything about us is fashion, even the pants we wear while doing home office; everything defines our style, however, it is time for fashion to return to 'Glam', the paraphernalia. We are already going through difficult times, losses, changes, it is time to go back ", said Daniel Alarcón, deputy director of Moda México and who will make his debut as a designer presenting his first collection under his own signature called" Hipstah ".
The selection of designers is made each year through a contest in which more than 50 Veracruz designers They go to the call to win a place within this catwalk. Only five designers are selected but with this return and the excitement for the only occasion there will be seven. The selection of designers is made based on quality, concept and color palettes. The judging committee is always open to innovative proposals and proposals that make the region vibrate with their garments. In addition, the closing of this fashion day is carried out by a designer already renowned in the industry. In past editions the signature of Galo Bertin, designer of urban clothing for men and who has also been present at the fashion week of Mercedes Benz Fashion Week Mexico, was the great designer invited to the catwalk.
This time the closing will be the responsibility of the designer Alán zepeda, who since 2011 has his signature under his same name. The Puebla designer performs avant-garde haute couture and debuted after his participation in Elle Mexico Designs in 2010, reality show from Fashion designers that pushed him to reach more corners and now excel. On this occasion, Zepeda will be the guest of honor at Moda México.
The catwalks of the fashion week worldwide and nationally use emblematic locations such as the Eiffel Tower of Paris, the Monument to the Revolution, the Angel of Independence in Mexico City. Previous editions of Moda México have been held in the Juarez Park Viaduct, on the Glorieta de los Xalapeños Illustres and in the Glorieta Domínguez and Buis, to mention a few places. This 2021, the headquarters of Moda México will be in one of the main arteries of the state: the Xalapa Viaduct tunnel, a place where large historical murals have been made that adorn the route.
"We are going to throw the house out the window, it is an edition for all tastes, it will be very important to be able to show the art of designers from Veracruz. The pandemic left us a bit hung up on this, the fashion that will be exhibited at this event will be of the first level, the parades, the models, the clothes, "said Daniel Alarcón, in an interview for The Economist and who was asked details about his first collection already on the catwalk.
"Hipstah" is an urban, visual, colorful brand, designed for men inspired by pop art. It is 100% Mexican and has garments such as: T-shirts, shirts, sweatshirts, ponchos, bomber cut jackets, tennis shoes, socks and boots, which according to the designer, if women like it, they can also join in wearing some of their clothes. that are designed for Latino bodies who like to dress comfortable but cool.
"I make clothes for myself, things occur to me and this brand was born out of a personal need, I wanted certain things that did not exist and I said if it can't be done or it's not here, I'm going to do it. I like the brand and finally in order this year I will present as a designer ", added Alarcón.
Being a communication scientist and not a fashion designer by profession, Alarcón had to think about all the work that designers do and began to get involved as a fashion designer. It was essential to document and interfere beyond the planning of the festivity that is Moda México, the reason for being of the clothes, how it is composed, how it is made and he gave himself to the task of looking for and making everything from scratch because he knows what comes in to a market full of competition with designers by profession.
The fabrics that make up its collection are made of repellent materials, polyester, cotton and reflective fabrics, photoluminescent fabrics. Starting from his Veracruz roots, Alarcón made this collection thinking of clothes that can be worn in the region and in the city without any problem. "There are elements from my childhood such as sweets that inspired me, there are purple garments, lemon green, purples and garments that shine, I had already had collaborations but for the first time I put my ideas in order and it is the perfect moment to present my collection ".
We will not see "Hipstah" collections as fashion firms normally present, which are seasonal, spring-summer, autumn-winter. Daniel Alarcón commented that he plans to launch proposals once a year that remain in the closets of all those who like to bring unique and defined things applying the care of the Fast Fashion.


Reference-www.eleconomista.com.mx