Article content
Everywhere Julia Kole door knocks in the riding of Mississauga-Lakeshore she hears the same message — life has become so expensive.
Article content
The NDP candidate, who is running to be the riding's next MP, is in competition with former Ontario finance minister and Liberal candidate Charles Sousa, Peel Regional Police officer and Conservative Party candidate Ron Chhinzer, and 37 other candidates.
Article content
The Dec. 12 byelection could be viewed as a showdown between new Conservative Party Leader Pierre Poilievre and Liberal Prime Minister Justin Trudeau.
Kole said she's running because she knows the NDP and leader Jagmeet Singh can deliver ways of making life more affordable, forcing the minority Liberal government to deliver a dental plan and doubled GST rebate.
The byelection gives residents a chance to "shake things up," to consider different options and candidate choices, she said.
"It can be an amazing opportunity for the NDP and people who really resonate with the values of the NDP to send a strong message to Ottawa," Kole said in an interview.
Despite the long-standing reputation of Mississauga as a relatively affluent bedroom suburb, residents are facing all the same affordability issues — rapid increases in housing, food and gas, she said.
Article content
Mississauga-Lakeshore, which covers the southern part of Mississauga, between Oakville and Etobicoke, has voted Liberal federally since 1993 except for the period of 2011-15 when it was held by Conservative Stella Ambler.
Sousa, who brings a strong business background and held the riding for the provincial Liberals for 11 years until the 2018 election, said he is running because he believes he can be the community's strongest voice in Ottawa.
Recommended video
"I have seen firsthand the opportunities and challenges that are facing our community, and I am ready to work with Justin Trudeau and the entire Liberal team to make life more affordable for Canadians, take strong climate action, create new jobs, and build an economy that works for everyone," Sousa said in a statement. "While the Conservative Party proposes policies that would take us backward, roll back our climate action, and cut services that people in Mississauga-Lakeshore rely on, I will remain focused on the future, moving our community forward and building a place where there is room for everyone to succeed, to learn, and to help each other."
Chhinzer's main message, according to his website, is "send Justin Trudeau a message."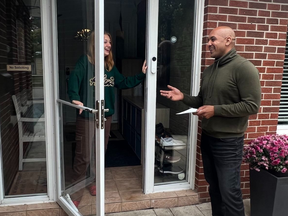 The Conservative candidate brings more than 20 years of policing experience and served as a founding member of the Toronto Police Service's Integrated Gang Prevention Task Force.
Voters can cast ballots in advanced polls on Dec. 2-5.
Information on the byelection, including the names of all registered candidates, can be found at elections.ca.