The cucamelon, also called a mouse melon, grows on tall, thin vines and looks like little watermelons.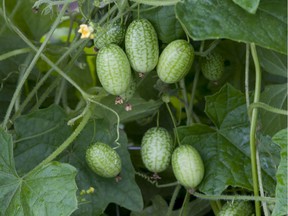 Reviews and recommendations are unbiased and products are independently selected. Postmedia can earn an affiliate commission for purchases made through the links on this page.
Article content
Q. What is a "mouse melon"? Is this something we can grow in our gardens?
Article content
A. I first saw mouse melon vines growing in a herb and vegetable demonstration garden. The tall, thin vines produced small speckled fruits that I recognized as cucamelon, also called mouse melon.
Intrigued, I decided to try growing them with my cucumbers, on a tall sturdy piece of wire in my vegetable garden.
Most of the seed catalogs I use list the mouse melon among melons or cucumbers. Johnny's Selected Seeds lists it as Mexican Sour Gherkin, with the cucumbers.
I asked Salt Spring Seeds. Germination was good and I transplanted the cucumbers in May. Fruits dangling delicately from vines can be aptly called "cute," like miniature watermelons.
Cucamelons are about the size of grapes and are most crisp when picked young, only about 1 inch long. I pick several to chew every time I pass through the plantation. They are juicy and refreshing, and taste like cucumber with a hint of lime. Mouse melons can also be added to French fries, salads, and sauces.
Article content
Q. Someone was telling me about a marigold plant that tastes like licorice. Do you know such a plant?
A. In last year's William Dan Seeds catalog, I noticed a new listing in their Herbs section: a marigold called Dropshot, a selection from Tagetes filifolia, described as a 20cm tall bushy plant with fern leaves that have a sweet liquorice flavor. It is recommended for growing in containers and along the edges of the plots.
I grew Dropshot last year, and again this year, in a container next to the back lawn. When I first pinched the tip of a stem to taste, I could hardly believe the intensity of the flavor. Snacking from the plants soon became a habit. Licorice lovers, and probably kids, will love it. This herb is useful in flavoring cold drinks, tea, salads, and seafood.
It's time to plan your fall and winter plants.

Brian Minter: Great Plants for Fall
Reference-theprovince.com