Mexico canceled this Friday a non-visa agreement with Brazil and will require a visa from citizens of the South American country after detecting that the benefit was used to work without permission or to try to cross illegally into the United States.
"Nationals of the Federative Republic of Brazil who intend to enter the country as visitors (…) must apply for a visa in terms of the applicable legal provisions," reported the Interior Ministry.
The official newspaper of the Mexican government published a government agreement that cancels the non-visa agreement, in force since February 2004 and that will be without effect as of December 11, when visas will be required for Brazilian tourists.
According to the Mexican government, "a substantial increase in Brazilian nationals" has been identified who arrive in the country "for a purpose other than that permitted" by said agreement.
The decision, he adds, has already been informed to Brazil and is temporary, although it does not determine its validity.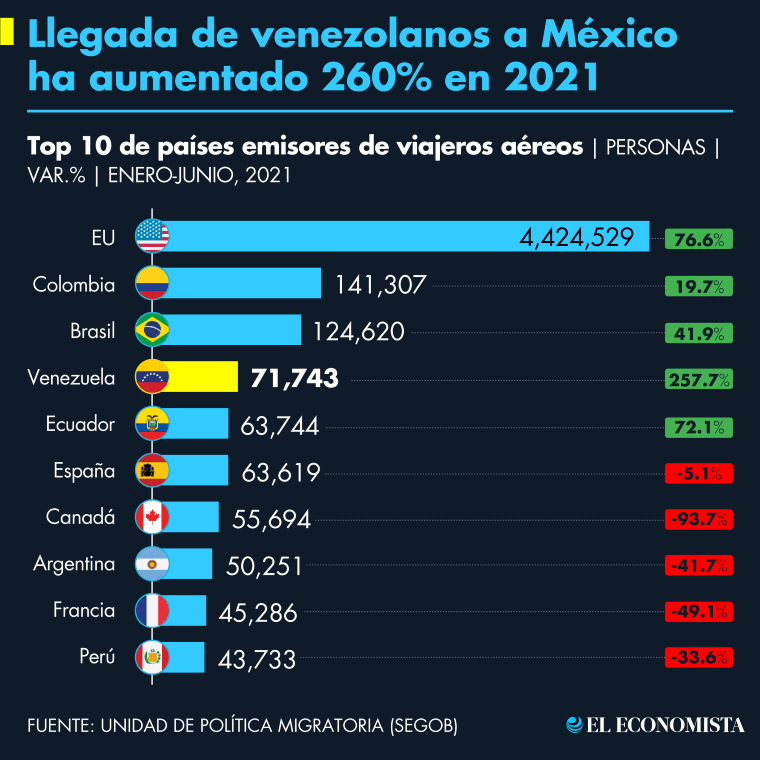 Last October, when immigration guidelines were announced, the Government pointed out that between April and August of this year, more than 38,000 Brazilians who attempted to cross into the United States illegally from Mexican territory.
According to Segob, Brazilians have been detected who "whose profile does not match that of the genuine visitor or tourist and have inconsistencies" in their documents.
Mexico has also temporarily abolished a non-visa agreement with Ecuador and according to media, it would do the same with other countries.
The flow of undocumented migrants, mostly Central Americans and Haitians, multiplied after the arrival to the United States presidency of the Democrat of Joe Biden, who promised to analyze their cases.
More than 19,000 migrants have been detected by Mexican authorities between January and September, three times more than in 2020. Some 74,300 have been deported.


Reference-www.eleconomista.com.mx