Mexico closed the month of October 2021 with a total of 288,365 deaths from Covid-19, after registering 89 new deaths in the last 24 hours.
During the eighth month of the year, the Health Secretary reported 10,860 deaths, for which an average of 350 daily deaths were registered in the country due to the SARS-CoV-2 coronavirus.
According to official data, the accumulated number of infections of this disease amounted to 3 million 168,911, after the federal agency notified 1,446 new confirmed cases. During October, 142,988 people infected with Covid-19 were detected in the country, according to official data.
In the daily technical report on the progress of the pandemic, the health authorities estimate 26,915 active cases nationwide, that is, people who have presented Covid-19 symptoms in the last 14 days.
During September and October, the epidemic curve of the country registered a considerable reduction in the number of cases and deaths.
It should be remembered that on October 15, the Secretary of Health, Jorge Alcocer, reported to senators that there had been 11 weeks of sustained decline in the indicators that measure this pandemic.
Regarding hospital capacity, the Ministry of Health detailed that the occupation of general beds is located at 20% and that of beds with a fan is 17%, one percentage point less than that reported yesterday.
Epidemiological traffic light
Last Friday, the federal agency reported that for the next two weeks (November 1 to 14), 29 entities would remain green on the Covid-19 epidemic risk traffic light; while 2 entities will remain in yellow (Guanajuato and Aguascalientes) and only Baja California will continue in orange.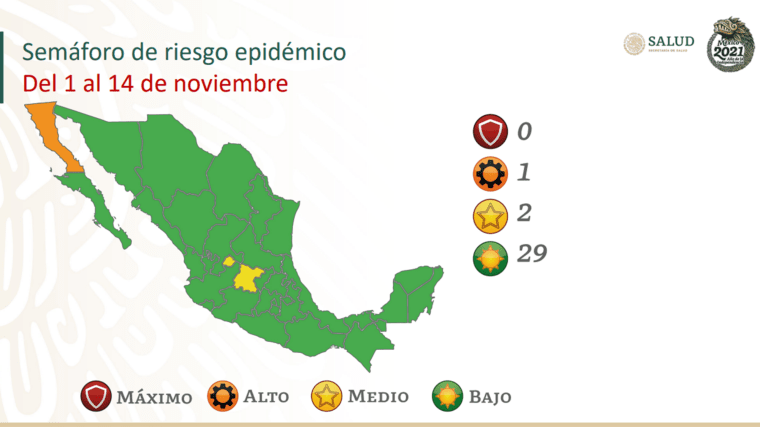 Vaccination against Covid-19 in Mexico
The federal government highlighted that 83% of the population over 18 years of age in the country has been vaccinated against Covid-19 with at least one dose.
At the cutoff on Saturday, October 30, the Ministry of Health applied 243,451 vaccines nationwide, to reach a total of 126 million 339,370 doses supplied since the vaccination plan began on December 24, 2020.
Of the 74 million 607,721 people vaccinated against the coronavirus in Mexico, 60 million 565,545 (81%) have complete schedules of one or two doses depending on the type of biological applied. While 14 million 042,176 (19%) are still waiting for a second dose.
kg


Reference-www.eleconomista.com.mx