Mexico registered this Wednesday 15,364 new infections of Covid-19 in the last 24 hours, according to the Daily Technical Report of the Ministry of Healthso the accumulated number of confirmed cases since the pandemic began in the country is 5,906,953.
It should be remembered that no more than 15,000 had been registered new infections of the coronavirus since last February 25, when the federal agency reported 15,638 cases.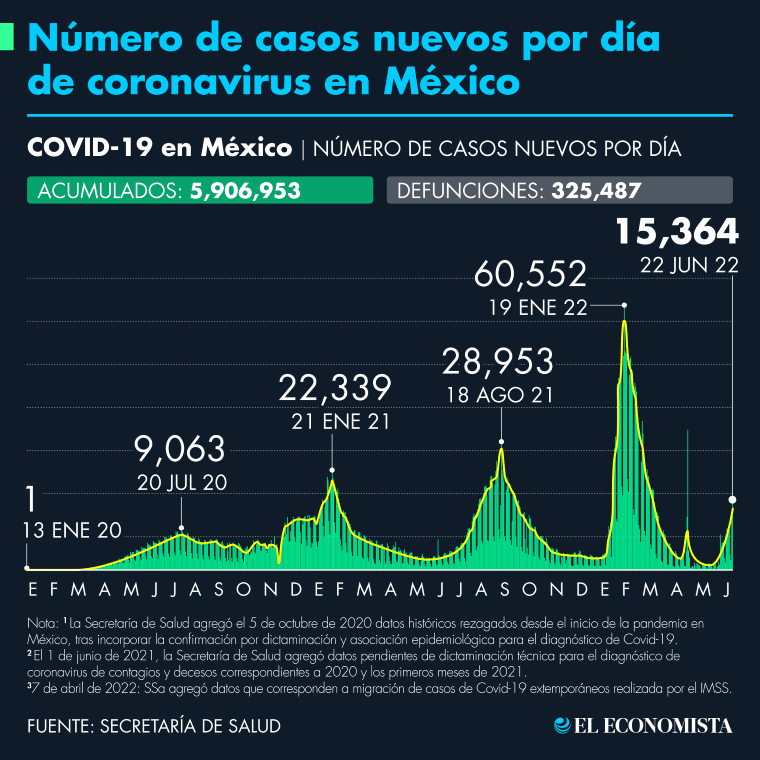 Meanwhile, the official death toll from this disease rose to 325,487 deaths, after 29 new deaths were reported.
The health authorities detailed in the statement that from June 9 to 22, 76,004 active cases have been registered, with an incidence rate of 58.4 per 100,000 inhabitants. However, it estimates that there could be 80,156 active cases nationwide.
hospital occupancy
Regarding hospital capacity, the agency explained that beds for general care of patients with Covid-19 have an occupancy of 5%, while beds with ventilators for serious patients have an occupancy of 2 percent.
Vaccination against Covid-19 in Mexico
The Ministry of Health recalled this Wednesday that the vaccination registry against the disease caused by the coronavirus SARS-CoV-2 for girls and boys from five to 11 years of age.
"This June 23 and 24, two million 4,000 vaccines against Covid-19 will arrive in the country for girls and boys from five to 11 years old, as part of the contract for eight million doses with the pharmaceutical company Pfizer BioNTech," the secretariat detailed in a statement. .
kg