"If we don't take bolder climate action now, these severe weather events will become more common and worse."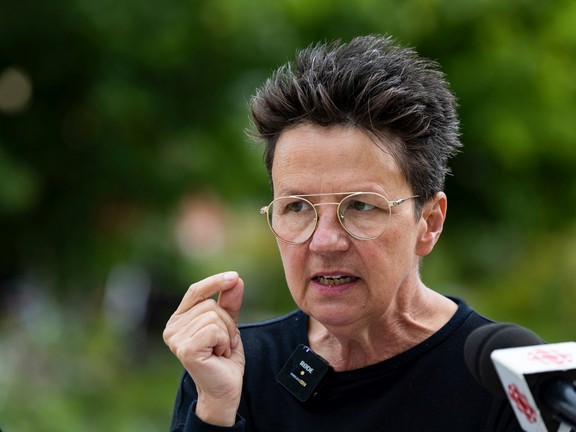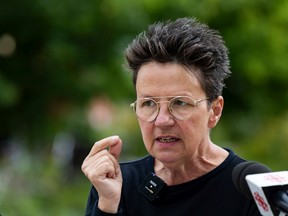 .
Mayoral candidate Catherine McKenney on Thursday launched a multi-point climate strategy, touting it as a way "for Ottawa to become a climate leader."
.
The plan includes the creation of the Chief Climate Officer position, responsible for overseeing the implementation of the Ottawa Climate Change Master Plan across all city operations and departments. It also includes a promise to seek to secure partnerships with indigenous peoples to build a more sustainable city and protect the environment.
.
"The costs of climate inaction are too high," McKenney (who uses the pronouns they/them) said in a press release. "This summer's severe storm damaged Ottawa's tree canopy, homes and infrastructure. If we don't take bolder climate action now, these severe weather events will become more common and worse."
McKenney said his commitments are "consistent" with the council's approved climate change master plan and said they would facilitate the investments needed to make them a reality. Based on city projections within the climate plan, he adds the statement, buildings and transportation will account for about 75 percent of emissions reductions through 2050.
.
The list of commitments included:
• Green buildings to reduce emissions and save on energy costs
• Work with the National Capital Commission to convert the green belt into a national urban park
• Protect and increase green spaces and tree canopy
• Create safe and walkable neighborhoods that include low-emission transit and bike infrastructure
• Design of a climate resilience plan
McKenney, one of the highest-profile candidates among the 14 who submitted nominations for mayor in this year's election, added that the city of Ottawa "it needs bold climate action, but we have lacked the political will to prioritize it. However, with the right leadership, we can live in an Ottawa filled with affordable, green buildings, safe neighborhoods to walk in, and a canopy of trees that help cool our homes."
.
One of McKenney's opponents, Mark Sutcliffe, released his own campaign climate plan in August.
Sutcliffe set targets to install 200 electric vehicles and 100 electric bike charging stations with cost recovery, refurbishment of city buildings, planting a million trees within the next four years from the council and waste-to-energy solutions technology-based. instead of a new landfill or expansion of the existing landfill.
Sutcliffe also promised, if elected, to transition Ottawa's gas-powered fleet to all-electric or hybrid by 2030 and to stop buying single-use plastics in the city.
No cost estimates were released with the McKenney or Sutcliffe climate plans, though a follow-up statement from the McKenney campaign said a full financial plan, including Thursday's climate proposals, would be released before voters went to the polls. on October 24.
.
Another opponent, Bob Chiarelli, has a section on environmental priorities on his campaign website that acknowledges a climate crisis and says that "partnerships for change need to be formed."
An example, the section says, would involve the formation of a council committee to work with Hydro Ottawa as a step in developing climate change policy. He also refers to the fact that the Ottawa municipal landfill is approaching capacity, and says that the community needs to reduce litter and increase recycling.
McKenney Submits Proposal to Turn Greenbelt into a National Urban Park

Mayoral candidate Mark Sutcliffe unveils environmental plan