Samuel Jamahl Chand is alleged to have been the gunman in the death of Maxime Lenoir, a drug trafficker killed on August 23.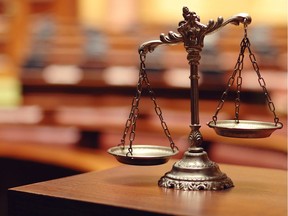 .
The man arrested in Vancouver on suspicion of killing a drug dealer outside the Town of Mount Royal's Rockland Mall was linked to a gang in British Columbia while serving a sentence for attempted murder.
.
Samuel Jamahl Chand, 33, of Vancouver, made his first Montreal court appearance on September 27, after he was transferred from the custody of a police force in BC to the Montreal police. He is charged with the first-degree murder of Maxime Lenoir, a 44-year-old drug dealer who was shot outside the mall in broad daylight on August 23.
.
Widens Point du Jour Paul, 27, of Montreal, was arrested in Ottawa the same day as Chand; when the arrests were made, Montreal police alleged that both men are linked to organized crime. Point du Jour Paul is alleged to have acted as the getaway driver in the shooting. His criminal record indicates that he is linked to a street gang based in North Montreal.
Chand recently completed a lengthy sentence for an attempted murder carried out in Surrey, BC in 2009. Decisions made by the Canadian Parole Board while Chand was serving that sentence reveal that he was linked to a gang in BC after he tried to avoid being arrested while away. on legal release and carrying a loaded firearm.
.
In January 2019, Chand was unable to return to a rehabilitation center due to a curfew when he was a passenger in a vehicle that was pulled over for a traffic stop. When asked to present identification, he provided a fake identification card and then was thrown from the vehicle. While trying to flee on foot, he dropped a bag containing a loaded firearm; when police caught up with him, they found he was carrying a knife and three cell phones.
"The driver of the vehicle was known to the police and identified as a (gang) member," the Canadian Parole Board said in a decision it made in 2020 after Chand was returned behind bars.
Previous decisions in his case did not mention his involvement with organized crime, but his release was revoked in 2019 in part because the Correctional Service of Canada believed he was connected to a "group of security threats," a term used as a classification. for all. criminal organizations whose members are incarcerated in federal penitentiaries.
.
According to the decision made in 2020, Chand "denied any affiliation with gangs of criminal organizations."
The same parole decision reveals that Chand had an upbringing "filled with drug abuse, violence, crime and neglect, in and out of foster care, and making connections with other troubled youth. Her mother and her boyfriend were drug addicts, struggling financially, and often left homeless and on the streets; your biological father was never involved in your life."
The decision also notes that Chand often ran away from foster homes to see his mother. In 2007, when she was in her teens, her mother and her boyfriend were killed in a car accident. According to the decision, Chand's life "went downhill" after her mother's death and she "became more involved in criminal activities."
In 2009, he tried to kill a drug dealer in Surrey, the crime he was serving time for when he violated his release. He fired four shots at a car in which the drug trafficker was traveling with his father. No one was injured in the shooting, but it happened near an elementary school just as students were leaving.
The case related to the murder in Town of Mont Royal returns to court in November.
Suspect in Rockland Mall shooting charged with murder

Two suspects arrested in shooting at Rockland mall