'They were like two peas in a pod. They were best friends. They would do everything together. '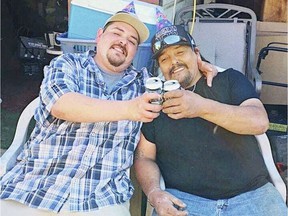 Article content
A father and son killed at their Crofton home early Saturday were kind men who had opened their home to the man now accused of killing them, a family friend said Monday.
Article content
North Cowichan-Duncan RCMP officers were called to a report of suspicious circumstances at a home in the 8600 block of Crofton Road just after midnight. When police arrived, they found the bodies of Thomas and Bradley Johnson.
Justin James Dodd, 33, was arrested at the Crofton Road home and has been charged with two counts of second-degree murder in the deaths. Dodd, who is also known as Justin Screaton, remains detained at the North Cowichan RCMP detachment pending his court appearance on November 2.
"It's a tough road right now," Terese Shearer said. "I have practically grown up with Brad. I feel like I just lost my brother. I miss him a lot."
Brad and Justin were friends from high school and used to date, he said.
Article content
"Brad always had a big heart. He was always helping everyone and Justin was in a time of need. Brad took him in and told him he could stay there, "Shearer said. "It is just brutal. It's crazy to think that having a good heart can lead to something bad. Honestly, I'm surprised. "
Tom Johnson, 57, was like his son, he said.
"He was just a wonderful guy. They were like two peas in a pod. They were best friends. They would do everything together, "Shearer said.
Although there was a big age difference, Brad, 35, dated Shearer's mother, Liz, for about eight years. They always went to pick mushrooms and go for walks and little adventures.
"They were always together. They were best friends and lovers. Brad broke down when my mother passed away, four years ago until the day she died. It's crazy. "
Article content
The killings are shocking, Shearer said.
"Nobody really expects this. I hear all these stories about murder but you never think it will happen to someone you know and suddenly the day comes, "he said. "Brad's sister Chelsea is very shocked. He doesn't even have words to say or what to think. Honestly, it is difficult. I spoke to her and I am very sorry for her. Those two were like my brothers. They were my family. "
Brad had such a kind heart and would do anything for anyone.
And that's exactly what he did, it turned against him. It's really sad, "Shearer said, beginning to cry.
While the investigation is in the preliminary stages, police believe this was an isolated incident and there is no continuing risk to the general public, RCMP spokesman Sgt. Chris Manseau said in a statement.
Neighbors said the man who lived on the top floor of the house looked out the window, saw a body in a wheelbarrow and called police.
The Nanaimo Forensic Identification Section has been contacted for assistance. The BC Coroners Service is also investigating the deaths.
Anyone with information about the killings, including anyone who witnessed the event, should contact the North Cowichan / Duncan RCMP at 250-748-5522.
Read more from the Times Colonist here.
Reference-vancouversun.com