Since 2006, fashion week in Mexico is the great event that takes place once a semester in conjunction with the firm Mercedes Benz. This event has been known for 15 years as Mercedes Benz Fashion Week Mexico. This fashion week will take place from April 25 to 27 and national designers will be presented with proposals that are increasingly present in Mexico and are echoing around the world. Lorena Saravia is one of the designers that will be presented in this edition and her signature that bears her name has been a constant presence since 2013 when she debuted in these fashion shows.
The designer Saravia has a passion for fashion inherited from her great-grandmother. She studied Fashion Design at Felicidad Duce, Fashion School of Barcelona, ​​and upon finishing her studies she returned to Mexico to work with designer Macario Jiménez, the designer from Guadalajara and a pioneer in national fashion. Two years of professional practice in the textile industry were enough for Lorena to embark on the journey of starting with her brand and later she was the only Mexican designer to be selected to compete against 18 artists from all over the world in Next in Fashion, a reality show of Mexican designers. Style of Netflix.
The Lorena Saravia firm was founded in 2010, it sells clothing and footwear, and it all started with two people on its staff. Along the way, it has added more people to supply the needs of the brand. The firm is currently in a slow recovery stage due to the coronavirus pandemic. Covid-19and there are 14 people who work as a team for the Saravia firm.
When she started making her fashion collections, Lorena Saravia, after 7 years of producing and creating fashion, established her business physically on Avenida Presidente Masaryk, in the Polanco neighborhood of CDMX, and that is how she became the only firm in the national fashion industry that established its business in a place where it shares its space with the great international luxury firms such as Gucci, Louis Vuitton and Cartier.
This was the main objective and it was achieved, but the pandemic arrived and the Saravia establishment was one of those that had to close its doors as many other fashion stores in this famous location did in 2021.
https://www.eleconomista.com.mx/listas/Masaryk-de-Polanco-un-corredor-comercial-en-crisis-t202101140001.html
From that commercial crisis that the whole world went through when the isolation arrived, the "new normal" and with great efforts recovered. Saravia relocated his store to Calle Álvaro Obregón 154, in the Roma neighborhood; in the same way and decided to duplicate his efforts by adding an online sales channel.
The "Saravia Cowboy boots", is one of the proposals that has made the iconic Lorena Saravia firm. The boots are made of leather and there are olive green, white, black, gray, red, brown and beige suede, there are even cow-spot print, the boots are high and wrap the legs, they are pointed , they have embroidery around the upper part that hits just below the knee and have a cowboy heel of about 5 centimeters, these boots have become an object of desire among the faithful consumers of designer fashion.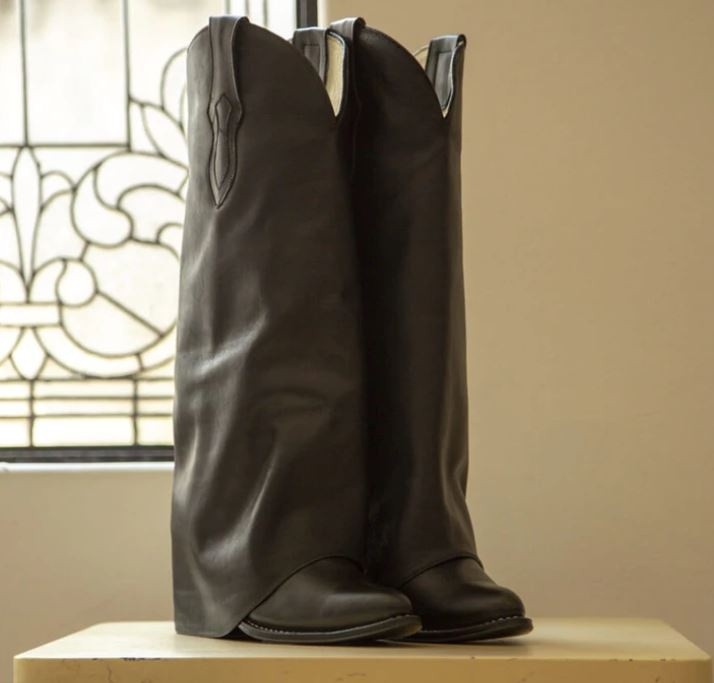 In an interview for El Economista, she was questioned about the reaction she had as a businesswoman and creative when the Covid-19 pandemic arrived. Saravia commented that "there have been two years of many adjustments, closing the Masaryk store was a very strong emotional and professional process. These adjustments have allowed us to build a healthier business with very positive growth. My conclusion is that within this chaos there was a lot of clarity of energies that were stagnant, what had to move went away and what had to grow grew stronger."
The growth or where they also sent effort, was how all the industries applied it, they concentrated on the digital. In the digital channel there is no barrier and everything is within reach of a click. In 2021, Lorena Saravia presented special material for fashion week in a 100% digital format, just as fashion week did in Mexico.
"The growth has been mainly in our online store, we have achieved with great effort to permeate our message virtually. Now we have a different relationship with our consumers, but also with a magical reach that has reached clients in the United States and Italy", said the designer.
With previous enthusiasm for the arrival of fashion week in Mexico, the recovery and the hybrid format in which the Mercedes Benz Fashion Week Mexico will be, Lorena Saravia trusts that the reactivation in terms of sales will begin to be gradual and not scarce as is the streak they have been having in the industry.
In this Fall/Winter edition of Fashion Week Mexico, which is about to happen, what is expected from the firm of the businesswoman and designer are proposals for new designs in the iconic boots that have complemented her clothing launches so much; The variety of coats and clothes for the cold season is also expected, which little by little has been giving us little tastes through the photographs of her on her Instagram.
Lorena Saravia's firm has evolved according to her creative demands and meeting the needs of her consumers. Saravia sells clothes with subtle details that make a simple dress, blouse or skirt special because of the cut, the pleats, even the symmetry that she uses to give the garments drape.
During Fashion Week, a wide range of proposals will parade, such as the firms of: Cancino (who will open the fashion week catwalks), Julia and Renata, Sandra Weil, Kris Goyri, Lydia Lavin, Monserrat Meseguer, Prima Volta, Alfredo Martínez, Benito Santos, Daniela Villa, Armando Takeda, Vero Díaz and Alexia Ulibarri.
Lorena Saravia will be the firm in charge of closing fashion week in Mexico at the luxurious Sofitel hotel. The closure of Mercedes Benz Fashion Week will delight in the Autumn/Winter 2022 collection. The presence of the Saravia firm year after year at Fashion Week has reinforced the concept of "less is more", as well as the fidelity of keeping textiles without print and let the garments speak for themselves with their composition.
The Canadian News
Canada's largets news curation site with over 20+ agency partners