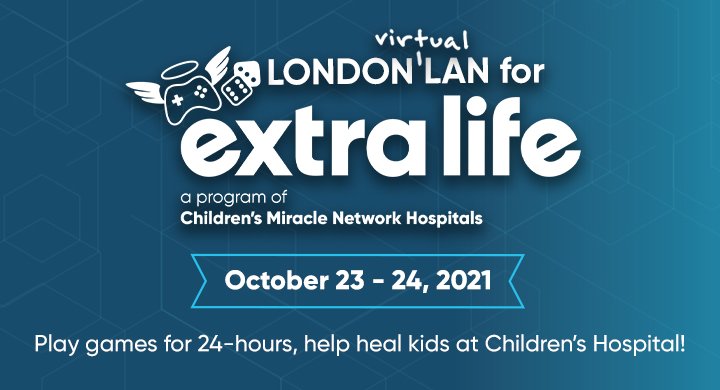 London virtual LAN for an extra life
Upon Saturday October 23 the Guild Extra Life London and Children's Health Foundation
will host the Fifth Annual London LAN for Extra Life!
During this 24-hour marathon, players of all stripes can play with friends, compete with each other, participate in fun activities, raise funds for Children's Hospital, London Health Sciences Center, and win prizes throughout the day and night.
This is a virtual party that you don't want to miss!
Since 2008, thousands of players have come together around the world to play in support of their local children's hospital during an event called Extra Life. Participants are encouraged to sign up, raise funds, set up camp at their homes or with friends, and marathons of their favorite games for 24 hours straight.
The live broadcast of the event will begin at 10 a.m. on Saturday, October 23 and will continue throughout the day and night with a final broadcast at 10 a.m. on Sunday, October 24.
Proceeds from London LAN for Extra Life will go to the Children's Health Foundation and directly support sick and injured children at Children's Hospital London.
---
Do you want to play?
Registration – FREE
Registration includes access to exclusive Virtual LAN Discord channels, prizes, and more!
Survival kit add-on: $ 25
Get a special Extra Life Survival Kit full of loot and fuel for your 24-hour marathon. Proceeds support Children's Hospital!
Reference-globalnews.ca