Article content
6:37 p.m. First question is on affordability.
Horwath starts saying that she will lower gas prices and bring in a $20 minimum wage.
Del Duca says he does the groceries every Saturday and sees the problem. He promises to bring in buck a ride, lower tax on prepared meals and give seniors $1,000.
Ford says the other parties will raise taxes, bring back license plate sticker fees and reimpose tolls. Raises jobs.
Schreiner says Greens will address home affordability and calls on Ford to make electric vehicles cheaper.
6:31 p.m. Debate is under way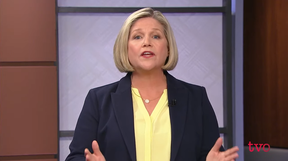 Opening statements are underway.
Not surprisingly, each party leader is regurgitating their key talking points.
Ford: Will get it done. Will rebuild Ontario. Look at what I've done.
Article content
Hoarwath: Discussions aren't fun, thanks for tuning in. She can fix what the Tories and Grits have broken.
Schreiner: Now is the time to act on climate. Only he will address the crisis.
Del Duca: Covid was tough. Ford dropped the ball. He will fix it and make life more affordable.
6:29 p.m.
Article content
6:15 p.m. The leaders have all arrived, they are in their greenrooms and nervously awaiting their call to the podium.
The leaders arrived to the cheers of supporters and jeers of protesters.
Article content
The Ontario election is underway and the leaders will face off in a debate at TV Ontario's Toronto studios at 6:30 Monday evening.
Join us here for a live blog with quick analysis, quips, tweets and more starting at 6:15 pm from the Toronto Sun news crew.
We've already had some advance looks at the debate including Antonella Artuso writing on what to watch for tonight and Brian Lilley's take that the race to watch is the one for second place.
We can expect lots of talk about housing and affordability, which is an issue for many voters and attempts to land punches and zingers, some of which will fall flat.