The Lions battled back from a 20-3 deficit to beat the Calgary Stampeders 41-40 at McMahon Stadium, rallied by another remarkable and resilient performance by Nathan Rourke and a 19-yard game-winning field goal from Sean Whyte with five seconds left.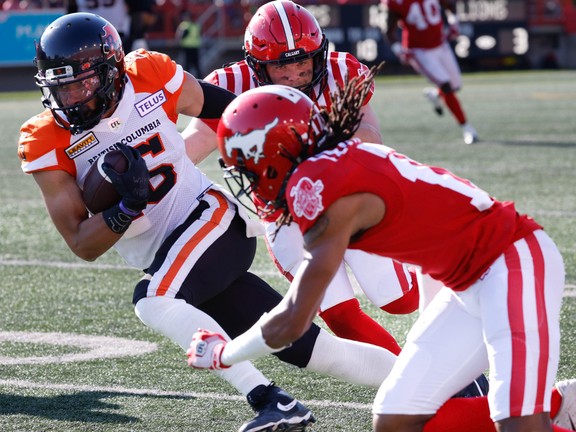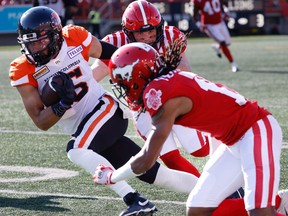 Article content
The wild hare ran around the turf of McMahon Field, hilariously pursued by a member of the grounds crew, the Benny Hill theme playing in everyone's heads as he tried to usher it off the field late in Saturday's game between the Calgary Stampeders and B.C. Lions.
Article content
It was the Lions who had been the hapless staffer in the past, vainly pursing a statement win to prove them belong in the CFL's upper echelon.
They finally got it on Saturday night, battling back from a 20-3 deficit to beat the Calgary Stampeders 41-40 at McMahon Stadium, rallied by another remarkable and resilient performance by Nathan Rourke and a 19-yard game-winning field goal from Sean Whyte with five seconds left.
Rourke shrugged off two first-half interceptions, including a pick-six, to notch his second straight 400-plus yard game, with another career high of 488 yards.
---
NEXT GAME
Friday
B.C. Lions vs. Saskatchewan Roughriders
7 p.m, Mosaic Stadium, TV: TSN, Radio: AM730
---
B.C. had thumped the Edmonton Elks, Saskatchewan Roughriders, and Toronto Argonauts, while gritting out wins over Hamilton and Ottawa. But the Winnipeg Blue Bombers throttled them at home, and the second-place showdown against the Stamps was a chance to prove that they were in the upper echelon with the two perennial contenders.

Article content
The Lions (7-1) solidified their hold on second place over Calgary (6-3) and are now staring down the front-running Winnipeg Blue Bombers (9-1), who dropped their first game of the season on Friday, 20-17 to Ottawa in overtime.
Here's what we learned …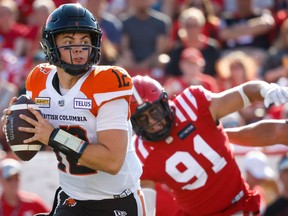 QB COMPARISON
Bo Levi Mitchell came into the game as the Stamps' all-time leader in pass attempts and completions, and passed Henry Burris for career passing yards (32,191 yards) on his second attempt of the game.
He finished the game 18-of-32 for 206 yards and two touchdowns.
Rourke roared into Week 10 as the league leader in total yards and yards per game (345.5), while his 81.3 completion rate, three touchdown average and passer rating of 133.8 are the highest in CFL history.
Article content
But the Stampeders took a page from the Bombers' playbook, throwing looks at the young B.C. quarterback he hadn't seen yet. They had three down linemen and dropped nine into coverage most of the time.
Calgary defensive end Folarin Orimolade had the first pick-six on Rourke since his debut at the start of 2021 in the second quarter, the second interception he'd thrown in the half. Rourke also had an interception overturned on review on his first pass of the game.
But he went 7-of-8 for 100 yards, a passing touchdown and a rushing touchdown on his next two drives to bounce back from the rough start. But he engineered scoring drives on the Lions' final four possessions, including a nine-play 71 yard series that set up Whyte's winning field goal.
Article content
Rourke finished with 488 yards and two passing touchdowns on 39-of-53 passing, along with two quarterback-sneak touchdowns that tied him with Montreal's Dominque Davis for the league lead (7).
His first pick, and the first nearly pick, came off of passes that sailed high on him, something he's shown a few times this season. Last week against Edmonton, he went high on a pass to Bryan Burnham that saw the wideout go up high and get taken out low, landing on his head, in his first game back from injury.
"When I throw with my mechanics coach Rob Williams in the off-season, high is usually a good thing mechanically, because it means that your hips are firing a little bit earlier than your wrist is used to, so it the timing's off," he said after that game.
Article content
"It's better than a low ball. But we always say like working up the camp and the off-season at high is not good anymore."
Article content
QUICK SIX, THE REDUX
Many expected the Lions to take either Tyson or Jalen Philpot, the twin sons of former B.C. Lion Cory (Quick Six) Philpot, in the CFL draft this year. But they elected to shore up their defensive line by drafting Nathan Cherry third overall.
Jalen went fifth to Calgary (Tyson ninth to Montreal) and showed why so many thought the young Canadian receiver would be a good fit in B.C. early in the game.
After Stefan Flintoft blasted a 76-yard punt, Philpot brought it back 77 yards and was on his way to the end zone when he tripped over his own feet. The Vancouver native and Seaquam Secondary grad made up for it by scoring his first career touchdown a few plays later, hauling in a 19-yarder from Mitchell to put the Stamps in front.
Article content
He had to leave the game with injury before halftime, but accounted for 54 yards on three catches, along with 141 kickoff return yards.
NOT SO SPECIAL TEAMS
The Lions have been remarkably toothless on both kick returns and coverage this season.
Coming into the game, they were last in kickoff return yardage and third last in punt returns. On the other side, only Saskatchewan gives up more kickoff return yards and the third-most punt return yards.
Philpot gashed them repeatedly on Saturday, and Peyton Logan did much the same on punt returns.
After the Lions pulled within two points late in the game, Logan busted off a 99-yard return to push the lead back to a two-score cushion.
Article content
When the Lions did finally get a break, with Lucky Whitehead streaking 74 yards down the sidelines, flags flew on a block below the waist by Jalen Edwards-Copper, and Whitehead strolled to the end zone on his kick, frustrated knowing the play was coming back.
Field position, whether because of kicks or turnovers, was solidly in Calgary's favour. On their first half touchdowns, the Stamps only had to go 51 and 42 yards. The Lions, on the other hand, had to string together long drives for their touchdowns, going 78, 70, 98 and 72 on their four touchdown drives.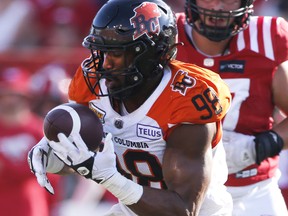 SPREADING THE WEALTH
Dominque Rhymes continued his scoring run by catching his league-leading ninth touchdown pass of the season, and finishing with 101 yards.
Article content
Burnham, who was playing in his 100th career CFL game, extended his consecutive catch mark to 99 straight games, and had a game-high 165 yards receiving. He got behind the defence on a third-and-short 3:28 into the fourth quarter as Calgary sent the blitz, catching a 29-yard pass and taking it another 24 yards to the end zone to pull the Lions within 33-31.
Despite being targeted heavily, Whitehead was bottled up by the Stamps defence for most of the game, before a massive 32-yard catch with 20 seconds left pushed them inside the Calgary 30. He finished with 57 yards on nine targets, second only to Rhymes.
Rourke hit six different receivers, continuing their trend of spreading the ball around. They are the only team with five players with 30 or more targets. 
Article content
LOOKING AHEAD
The Lions now have two straight games against Gang Green. They head back to Mosaic for a game against the Saskatchewan Roughriders on Friday, Aug. 19, before hosting them seven days later at B.C. Place.
The Lions beat the Riders 32-17 in Regina two weeks ago.
Just third time Lions had better record than Stamps in last 21 games since 2013
Calgary comes in with a 5-2 record trailing BC at 6-1. Across 2013 to 2021, these two teams played 20 times (excluding season openers). Of those 20 games, Calgary came in with a better record 18 times to just 2 by BC (Jul 29/16 & Oct 16/21; BC was 4-4 vs Calgary 4-5 on Oct 16/21).
Twitter.com/TheRealJJAdams
Another lesson learned for the B.C. Lions, but it comes in a win this time

B.C. Lions receivers 'brothers' in arms, putting we before me

B.C. Lions' improved O-line 'getting the job done' in attack on sacks
---
More news, fewer ads: Our in-depth journalism is possible thanks to the support of our subscribers. For just $3.50 per week, you can get unlimited, ad-lite access to The Vancouver Sun, The Province, National Post and 13 other Canadian news sites. Support us by subscribing today: The Vancouver Sun | The Province.