A 120-yard missed field goal return, a roughing-the-passer penalty by Ottawa, and a massive touchdown gave the Lions an incredible comeback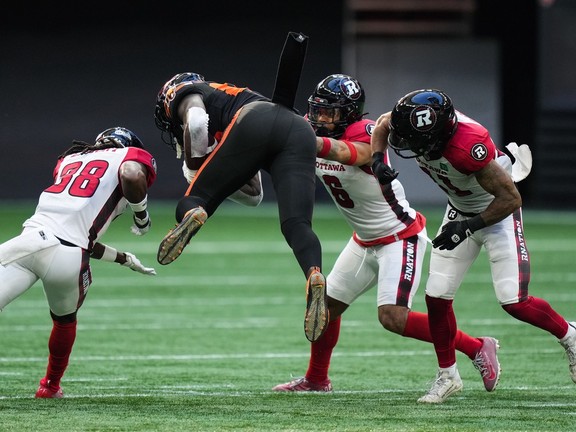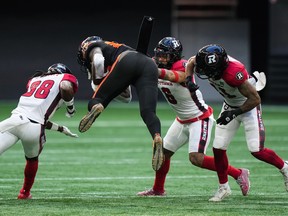 Article content
There were still six minutes left in Saturday's game at B.C. Place, but fans were already streaming up the aisles for the exits.
Article content
Vernon Adams Jr. had just thrown his third pick of the game, and the B.C. Lions were trailing by 16 points to the Ottawa Redblacks. The fans' fickle mindset was understandable; the Leos were listless, had shown little bite all night, while the visitors were chewing up the clock and the scoreboard.
Article content
But there were some fans who knew: "They don't know how CFL football works," tweeted Lions fan @YoungJudd_1, a frequent visitor to the team's Surrey facility to watch practice. 
He was right. A 120-yard missed field goal return from Terry Williams, a timely roughing-the-passer penalty by Ottawa, and a massive touchdown catch by Lucky Whitehead later, the dead-and-buried Lions had become Lazarus, completing an incredible, breathless comeback to win 41-37.
Article content
---
NEXT GAME
Friday
B.C. Lions vs. Edmonton Elks
6:30 p.m., Commonwealth Stadium, TV: TSN, Radio: AM730
---
With the Redblacks at the B.C. 38-yard line on the game's final snap, Woody Baron got his arms on Ottawa quarterback Dustin Crum, bear-hugging him until the officials blew the whistle. Baron ripped off his helmet, threw it in the air, and the Lions sideline poured on to celebrate with him.
"Oh, man. It's just so crazy. … (The) team that didn't give up on me, after throwing three interceptions — and silly ones, too," said Adams, who finished the night with 327 yards passing and three touchdowns on 26-of-37 attempts, cracking the 300-yard mark for the fifth straight game.
A comeback win over Winnipeg when he played for Montreal was the closest comparison he could think of, but "This one here, it's just different, man. We're at the house, we're home, I see fans leaving, giving up on us — we still love ya'll fans, still come back out, baby! — but it was amazing, man," said Adams.
Article content
"You are 100,000 per cent right," he said, when asked if this game exemplified the CFL game.
"Guys were saying on the sideline 'Hey, y'all know the last three minutes in the fourth quarter, that's a whole quarter of its own. So don't give up.' And they were saying that when we were still down two scores. So you just never know. You just got to play until that whistle blows at the end." 
It was the seventh straight loss for the Redblacks (3-10), but they haven't been blown out in any of them — a 10-point loss to Edmonton was the worst — as they've fallen by a margin of just four points.
"I don't know if I've got words for it, to be honest," said Ottawa's Crum. "The past weeks, I've said frustrated. Tonight we just let it slip. You can't let that happen. You've got to learn to win games, (and) finish them off, especially against good teams like B.C. It's just disappointing.  We felt like we played well enough to pull it out but mistakes at the end kind of cost us."
Article content
Here's what we learned …
HULK SMASH
Williams had yet to return a kick of any kind for a score as a member of the Lions (9-4) since being traded to B.C. last September. The diminutive returner, who likens himself to the Hulk, had been Bruce Banner this season, but bulked up just in time with a weaving, juking return 120 yards to the house off a missed Lewis Ward field goal from 50 yards.
The touchdown made it 37-34 with 1:25 left, and it looked like the Lions had given their last gasp after the onside kick attempt failed. But the defence forced a two-and-out, and Williams hit for another big return, taking the punt 24 yards to Ottawa's side of midfield.
"Just watching (Ward) the whole game. He'd been making them deep … but I always be ready to make a play. Never be scared. I'd bet on myself twice on Sunday if I had to," said Williams. "When the fourth quarter started, I had four fingers up. It's not over until it hits zero. I love the (CFL) game. A minute can turn a whole game, and we always believed."
Article content
After his second big return. Adams hit Justin McGinnis tiptoeing down the sideline for a 20-yard gain — the play stood as replays were inconclusive whether he stayed inbounds — then a roughing-the-passer penalty moved them another 15 yards closer. Adams then found Whitehead in the back of the end zone from the 16-yard line, and the miracle comeback had been completed.
The 19-point fourth-quarter comeback was the largest in team history, and second-largest in CFL history.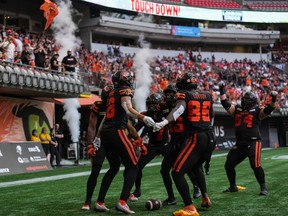 CAUSE FOR CONCERN
In their first six games at home, the Lions gave up a total of 58 points (9.7 ppg). But in their last two at the Dome, they've given up 67 — and more concerning has to be the energy level in both of them.
For all the talk of avoiding a banana peel game coming into Saturday's contest, and putting their Week 12 30-13 swan dive against Hamilton behind them, the Lions slipped up again in a major way.
Article content
"The only thing that bothered me at halftime was we kind of had … a distant look in our eyes, and it was only a one-point game," said Lions coach Rick Campbell. "I don't know how many close games Ottawa has played, but they've played a ton. I don't think that we were overlooking them. There was zero of that. 
"I just think it was like we were waiting for something to happen, instead of making something happen."
Adams had picks on back-to-back drives in the second half, the second one going for a 50-yard pick six by Douglas Coleman when he scrambled needlessly and was late locating Keon Hatcher who was in first-down position.
"Silly. Especially the second one. Throwing across my body, and that's the No. 1 rule for a quarterbacks. You don't throw across your body," said Adams, who dedicated his game to his agent Cam Weiss, who'd died earlier this week after battling cancer. 
Article content
"My team got behind me, and said 'we rocking with you regardless, we brothers.' … And you don't get that a lot. Sometimes guys just sit here and stare at you from the corner of their eye. But they were there for me, and I appreciate that more than anything."
The Lions didn't convert a second down until the final play of the third quarter, going 0-7 up to that point.
They gave up 323 yards of net of offence to the CFL's lowest-rated unit. A Redblacks team that wasn't supposed to be able to pass had 233 yards through the air, and a Redblacks team that wasn't supposed to be able to cover held the Lions in check for most of the game.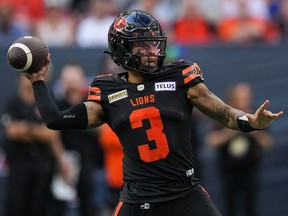 DECISIONS, DECISIONS
There were some key points in the game where Campbell's play-calling needed some further explanation.
Article content
With 10 minutes left in the fourth quarter, the Lions were down 18 points but got themselves into the red zone, and faced a third-and-8 from the Ottawa 18. B.C. went for it instead of kicking the field goal, and turned the ball over on downs.
"I always reflect on what I do and the decisions I make," said Campbell. "My thought process on going for it was strike while we're down there and in that tight. It was going to take two touchdowns and two two-point conversions, so I thought if we even got a touchdown — we missed it — we'll still keep going. If we were further out, I think I'd kick a field goal. But we were struggling. We weren't lighting it up — yet. So that was that."
When Adams — through his third pick of the game — was trying to hit McInnis on a deep sideline route, the Lions could feel the clock ticking away. B.C. forced a two-and-out, getting the ball back with 4:13 left, and Adams marched the Lions down and hit McInnis to make it a 10-point game.
Article content
Again, it appeared over when he was flushed out of the pocket and threw a desperation underhand toss to Whitehead on the two point conversion — it was knocked down — and the Redblacks recovered the ensuing onside kick.
But the defence stood firm again. Then Ward missed his long field goal attempt and none of the offensive lineman on the field had a chance at catching Williams, who was going full skip-to-my-Lou down the sideline.
With 1:25 left in the game, and still down by three, Campbell eschewed the onside kick for a deep one, and Ottawa's return was limited to 17 yards. Another two-and-out, and the Lions were suddenly on the verge of winning.
"It's not often you see where you miss an onside kick, and then you get to kick off deep," said Campbell. "I always talk with Jordan (Maksymic), I have a chart in my pocket, and I always talk with him upstairs about how much time they can kill. We said 'let's kick it deep, and if we stop them, we're still gonna have time.' And we thought their hands team would be on, so hopefully we could pin them down there. Credit to our players; but that's how that all went down."
Article content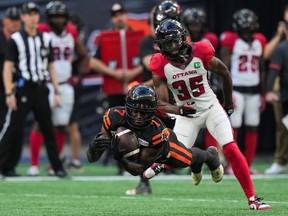 RUN OVER
It's beyond the beating-a-dead-horse analogy. It's more like the horse died, the body has been dug up, and whipped again.
The Lions run defence got chewed up again early on, albeit by a very good running team. The Redblacks had 101 yards rushing at the half, averaging 5.6 yards per carry.
The Redblacks first three touchdowns both came off the legs of Crum, one off a designed run for three yards, a five-yard scramble, then another short-yardage score late in the third.
B.C.'s best weapon in their run defence has been their offence; get out in front, forcing other teams to throw. But in close games, like Saturday's, their deficiencies and gap management were laid bare. And that opened up the pass game for Crum, who uncharacteristically started dicing up the secondary in the third quarter.
Article content
But by the middle of the third quarter, B.C. had made their adjustments, allowing just 13 second-half rushing yards.
"We talked about simplifying and making sure we were in our best fronts to stop the run, making sure we got the guys on the field that we want to cancel the run," said Campbell. "We talked about it at halftime. I think we were losing the physical battle on all sides of the ball. They were making plays and we weren't, but obviously we made enough plays at the end to get it done."
A LITTLE HELP FROM A FRIEND
The Tiger-Cats did the Lions a massive favour by beating the Blue Bombers 29-23 on Saturday afternoon at home.
The loss dropped the Bombers to 10-4 on the season, meaning the Lions could lose the rubber match game with Winnipeg (Oct. 6, B.C. Place) and still win the West title.
Article content
Former Lion James Butler had 88 yards and a touchdown on the ground, but no run was bigger than his 11 rush with 53 seconds left, which gave the Ticats a fresh set of downs and salted the game away.
Article content
The B.C. Lions are at home, so it's time to make hay

Rib injury could shelve B.C. Lions linebacker Bo Lokombo for extended stint
---
Bookmark our website and support our journalism: Don't miss the news you need to know — add VancouverSun.com and TheProvince.com to your bookmarks and sign up for our newsletters here.
You can also support our journalism by becoming a digital subscriber: For just $14 a month, you can get unlimited, ad-lite get unlimited, ad-lite access to The Vancouver Sun, The Province, National Post and 13 other Canadian news sites. Support us by subscribing today: The Vancouver Sun | The Province.

reference: theprovince.com