What did Trudeau know? When did he know it? What has he done about China's intercedence?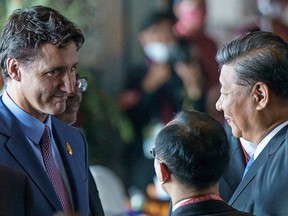 Article content
The issue of China's interference in Canadian affairs, what Prime Minister Justin Trudeau has known about it, and what he's done about it, only gets weirder by the day.
Article content
On Wednesday, Trudeau was asked directly in the House of Commons what issues of interference he raised with Chinese President Xi Jinping.
Article content
After allowing the whole world to believe for the last week that he had raised questions of China interfering in Canada's 2019 election, Trudeau threw a curveball.
"What specific interference was the Prime Minister refereeing to when he raised his serious concerns about interference with the Chinese president?" Conservative Leader Pierre Poilievre asked.
"We've known for many years that there are consistent engagements by representatives of the Chinese government into Canadian communities, with local media, reports of illicit Chinese police stations, these are things that we continue to be concerned about," Trudeau said.
Article content
The issue of China's covert and illegal police stations is an important one and I'm glad Trudeau is raising it. However, that's not the issue that he allowed to be circulated as causing the rift between himself and Xi at the G20.
After Trudeau spoke with Xi in the hallways of the G20 meeting in Bali, Global News reporter Mackenzie Gray cited a senior source as stating the PM had "raised the issue of Chinese interference in Canadian elections" with Xi.
Turns out, either that senior source was lying to Gray, or Trudeau is lying now.
On Sunday, Trudeau said he had never been briefed on at least parts of these allegations.
"Let me be clear, I do not have any information, nor have I been briefed on any federal candidates receiving any money from China," Trudeau said.
Article content
Note that he says, he was not briefed on any money from China going to candidates. He never said he wasn't briefed on Chinese election interference.
I applaud Trudeau for saying he's instructed his officials to hand over as much information as they can to the Commons committee investigating this matter. But I don't think that is good enough now. We need to know more because these allegations are serious.
Canada's Chief Electoral Officer told a Commons committee this week that he knows nothing of the allegations.
"I'm not aware of any specifics regarding campaigns of interference by Beijing other than what I read in the news article," Stéphane Perrault said.
Similarly, the Ontario government says they have never received information regarding the allegation that an Ontario MPP was part of the plot. They went so far as to say their liaison with CSIS stationed in the solicitor general's office had not even heard a whisper of this before the story appeared in the media.
Article content
Is it possible that Global got this story spectacularly wrong from the start? It's possible, but if that were the case, someone in the apparatus of government would have said the story was false before now.
What we have are allegations that cast a cloud over many people, that drive rumour and innuendo, that cast doubt on the integrity of our elections and of the parties that operate in them. We should be getting answers and real information from our government to counter this trend.
Instead, we have a prime minister who appears to have played this issue for domestic political advantage, allowing people to think he had raised the issue while being tough with China's president when, in fact, he raised a different issue entirely.
This isn't a partisan issue — the allegation is candidates in two parties received assistance — this is a question about the integrity of our elections.
Canadians deserve the truth.