Article content
"That guy's a real piece of work isn't he," Doug Ford said.
Article content
It was at a news conference in Hamilton on Thursday and Ontario's Premier was speaking about federal Environment Minister Steven Guilbeault. It was a rare moment of animosity between the Ford and Trudeau governments, but Ford was clearly frustrated.
Article content
A few years ago, sniping between the two governments was a regular occurrence. In the 2019 election, Trudeau's Liberal Party campaigned for seats in Ontario running as much against Doug Ford as his actual opponent at the time.
Since then, a peace has developed as both sides realized that in Ontario, most voters don't like to see governments fighting, they want to see cooperation. Seems no one sent the memo on that file to Steven Guilbeault.
Ford's sniping at Guilbeault wasn't unprovoked, it was in response to the latest over the top attack on Ford from Guilbeault. For months, Trudeau's environment minister has been taking pot shots at the Ontario government making comments to the effect that Ford doesn't care about the environment.
Article content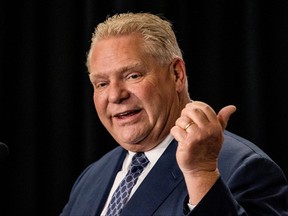 At the same time, Guilbeault has been launching studies to try and stop Ford's plans to allow affordable housing to be built on parts of what was once Ontario's Greenbelt while also pushing forward with plans to stop Hwy. 413, a project Ford campaigned on in the last election. Ford's comment about Guilbeault being "a piece of work" was in response to a question about Guilbeault's latest comments that Ontario has no climate change plan.
After calling out Guilbeault and noting that he has a great working relationship with Trudeau and senior ministers like Chrystia Freeland and Dominic LeBlanc, Ford detailed what his government is doing on the environmental side.
"We're putting in a billion dollars to make sure we pull critical minerals out of the ground to put in the EV vehicles and the batteries to make sure we take cars off the road," Ford said. "We're putting electric arc furnaces at Dofasco and Aloma taking two million cars off the road. We're building the largest transit system in North America to get people out of their cars."
Article content
The Impact Assessment Act, passed in 2019, was dubbed the no more pipelines bill by the oil and gas industry at the time but it has since become the no more development law. In May 2022, Alberta's top court called the law a "wrecking ball" to Canada's constitutional order when striking it down in a 4-1 decision.
RECOMMENDED VIDEO
At the Supreme Court last month, Alberta's challenge to the law was supported by every province across Canada from the Liberal government of Newfoundland and Labrador to the NDP government of British Columbia.
Guilbeault has been threatening mining projects in B.C. with this act, oil projects in Alberta, a power plant in Saskatchewan and now highway and housing projects in Ontario. Using this overly-broad law, Guilbeault wants to have an effective veto on any project he or the federal government do not like.
This isn't how Canada was set up, our constitution does not give the federal government the power to be municipal urban planners, but that is what Guilbeault is trying to do. It's also the backstory to the sniping between Ford and the federal minister.
The Supreme Court needs to step in and strike down this law in whole or in part before it, and Guilbeault, truly do destroy the constitutional order.