If PM decides to ramp up spending, it would cause more harm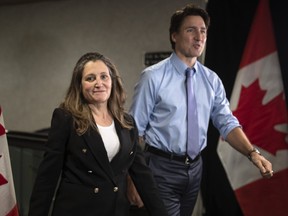 Article content
As Justin Trudeau and his cabinet meet in Hamilton this week, one thing must be weighing on his mind: The prospect of a recession.
Article content
A wave of layoffs stateside, key indicators in this country are down including retail and manufacturing sales, and then there is inflation.
Article content
What lies in store for the Canadian economy in 2023? The message from Finance Minister Chrystia Freeland to her cabinet colleagues when she updates them Tuesday will be a warning to get ready for choppy waters.
"There's lots of uncertainty," Freeland's associate finance minister Randy Boissonnault said Tuesday morning.
Uncertainty isn't what any government wants, especially as they plan their budget. The Trudeau Liberals have run big spending budgets over the last seven years, in good times and in bad, but if a recession hits, tax revenue will naturally fall.
"We're going to be watching this every step of the way," Boissonnault said. "We still have fiscal room to be able to do the things we need to do but the fiscal room has tightened."
Article content
The lack of "fiscal room" as the government calls their spending power hasn't stopped them from pushing money out the door as quickly as they can. The trouble now is, even the government has reluctantly acknowledged that overspending by government adds to inflation and with the Bank of Canada trying to beat inflation down by raising interest rates, boosting government spending in the face of a recession may not be possible.
We could see another rate hike early Wednesday — the market has already priced in another quarter point increase, but there is still the possibility that we could be surprised and see the Bank leave the rate unchanged at 4.25%. Any rate hike would further batter homeowners and businesses dealing with lines of credit, all factors that could lead to an economic slowdown.
Article content
The housing market has already cooled in response to the rate hikes, especially in British Columbia and Ontario. With the national GDP figure just slightly above zero, any slowdown could push Canada into a recession.
That, of course, will have an impact on your life, on your ability to prosper and thrive, it will also have a political impact.
No politician wants to campaign in the middle of a recession, especially not one who has been in power a long time and can reasonably be blamed for some aspects of the downturn. Faced with the prospect of an election during a recession, Trudeau's only move would be to ramp up spending by sending payments to Canadians and then warn voters that without returning him to power, the Poilievre Conservatives would take away all the help.
Article content
It's a move that could work politically but economically it would be a disaster.
Such a move would add to inflation, making the price of everything go up and making life less affordable for the voters being bribed with their own money. It would also weaken the country's finances, making the debt larger and the payments on the debt higher than key programs.
Already government figures from the fall economic statement show that the interest payments on the national debt will top $43 billion next year. That's three times what the Trudeau Liberals will spend on their signature early learning and childcare program and about 43% higher than what we will spend on our military.
More debt means higher interest payments which means less money for programs like health care.
It's not a pretty economic picture that Trudeau and his team are looking at as they sit in Hamilton this week. It's why he needs to consider his response to the economic headwinds carefully rather than acting as he usually does, by spending more money.