This is the plan that Premier Ford should have launched two weeks ago, but better late than never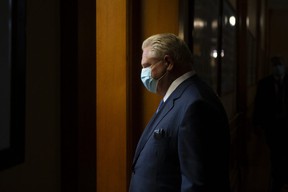 Article content
It is a document intended to give the public an idea of ​​when and where public health measures will be applied and when and where they will be lifted. Some will find you too cautious, and others too reckless, but for most Ontarians it will give you an idea of ​​when, barring bad news, we can expect things to change.
Commercial
This ad has not been uploaded yet, but your article continues below.
Article content
On Monday, capacity limits will be lifted for bars, restaurants, gyms, casinos and meeting spaces where proof of vaccination is required.
Places where the vaccine certificate is not required can raise their capacity limits if they choose to start requiring the certificate for anyone who enters their facilities.
The provincial plan sets out step by step when we can expect things to change, up to eliminating passport requirements for vaccines next winter and ending mask mandates in March.
This is exactly the kind of document Premier Doug Ford and his team should have released two weeks ago before increasing capacity limits for theaters and stadiums, but better late than never.
"This plan is designed for the long term," Ford said.
Commercial
This ad has not been uploaded yet, but your article continues below.
Article content
"It will guide us safely through the winter and out of this pandemic, while avoiding lockdowns and ensuring that we do not lose the gains we have made."
The prime minister praised his government's cautious approach to the reopening, including pausing Step 3 in August, as well as the steps taken by citizens across the province to bring us to this point. He used words like slowly, cautiously, and incrementally to describe how his government has acted so far and how it will act in the future.
This was not a "mission accomplished" victory lap by Ford, the prime minister even cautioning that each new step is based on maintaining positive momentum when it comes to hospital capacity, ICU admission and community outreach.
"If we don't see numbers in a stable place, we just won't," Ford said of new reopens in the new year.
Commercial
This ad has not been uploaded yet, but your article continues below.
Article content
In government documents detailing when and where passport requirements for vaccines will be lifted, the province states that this will only happen in, "… the absence of worrying trends in public health and healthcare after the vacation months of winter and after students return to classroom learning. "
If we can make it to 2022 without an increase in hospital admissions or with regards to community spread, the vaccine passport requirements will be lifted as of January 17 for restaurants, bars, gyms and other establishments.
It will be lifted for nightclubs three weeks later, and by the end of March, all public health measures will have been resolved.
There's a big if attached to all of this, and the date of the final lift, March 28, almost coincides with the 'two weeks to flatten the curve' date, albeit two years later.
With nearly 88% of eligible Ontarians receiving their first injections and nearly 84% their second, the province has an incredibly high level of vaccination coverage.
The vast majority of us have done the right thing, we have continued to follow what are now tired public health protocols and we deserve and need a light at the end of the tunnel.
This plan gives the public that light, hopefully there are no shadows to stop us during the winter.
Reference-torontosun.com