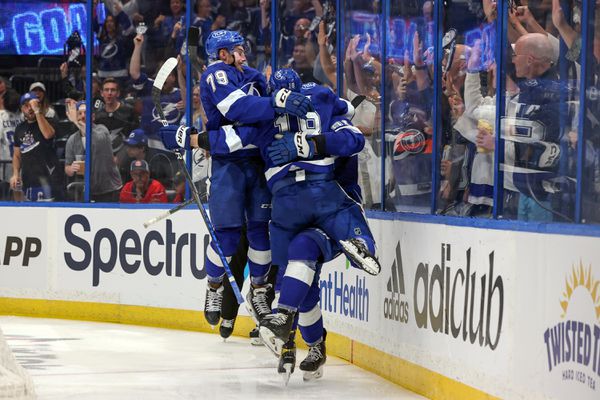 Andrei Vasilevskiy is a not-so-secret key ingredient in the Tampa Bay Lightning's recipe for playoff success.
The reigning Conn Smythe Trophy winner won his fifth straight postseason game on Sunday, stopping 34 of 35 shots to help the two-time defending Stanley Cup champions beat the Florida Panthers 5-1 and be on the verge of another trip. to the Eastern Conference. final.
"It all starts with him," forward Nick Paul said after Vasilevskiy came to prominence again by defeating the Panthers, who had the best record in the NHL and averaged a league-high four goals per game during the regular season. .
The Presidents' Trophy winners have three goals in three games against the Lightning, who hold a commanding 3-0 series lead and are one win away from advancing to the conference finals for the sixth time in eight years.
"There are a lot of things that go into it," coach Jon Cooper said of Tampa Bay's defensive effort.
"But we are committed to playing D, and I think it has helped in some of these moments where we have had the advantage. … But we have a plan, and the guys are executing and playing hard," Cooper added. "We feel like we have a recipe here, and we just have to stick to it. However, it is difficult because they are a great team."
Steven Stamkos scored two goals and Nikita Kucherov had a goal and three assists for the Lightning, who are in the playoffs for the eighth time in nine seasons under Cooper.
Game 4 is Monday night at Amalie Arena, where Tampa Bay has won three of four games this postseason.
"We are happy with what is happening here. But you know, we haven't done anything yet," Cooper said. "Until you start scoring that fourth win, there's nothing we can sit on and hang our hat on. We are getting closer little by little, but this is far from over."
Corey Perry got the Lightning off to a strong start with his 50th career playoff goal and Erik Cernak also scored.
Vasilevskiy, meanwhile, allowed just one goal for the fourth straight game after giving up at least three in each of Tampa Bay's first six games this postseason.
The six-foot-three goalie, nicknamed "Big Cat," was helped again Sunday by teammates who combined to block 19 shots.
"We're down 3-0, so obviously we're not happy with the results," Panthers star Jonathan Huberdeau said.
"But we are playing with probably the best goalkeeper. He is making some stops. We are having chances. We're not getting any rebounds right now either," Huberdeau added. "Thanks to them too, they are blocking every shot. They are a good team. You can see why they won two Stanley Cups."
Sam Reinhart scored Florida's only goal on Sunday, snapping a puzzling 25-0 playoff start for the Panthers' power play.
Sergei Bobrovsky stopped 31 of 34 shots, and Perry and Cernak scored just moments after Florida settled penalties in the first and second periods. A goal from Stamkos after a pass from Kucherov made it 3-1 midway through the second.
Kucherov and Stamkos added empty-net goals in the final four minutes after the Panthers eliminated Bobrovsky in favor of an additional attacker.
"The expectation that comes out of every game is to win," Stamkos said, looking ahead to Game 4. "But we realize the challenge ahead of us."
Perry, who signed with Tampa Bay as a free agent after being part of teams that lost to the Lightning in each of the last two Stanley Cup Finals, redirected Ryan McDonagh's shot past Bobrovsky to give the defending champions an early advantage.
The Panthers, 0-for-25 on the power play through their first nine playoff games, finally broke through to a 1-1 draw with Huberdeau and Aleksander Barkov setting up Reinhart to beat Vasilevskiy from the front of the net.
Ultimately, however, Florida paid for its inability to capitalize on other opportunities.
Barkov narrowly missed responding to Cernak's goal that put Rayo up 2-1, sending a shot from the right to the post. The Panthers also narrowly missed the tie during a second-period power play that produced several chances, including Huberdeau's open glare that McDonagh deflected over the net with his stick.
Florida finished 1-for-3, falling to 1-for-28 in man-advantage situations this postseason.
"There wasn't a lot of luck with the puck, and a lot of credit to them," Florida interim coach Andrew Brunette said.
"We stayed behind, it is a difficult team to recover. We've fallen behind here this entire series and haven't found that extra team that we've found all year," Brunette added. "But you have to play a game to bring him home and keep him alive."
NOTES: With his 50th career playoff goal, Perry overtook Brad Marchant and Patrick Bergeron in sole possession for sixth among active career playoff goal leaders. … The Lightning are 9-0 in best-of-seven series in which they won the first two games, including last year's first-round victory over the Panthers. … Lightning C Brayden Point missed his third straight game due to a lower-body injury sustained during Tampa Bay's Game 7 win over Toronto in the first round.
This content appears as provided to The Globe by the originating cable service. It has not been edited by Globe staff.


Reference-www.theglobeandmail.com