North Vancouver's Dylan Cramer recalls a bond between two celebrity athletes that taught him something about love and understanding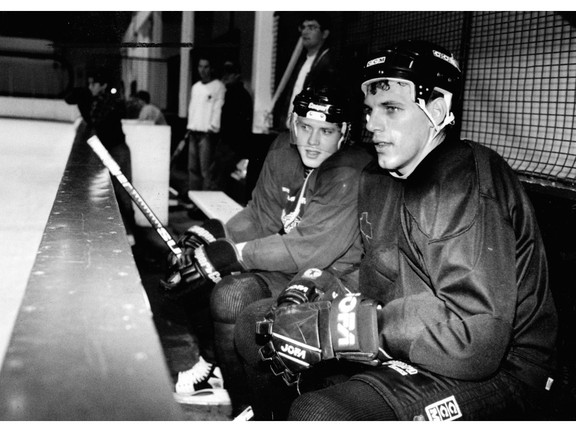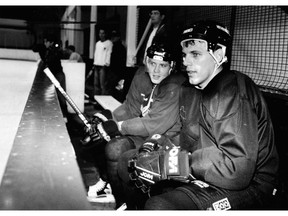 Article content
I'm 64 years old, standing in my kitchen, crying. My wife comes in and says, "What are you crying about now?" (I guess I cry too much for her liking, sigh). I reply, "Gino Odjick." She responds, "The hockey player? Why him?"
Article content
Well, almost 40 years ago now, in 1994, the Canucks played in the Stanley Cup Final against Mark Messier and the New York Rangers. The series captivated the city and went to seven games, with the Canucks losing the final battle to the Rangers in a gritty heartbreaker.
Article content
But what I remember most about that time was Pavel Bure, nicknamed the Russian Rocket. His electric style of playing brought the fans to their feet every time he touched the puck, reminiscent of when the great Bobby Orr played.
On Bure's line was our very own Gino Odjick, known in the hockey world as a tough guy, an enforcer. Gino's job, given to him by coach Pat Quinn, was to protect Bure at all cost. Gino did his job masterfully, and while doing so won over the hearts of Canucks fans.
Article content
But during their time together as Canucks teammates something else quite unexpected happened: Despite being from different worlds, Pavel and Gino became best friends. Their bond lasted their entire lives. They went everywhere together, were always laughing and smiling, and we all laughed and smiled with them.
In the summer of 1992, two years before that incredible Cup run, the Junior A Minto Lacrosse Championship was held in Coquitlam, between the host Coquitlam Adanacs and the visiting Six Nations team from Ontario. Having played lacrosse myself at an early age with several kids from the Musqueam Nation, I developed a deep respect and love for the First Nations people. When I learned that the Six Nations team was coming here for the championship, I had to go and watch.
Article content
When I arrived at the game and got seated, I noticed something that threw me for a loop. I looked over and saw one white guy sitting amongst the First Nations fans: Pavel Bure. Gino was sitting beside him and had obviously taken Pavel to the game. As soon as I saw Bure there, I left my seat, went over to where he and Gino were sitting, and sat down nearby. I don't remember who won the game that night, but what I do remember is the respect that was shared between Bure, Gino and the First Nations people. It was a beautiful feeling.
When I played lacrosse as a child, I remember hearing white parents from other teams yelling cruel, racist remarks at my Musqueam teammates. I witnessed the tears that would spill out of my teammates' eyes and it made me mad as hell, and I hated those parents for their insulting remarks.
Article content
That night at the lacrosse game, years later, because of their friendship, Gino and Pavel proved that love indeed conquers all.
And so, when I heard the news of Gino's passing, an avalanche of tears exploded inside me and I cried, hard. He and Pavel were so special together. We need more like them. We need to come together, to respect each other, to love each other and stop fighting. When are we going to finally wake up and realize this? I hope it's soon, for our children's sake.
Dear Gino — thanks for teaching me about love, so many spins ago. I'll miss you, even though I didn't know you.
Dylan Cramer, North Vancouver
---
Letters to the editor should be sent to [email protected] 
---
More news, fewer ads: Our in-depth journalism is possible thanks to the support of our subscribers. For just $3.50 per week, you can get unlimited, ad-lite access to The Vancouver Sun, The Province, National Post and 13 other Canadian news sites. Support us by subscribing today: The Vancouver Sun | The Province.
reference: theprovince.com