[ad_1]

Article content
The hunt is on for a pitbull in the east end of Toronto after a man and his pet were attacked in Greenwood Park.
Article content
Curt Martin and his wife were walking down Greenwood Ave. when they say off-leash pit bull in the park ran up and attacked their small dog.
"Luckily, both myself and our little dog are able to come out of this with minor physical injuries," said Martin on Thursday, describing the cuts and bruising they experienced from the attack. "But the trauma is a little more impactful."
Martin was told by the vet that his dog's padded harness likely protected her from worse injuries.
His objective now is to find the dog and its owners and make sure this does not happen to anyone else.
Martin and his wife have posted on social media and placed physical notices in neighborhood gathering spots and shops.
"I'm not entirely sure the dog was a pit bull. It may have been some type of bull mix," said Martin, explaining that he did not intend to shoot the breed. "It's just useful as a way to describe and locate the dog."
Article content
He said the dog attack is the most terrifying experience he's ever had.
"I'm not exaggerating," he said.
The dog that attacked ran up from the park to where they were walking so quickly that nobody had a moment to think.
"And that dog was up on top of ours. I saw the dog open its jaws and put our dog's head in its mouth. The sounds our dog made — just blood-curdling squeals," he said.
"I had no time to think about anything. When it latched onto our dog, all I could think of was, 'our dog is dead'. If I don't do something now our dog is sure to be mauled to death."
Martin got into the fray, hit the attacking the dog in the snout and grabbed his dog away into his arms. To his horror of him, he said the pit bull kept lunging at him and his dog of him.
He fell into the road on Greenwood and the pitbull grabbed his dog again. Once he could retrieve his animal, he raced across the street and stood on someone's porch.
Article content
His hands were bleeding. He could see two people were holding the other dog back.
Once Martin saw that the dog was leashed again, he crossed the street to exchange information with the owners and ask about their animal's immunizations.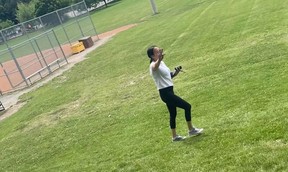 The man immediately ran north with the dog. The woman refused to speak to Martin's wife, who asked for a name and phone number.
According to Martin, the woman said, "I'm not going to entertain this conversation."
"What happened tells me that the dog has done this before. These owners are careless enough to have this dog, with its aggressive tendencies, off leash," he said.
Martin said his adolescent son and his wife often walk the dog alone.
"This could happen again with a child. It's irresponsible dog owners, and their carelessness has to be accounted for. They can't just wipe their hands of this," he said.
Martin said the man who accompanied the dog is between 35 and 40 years old, with a larger build and dark hair, between 5-foot-10 and six feet tall.
He has a specific haircut, with shaved sides and back but long at the crown, possibly in a bun.
"We just want to be sure this doesn't happen again to anyone else, to be sure this dog never puts anyone in this position again," Martin said.
Witnesses have already spoken to animal control at the City of Toronto. Anyone with information pertinent to this case can call Jodi Savage at Animal Services at 416-984-7918.
[ad_2]