"Panier Bleu has a problem. It can't compete with Amazon. It will always fail," says the Party Shop owner.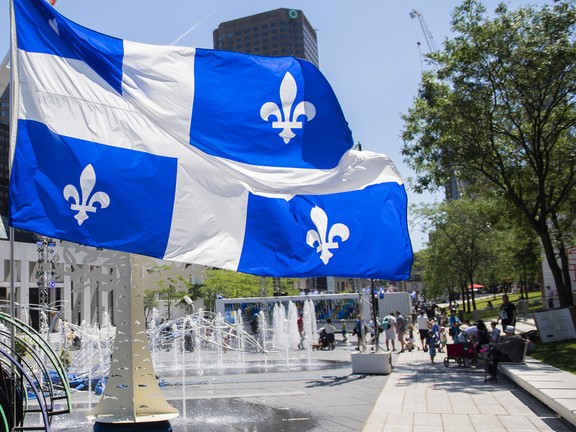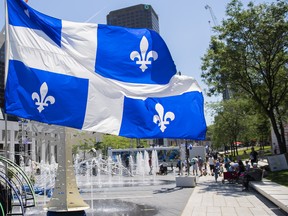 .
I recently ordered six Quebec flags. One was from Amazon and arrived at my door 19 hours later in one of those padded packages that can be recycled. The other five I ordered from Le Panier Bleuan online portal sponsored by the Quebec government that promotes and sells products from Quebec merchants and is designed, as its own slogan says, to "jump-start our economy."
.
Launched in April 2020, affected by COVID-19, the initiative is certainly not without ambition. Rather than allow Quebec businesses to sell their trinkets online, Le Panier Bleu would bypass search engines like Google to the benefit of smaller businesses, the Quebec government said, while competing with the likes of Amazon. In doing so, it would reduce Quebec's trade deficit. "A little competition for Amazon… and protection for Quebec products," Prime Minister François Legault recently tweeted.
People seemed delighted with the idea. A professor of regional economics said Le Panier Bleu could be a boon to Quebec's terroir, while Le Devoir columnist Michel David wrote that it could spark a desire among Quebecers for "relative self-sufficiency." In June, the Quebec government, through its investment arm Investissement Québec, contributed money to this noble project, to the tune of $12 million.
.
I'll try to be polite here, so let's start with sympathetic caveats. Le Panier Bleu came about as governments around the world were trying to do something, anything, about businesses closed due to COVID-19 restrictions. This alone deserves a round of applause, regardless of the outcome. Also, building things is hard. Jeff Bezos founded Amazon in his garage in 1994. He spent almost a quarter of a century before he bought his first superyacht.
And Le Panier Bleu is still non-transactional, meaning it just directs shoppers to stores and doesn't process payments or handle shipping. This will change in time for the Christmas rush thanks to the government mob, along with a total of $10 million from Desjardins, Fonds de solidarité FTQ and point-of-sale giant Lightspeed.
.
But wow, Le Panier Bleu is a disaster. Consider those flags I ordered. Considering it's a Quebec-made company, I thought the site would be full of fleurs-de-lis. However, the iconic sign was only available at the Party Shop, which sells exactly what its name suggests: balloons, costumes, smoke bombs that reveal the baby's gender.
The attached image was blurry and there was no indication of the size of the flag. I called the Party Shop, which has two locations on the South Shore. A very nice woman named Aleezia told me that the flag was two feet by three feet. I had to order five to make the minimum order. About an hour after I placed my order, another friendly woman named Sarah called me to say that they didn't have enough two by three flags in stock. But they had a lot of three by fives, she said. Did she want them? Of course! The bigger the better.
.
The phone calls were necessary, because shopping at Le Panier Bleu in 2022 is like traveling back two decades, to a time when online stores were taking their first tentative steps on the web. A search for the aforementioned "terroir" results in a random explosion of books, wine, hand soap, gift baskets, and dog-sled expeditions. The screen is a bit above the Geocities level. As far as I can tell, there are no algorithms tracking you and your credit card.
The flags arrived four days after my delivery on Amazon. And here's the thing: Like Amazon products, the Panier Bleu flags were made in China, which, given the site's economic-nationalist claims, seemed like a good argument for why economic nationalism doesn't work.
.
Daniel Désy agrees. He founded the Party Shop in 2003 and, until the pandemic, made a decent living sculpting balloons and supplying party supplies to festive Quebec types. He signed up for Le Panier Bleu in the middle of the pandemic when he and his wife were, as he recalls, "tearing our hair out" trying to save the business.
"We listened to the prime minister when he said he wanted to compete with Amazon and we were open to the idea. And it's a good idea, but it's all from China," he told me in French, pointing out how the site is sold as a showcase for products made in Quebec. "I have an ethical problem with the way they market it."
Désy's situation is common among Quebec companies. While he estimates that 40 percent of his business is related to balloon tying — "I've been making balloon animals for 27 years," he says — almost all of the products he sells come from elsewhere. The balloons themselves are from India and the United States. Helium from it comes from the US and, until recently, from Russia. Almost everything else comes from China, Quebec's second largest supplier of goods after the US.
.
In any case, Désy says that his experience with Panier Bleu did not benefit Party Shop's results. My $45.89 purchase of five flags was the only order he remembers receiving through the site. "Panier Bleu has a problem. You can't compete against Amazon. It will always fail," he told her. Part of the problem is the fading of public awareness. While 52 percent of Quebecers were aware of Panier Bleu in 2021, only 14 percent had used the service, according to a Université Laval study. Meanwhile, almost half of Quebecers had used Amazon in 2021, an increase of seven percentage points from 2020.
The thing is, contrary to Premier Legault's spiel, Le Panier Bleu is not in competition with Amazon. At least, that's what Alain Dumas told me. Since 2020, Dumas has served as CEO of Le Panier Bleu and is now overseeing its change from a government-initiated stopgap to a government-sponsored marketplace. Public funding was crucial, he said, in part to ensure Le Panier Bleu had a "long-term financial perspective." He said the made-in-Quebec mantra extends to the rear of Le Panier Bleu, developed by Wiptec, the Sherbrooke-based pick-pack-ship outfit.
.
Dumas says Le Panier Bleu can't afford to turn away Chinese companies, rightly pointing out that Quebec's economy benefits when Quebec-based companies sell products, regardless of where they come from. But these days, he spends considerable time suppressing the expectations raised by Legault and the government. "We are not positioning ourselves as a competitor to Amazon. Amazon's focus is the product. Ours is the trader," he told me. "We took inspiration from the Amazon model and painted it blue."
So it's kind of rich to hear Legault and his government care about Amazon's sizable footprint in Quebec to the extent that they have. In September 2020, the same month the province invested $3.15 million in Le Panier Bleu to "continue to promote local shopping," Investissement Québec invited Quebec businesses to Amazon-sponsored conferences on how best to market their products. products on the Amazon platform. The Caisse de dépôt et location du Québec is equally welcoming to the beast Bezos. Through his real estate arm, Ivanhoé Cambridge, the $420 billion public pension fund manager and model of Quebec's economic powerhouse, co-owns an Amazon sorting facility in the Montreal area.
.
Still, with the October election right around the corner, we can expect Legault to maintain the "made in Quebec" conceit while wrapping himself firmly in the flag. Even if the flag is made in China.
Martin Patriquin is The Logic's Quebec correspondent. He joined in 2019 after 10 years as head of Maclean's Quebec office. A National Magazine Award and SABEW winner, he has written for The New York Times, The Guardian, The Walrus, Vice, BuzzFeed, and The Globe and Mail, among others. He is also a panelist on CBC's Power & Politics.
twitter.com/MartinPatriquin
This section is powered by The Logic. The Logic is Canada's leading technology and business newsroom. For more news, visit thelogic.co.