The Crown prosecutor said the factor that ranked Samuel Lugela's crime above that of his brother was repeated court orders that the killer ignored relating to possession of firearms.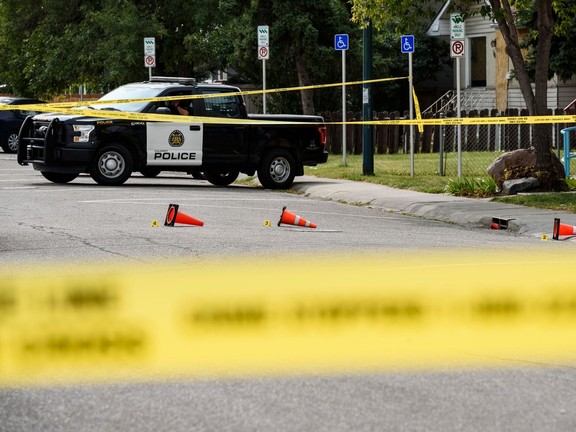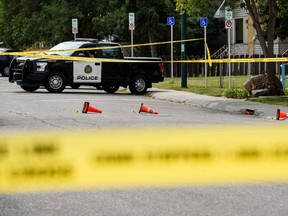 Article content
The man who fatally shot Calgary stampeder Mylan Hicks outside a city nightclub was a diagnosed psychopath and his older brother should not be punished so harshly for a similar murder, the brother's lawyer said Thursday.
Article content
But Crown prosecutor Matt Dalidowicz countered that the aggravating factors in the crimes committed by both Nelson and Samuel Lugela are strikingly similar, except for one problem: the latter repeatedly ignored court orders not to possess firearms.
Article content
Dalidowicz suggested that Judge Paul Jeffrey should order Samuel Lugela to serve a minimum of 20 years in prison before he can apply for full parole from his mandatory life sentence.
Defense attorney Paul Moreau argued that a 15-year term would suffice, noting that psychopath Nelson Lugela was given an 18-year period of ineligibility for parole.
"Nelson Lugela was diagnosed as a psychopath," Moreau said at the King's Court's sentencing hearing of older brother Samuel.
"That is not the case here. And he (Nelson) had a history of violence," the lawyer said.
"Eighteen years should be viewed as the real outer limit."
Samuel Lugela, 31, was convicted in March of second-degree murder in connection with the fatal shooting of Calgarian Abdurahaman Indiris outside the Portico Hookah Lounge in the early morning of September 12, 2020.
Article content
His younger brother is already serving a life sentence for the second-degree murder of Calgary Stampeders defensive back Mylan Hicks, who was gunned down outside a Macleod Trail nightclub four years earlier.
Dalidowicz said there were multiple similar aggravating factors in both murders that would warrant similar punishments for the brothers, including that the shootings occurred outside busy nightclubs with multiple innocent bystanders nearby.
Samuel Lugela ignored repeated court orders not to possess firearms
But Dalidowicz said the factor that put Samuel Lugela's crime above his brother's was repeated court orders that the killer ignored related to possession of firearms.
The convicted murderer was subject to a five-year firearms ban and a subsequent lifetime ban when he was arrested in July 2020 for a firearms-related offense.
He was released on bail at the end of August under conditions that included a new ban on carrying weapons, Dalidowicz said.
"The fatal shooting of Mr. Indiris in the Portico occurred 15 days later," the prosecutor said.
"The murder was the fourth time the offender was caught in possession of a firearm and the third time in violation of a firearms ban."
Article content
Calgary man convicted of second-degree murder in fatal shooting outside southeast hookah lounge

Court upholds sentence of man who fatally shot stampeder Mylan Hicks
Dalidowicz said Jeffrey should also give Lugela another lifetime firearms ban, even though he is already subject to one.
But Jeffrey noted that this was hardly going to deter the offender.
"I'm not going to say this time that we mean it," the judge said.
Before the attorneys made their presentations, Jeffrey heard a victim impact statement from the victim's sister, Mama Indiris.
"My pain was unbearable," the sister said, noting that she rushed back from a visit to Toronto when she heard her brother had been shot and arrived at the Peter Lougheed Center hours after he was pronounced dead.
"Why did this happen? Why did you have to shoot him twice?" he asked Lugela.
The date for Jeffrey's sentencing decision will be set for June 9.
On twitter: @KMartinCourts