Four-team NLL feeder loop wraps up its first season based out of the Langley Events Centre.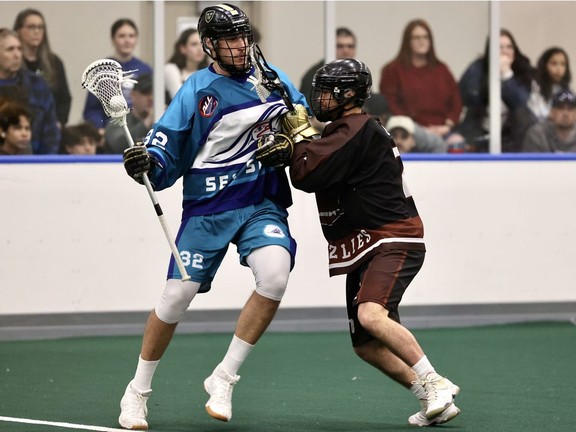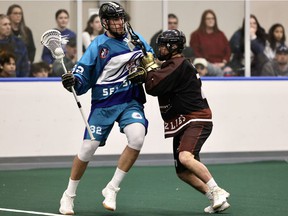 Article content
Count Keegan Bell as a fan of the Arena Lacrosse League West
Article content
The four-team feeder loop for the NLL just wrapped up its inaugural season on Sunday at the Langley Events Center and its best-of-three championship series went the distance as Sea Spray edged the Grizzlies 2-1 in the 15-minute mini- game to close things out.
Bell bagged the winner for Sea Spray with 1:05 left. Sea Spray had forced the mini-game by capturing Game 2 earlier in the day by a 14-13 count in overtime, with the winner coming 59 seconds into that extra session from John Hofseth.
Bell, 25, is on the cusp of regular duty in the NLL, as a member of the Vancouver Warriors' practice roster. He played for the Warriors in a Feb. 18 game in Calgary, and could get called on to play again before their year draws to a close.
"Being able to keep a stick in your hands and play at a high level has kept me ready," Bell said. "It wasn't like I was trying to come in off the street after not playing for months.
"It's nice to have a place to get some reps in."
Article content
The four teams based out of the LEC played 12-game regular seasons that began in Decemberwhich mirrored the NLL timeline.
Dean Fairall, 27, has been the ALL West's No. 1 success story to date. He had 26 goals and 53 points in eight games with the Shooting Eagles. He signed a one-year deal with the Panther City Lacrosse League in February and so far has 12 goals and 25 points in six games with the NLL's expansion team from Fort Worth, Tex.
As well, 21-year-old netminder Justin Geddie got called up from the Black Fish to the San Diego Seals when they had two goalies wind up on the COVID-19 protocol list. He backstopped San Diego to an 12-11 win over the Saskatchewan Rush on Jan. 14, grabbing second star on the night for his 42 saves.
"I think you're going to see even more guys knocking on the door, wanting to play in the league next year," said Russ Heard, the former NLL and Western Lacrosse Association standout who was coach of the Sea Spray.
The ALL East began running in 2017. Their seven-team league is just finishing up its current season.
The summertime club WLA hasn't played since 2019 due to COVID. They're set to open their 2022 schedule on May 27.
twitter:@SteveEwen