Kyrie Irving is an easy and more often than not deserved punching bag, to the media, to the NBA and to anyone with a pair of red gloves.
he was legitimately fined $50,000 by the NBA for his one-finger salutes to Celtics fans and likely a phrase picked up on social media as he walked to the locker room, fighting back against abuse from spurned lovers.
And you know what?
Good for him.
The league did what it had to do: Players can be seen making obscene gestures several times on national television during a playoff game. As intense as April, May and June may be, there has to be some decorum.
But that doesn't mean Irving has to take every morsel of nonsense from Celtics fans. Admittedly, he was hilarious when he taunted the fans, wiping invisible tears from his eyes as he torched the team in green during Game 1 of the highly anticipated first-round series.
The NBA has to protect its product, and Irving can respond to similar energy even when he knows the penalty is coming.
Many times the coaches will puncture the NBA if not, openly criticize it by airing your complaints, knowing you'll get the call from the top watchmen that will make your next checks a little lighter.
But they understand your point of view.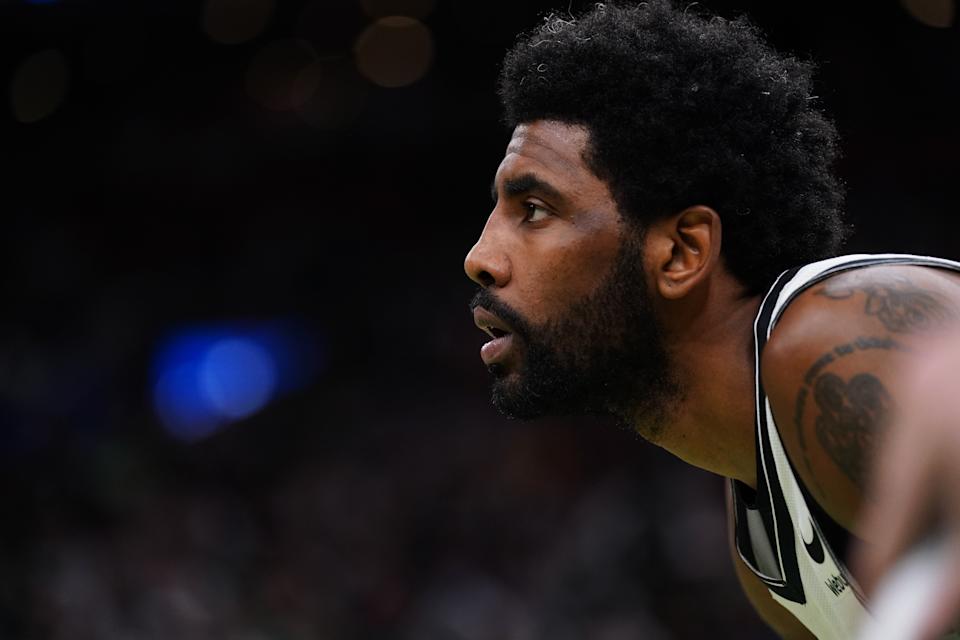 Now, just so we're clear, Irving wasn't doing anything strategic to give himself or his team a competitive advantage on Sunday; it could be argued that he let the Celtics fans get into his head too much, leading to a dribbling display on the final offensive possession that went away. nowhere before Jayson Tatum's unlikely game-winning goal – but you don't have to just sit back and accept the nasty things fans say.
At the bottom of this, everything is illogical. Passion usually is: fans are so invested in something so trivial when you think about it, but it fuels everything in the esports business because people care.
irving has salvia waved around the TD Garden on one of his returns, apparently trying to cleanse him of negative spirits. And the stomped on the celtic logo (did anyone know he had a name, Lucky?) that drew the ire of the all-time great Kevin Garnett and the apparent luminary and defender of Celtics lore, Glen "Big Baby" Davis.
Who knew Irving could inspire such non-vaccine-related anger?
Irving turned down the Celtics and planned to escape from Massachusetts Alcatraz within a year of his arrival. And that rejection was a huge crime for sophisticated Celtics fans who aren't used to someone not loving them, refusing to forgive and forget.
Now, Irving manages to spray kerosene on the city whenever he can. That wound will not heal after he said he would return only to leave next July, bordering on quitting while he was still on the clock. He knows how they feel and does this passive-aggressive thing, insinuating that he's in a place of peace in Brooklyn that subsequently points to Boston as a place of confusion.
But Celtics fans have been using well-earned labels for decades, many around issues of race. It's something players are generally sensitive to, though most players who have recently played for the Celtics have come to love and appreciate the city and the franchise long after they left.
It remains in the air, like a mist thin enough to pass through easily, but it is a mist nonetheless, and cannot be ignored. Irving presents himself as conscientious and has certainly shown sensitivity, even if he feels out of place.
Those two ideals intersect and cannot be ignored. Sit in TD Garden long enough and you'll hear some terrible stuff, which you'll hear at pretty much any NBA stadium, to be fair, but some stuff hits differently because it's Boston.
And the best thing is that many words are said because, despite the proximity that a courtside seat provides in relation to other professional sports, fans know that there is a barrier that players will not go until very far to retaliate.
So if Irving wants to troll and inflame this toxic relationship, good for him.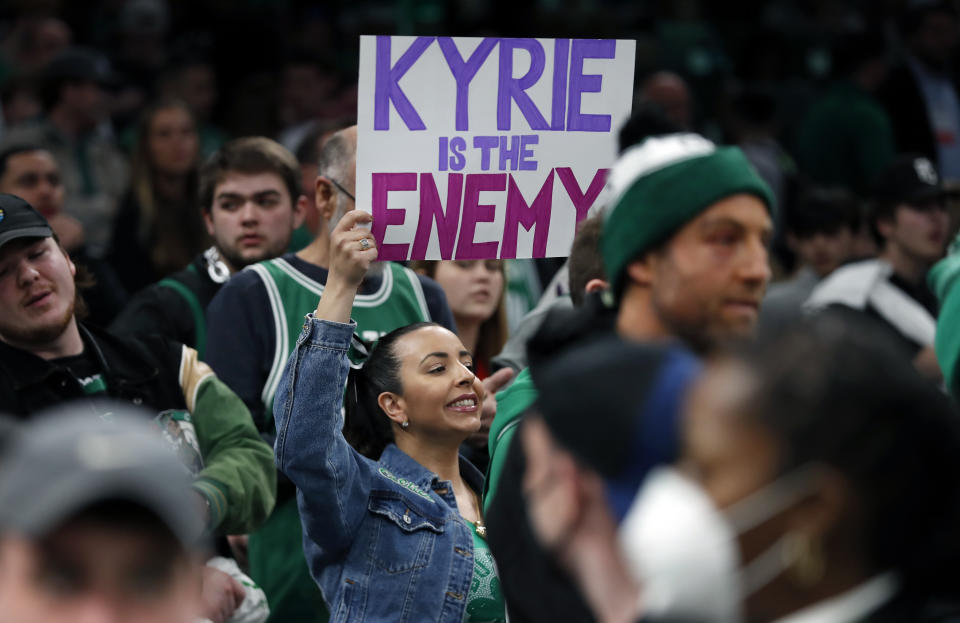 The NBA won't say it out loud, but it's good for the league. He builds anticipation and intrigue in an already exciting playoff series, and no one has to say a word about Irving's nonsense about his vaccination logic.
A little hate never hurt anyone, especially when it manifests itself in the form of some truly high-stakes competition. As much as we can all appreciate the classy, ​​well-behaved athlete, sprinkling a little color and some flavor makes the league better.
The words of Shaquille O'Neal and Charles Barkley lightly chiding Irving for his profane response are echoed by their respective statures: O'Neal, no matter what you think of his television persona, took all manner of physical punishment as a player from of opponents who weren't as big or strong as him, but had to hit as hard as they could.
Aside from punching Brad Miller once, which would have ended Miller's life if he connected, O'Neal was a man of great restraint.
Barkley's story is a bit more checkered, but it's as light-hearted as it gets, having become the most entertaining person on sports television, so the perspective from which he leans is not to take anything seriously.
But with fans able to communicate with players in more ways than ever before, holding up cell phones as bait and prodding at every opportunity, soon enough someone will be barking back.
So while Irving knows exactly what he's doing, throwing the double bird behind his head, giving a solo after hitting a clock-hitting jumper and earning a five-figure fine. He not only has to take it, especially when social media is more frequent and bad and the fans are getting more and more brazen.
As long as he doesn't dole out Stephen Jackson-style justice, no complaints here.
And meanwhile, prepare your popcorn.


Reference-ca.news.yahoo.com