After a year and a half of holding virtual meetings, Kingston city council members don't seem in a rush to see each other in person anytime soon.

They have chosen to continue meeting in a virtual format for at least another six months due to lingering concerns about the COVID-19 pandemic and the added cost of renovating the historic council room in city hall to make it safer for meetings.
Read more:
Vancouver councilor encourages face-to-face meetings
Coun. Ryan Boehme led the charge to maintain the e-meeting status quo amid the fourth wave of the pandemic.
"This format has worked quite well. I feel like the public has gotten a lot more involved. "
City staff presented three options for councilors to consider earlier this month: continue to meet electronically, meet in council chambers with clear physical dividers between desks and mandatory masks, or a hybrid of the two options that allow each council member the option of meeting in person or virtually.
Councilors have not met face-to-face since March 2020, when the pandemic closures began.
Boehme says there is no need to rush back to city hall to do municipal business.
"The fact that we are basically into the fourth wave, I don't think a movement back to the cameras in person or the hybrid movement at this point makes much sense."
The council voted 9 to 4 to maintain the status quo of holding council and committee meetings from the comfort of their homes or offices for security reasons.
The option of resuming face-to-face meetings in council chambers was deemed problematic due to the 19th century room configuration and the lack of physical distance between seats for politicians, staff, and the public gallery.
Read more:
Virtual Zoom meeting fatigue begins
Under this option, staff said special dividers would have to be installed between the 12 seats around the horseshoe, while only a limited number of municipal staff could attend in person. In addition, all observers or council delegations would continue to participate through virtual means, and councilors would have to wear three-layer surgical masks, except when speaking.
It would also cost more than $ 66,000 to carry out the necessary security and technology updates for the council chamber, according to a staff report.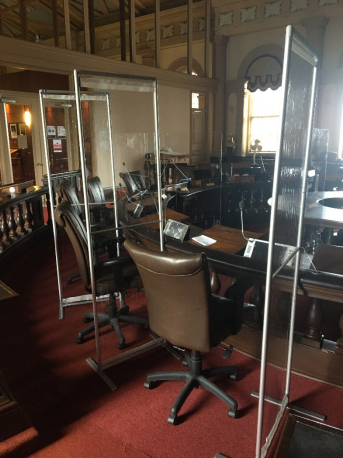 The cost factor weighed on the minds of politicians wondering if it is a good investment of tax dollars at the moment.
"I don't want to spend $ 66,000 to go to council and sit in a booth (with dividers). It's not like we can talk to each other like they used to, "Coun said. Lisa Osanic.
Coun. Bridget Doherty says she supports ongoing virtual meetings until both councilors and the public can attend the meetings in person.
"Really, these meetings are for the public. I really don't see the purpose of us getting behind the partitions and the public still can't participate unless it's done virtually. "
But others, including Mayor Bryan Paterson, spoke out in favor of the hybrid meeting model, noting that many other workplaces have already started moving in that direction.
"It is a step-by-step process to get back to normal. It's just a question of when are we going to spend this ($ 66,000 on camera upgrades). "
In the hybrid meeting model, councilors could participate in each meeting, either in person or electronically.
A limited number of city staff would attend in person and support the meetings, and members of the public, including delegations and presenters, would have to participate virtually.
Read more:
Poll suggests Canadians are concerned about the fourth wave
Coun. Wayne Hill sees the shift to hybrid gatherings as a show of confidence in existing public safety measures, a return to normalcy for civic government, and a reflection of what others in the community are already doing, such as children returning to the schools.
"We can show people that we are leading by example that vaccines work," he says. "It's an important symbol for doing the kinds of things that (others in the community) are doing."
While Paterson predicts that it is only a matter of time before the council makes the investment in security improvements in the council rooms, most believe it is fiscally and socially prudent to wait a few more months before deciding when to take their seats around Horseshoe.
Maintaining the stay-at-home model essentially means that each councilor, staff member, or member of the public will continue to participate solely through electronic means.
The motion adopted by the council will remain in effect for up to six months after the end of the city's pandemic state of emergency, with some suggesting that current procedures may be revised in January or February 2022.
Read more:
More Canadians work from home
Osanic says he actually prefers to participate in council discussions from home, adding that returning to council with plastic dividers is like spending five hours in a phone booth.
He also commented that his personal desk at home offers more space to put documents than the old, narrow council desks, and has not affected his workload.
"For me, productivity has increased. No one's ever told me, 'Hey, you're hanging out with Lisa.'
Others, like Coun. Gary Oosterhof says that the city hall is the seat of local government and that is where elected leaders should be.
"I am looking forward to going back to town hall. I really miss the old building, the experience and the commitment. "
© 2021 Global News, a division of Corus Entertainment Inc.


Reference-globalnews.ca