The Khatsahlano street festival, after a two-year COVID hiatus, was in full swing on Saturday, headlined by punk/new wave band Pointed Sticks.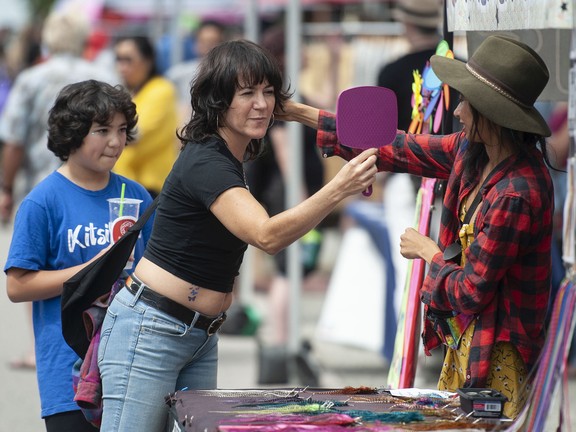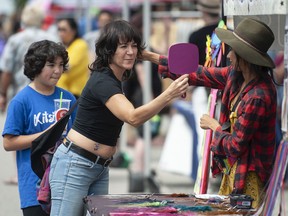 article content
One wonders what the hippies of the 1960s and early 1970s would do with West Fourth Avenue today.
article content
They'd be comfortable, if not in awe, in pot shops, at home in yoga studios, and, hey, that hard-to-find Doors LP you searched high and low just for the song Riders on the Storm in 1971, you can probably find. on Zulu Records, in mint condition to begin with.
The Khatsahlano Street Festival, after a two-year COVID hiatus, was in full swing on Saturday, headlined by punk/new wave band Pointed Sticks, dream-pop upstarts Harlequin Gold, indie prog rockers Hey Ocean ! and world music masters the Boom Booms.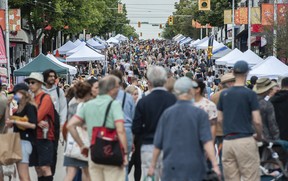 They were joined by more than 50 local acts, including Bad Money, a trio that played funk at the Balsam Stage, just 1,000 meters from where the three members started it all in Kits Beach.
"This is amazing, I love it," Grant McDonagh said as passersby browsed the hundreds of vinyl records for sale for 99 cents outside Zulu Records.
article content
"There is a history of the arts and innovation that has happened on Fourth Avenue in the '60s and '70s, and it's wonderful to see this."
McDonagh opened Zulu 41 years ago.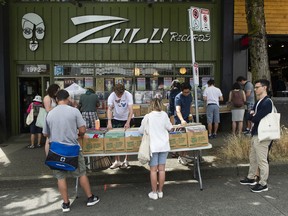 You only have to walk a block west from his record store to see examples of ongoing innovation: Lululemon founder Chip Wilson says the company wouldn't exist if it weren't for Kits' genius. vibrate and feel; and Arc'teryx, though founded in North Vancouver, was inspired by the North Shore mountains you see when you look across English Bay from Kits.
"We remain predominantly independent businesses," McDonagh said. "And it's a great pedestrian street."
West Fourth Avenue was once described as the Haight-Ashbury of Canada, referring to a San Francisco district associated with 1960s music, peace, and love. The Khatsahlano Street Festival began as Hippy Days in honor to Woodstock and has transformed into this current incarnation.
article content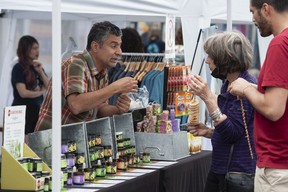 Food trucks, beer gardens and local gangs led by Vancouver's Pointed Sticks vied for clearance as stalls lined both sides of West Fourth from Burrard to Macdonald, a 1.7-kilometer stretch with a usual variety of posts representing political parties, real estate firms, and a seemingly endless number of fitness establishments.
The latter, which ranges from gyms and karate classes to lap-dance and pole-dance lessons to increase flexibility, might have had our time-traveling hippies wide-eyed and wondering what happened to "Turn on, tune in and drop out".
Bishop's, a Kits joint that has served fine West Coast food for three decades, closed for good in January, but icons like Sophie's Cosmic Cafe, which first opened in 1988, are still lining up for a table, while nearby Las Margaritas has been offering popular California and Baja-inspired comfort food for almost as long.
article content
At a stall called Kids Rock, Scarlett and 10-year-old Everett and eight-year-old Crawford were selling rocks they painted, with part of the proceeds going to help Ukrainian families move to Vancouver.
"I am very impressed with the community," said Janice McLean, who was accompanying the girls. "The people have been amazing."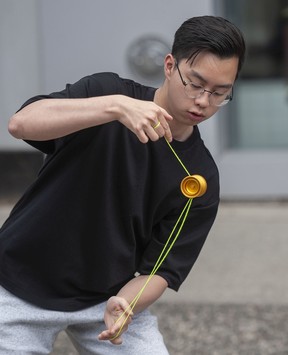 Next door to where Harrison Lee, three-time Canadian yo-yo freestyle champion, was showing off the amazing things you can do with a long string and a grooved puck, Joanne Olgivie was selling her rainbow-colored sun hats and shirts
Owner and creative spark behind Olgivie Designs, the artist has spent her life in Kits and has fond memories of growing up in the 1960s and 1970s at the height of the counterculture.
"My brothers had rock bands," he said, holding up one of the T-shirts that highlights all the iconic places in the area, from Naam, Black Swan Records, Kits Pool and Kings Head, to Pine Street Clinic, Bennie's Bagels and the vineyard.
"All the old places," Olgivie said. "It's sad how much has changed."
He has a Facebook page called Kitsilano then and nowand she's not sure how much longer she can live in the neighborhood.
"I'll probably have to move too."