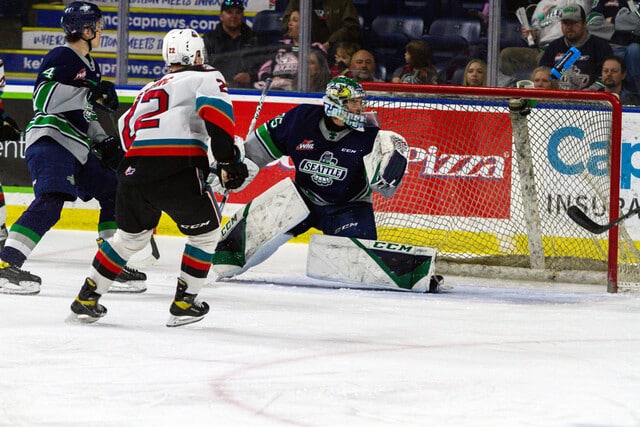 Photo: Steve Dunsmoor
Gabriel Szturc scores the Rockets' first goal
The Kelowna Rockets found a way.
Playing with their backs firmly against the wall and their season on the line, the Rockets found a way to bounce back from a 2-0 deficit in the second period, scoring three unanswered goals, including Adam Kydd's power play goal on overtime to beat the Seattle Thunderbirds 3-2 and stay alive in their best-of-seven Western Conference quarterfinal series.
After being outscored 18-4, giving up 10 power play goals and being outscored in most of the first three games, the Rockets battled to a tie before the second period ended, then got the winner from Adam Kydd at 3:55 p.m. overtime. .
"I had a low puck opportunity in the last game and I could have shot the net but I didn't, so we watched a video and the coaches told me it was there," Kydd said.
On Wednesday, Andrew Cristall spotted Kydd at the side of the net, and this time, there was no question.
"I got the puck and thought, take a step towards the net and just walk away."
He says the puck got on goalie Thomas Milic's post and beat the goalkeeper, sending the mostly partisan crowd of 3,500-plus home happily.
"That was a tough group there," said a beaming head coach, Kris Mallette.
"We needed our goalkeeper Talyn Boyko to help us and he sure did. It was nice at times, no, but I felt like in the second half our confidence started to grow."
"(Boyko) made some big saves for us and we just found a way."
Boyko sat on the bench in game three on Tuesday after allowing 12 goals in straight losses to open the series.
Mallette said the decision to bench Boyko in Game 3 wasn't an easy decision, but he came back with a vengeance in Wednesday's do-or-die game, stopping 36 shots and earning first-star honors.
Boyko made several key saves to keep the Rockets in second, then stoned Conner Roulette, who danced solo with the game tied in third.
"He was our MVP and tonight he played like our MVP … and he handled it like a pro.
"This will only bode well for him in his future, preparing for these kinds of moments and being able to deliver."
The T-Birds opened the scoring, converting a two-on-one with 19.4 seconds remaining in the first, then doubled the lead on a rebound three minutes into the second.
But it was the Rockets who ratcheted up the intensity and were ultimately rewarded when Gabriel Szturc turned a fumble into a Kelowna power play.
Noah Dorey raised the roof of Prospera Place, slamming a stopwatch just past the 12-second mark.
Cristall and Jake Poole did all the work playing stay away at the Seattle end before Cristall saw Dorey pinch from the right spot.
"It was just desperation. It's fun, we just tried. It's a simple little thing, but honestly, I think we were just trying."
"I'm going around the room looking at them right now, and this is what it's supposed to look like after the hockey playoffs."
The Rockets' mantra is more time together, and with Wednesday's win, they got it.
The Rockets were forced to go with just three lines for much of the game with Mark Liwiski out on a two-game suspension and Pavel Novak unavailable.
But Max Graham, Nolan Flamand, Turner McMillen and Marcus Pacheco stepped up as did all six defensemen.
There were some tense moments before the game during the pregame warm-up when umpires had to get between a group of players biting center ice on two separate occasions.
Nothing came of any of the incidents and nothing spilled into the game itself.
Mallette said the guys will enjoy tonight, then hit the road Thursday for Seattle and Game 5 on Friday night.
If a sixth game is needed, it would be played at Prospera Place on Sunday afternoon at 2.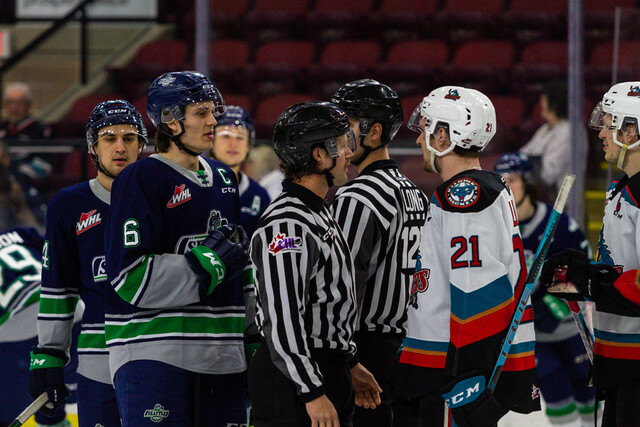 Photo: Steve Dunsmoor
Pregame banter on center ice.


Reference-www.castanet.net