Kasey Wilson says it's time to relive the kindness provided by her family's large circle of friends in the South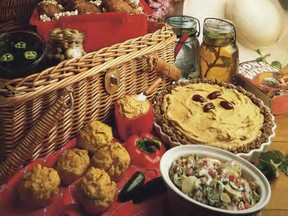 Reviews and recommendations are unbiased and products are independently selected. Postmedia may earn an affiliate commission for purchases made through links on this page.
article content
My first taste of southern hospitality was many moons ago when I visited my twin sister and her family in Charlotte, North Carolina. At first, I was surprised by the kindness that was offered to me not only by my family's large circle of friends, but also by the people I met everywhere we went.
article content
On the verandah, I drank sweet iced tea. Under the shade of a tree on a picnic blanket, I sipped Cajun martinis, dined on country ham braised in beer and molasses, and sampled homemade cookies served with a spicy, sweet and salty tomato jam.
This summer, recreate a southern menu. Pack a picnic basket of store-bought or homemade specialties like red pepper jam and cornbread muffins, and head to one of Vancouver's 22 parks where spirits can be enjoyed with family and friends through October 22.
Add colorful tissue for napkins, plastic wine glasses for martinis infused with a fresh jalapeno, and a thermos of iced tea. Don't forget a copy of Gone with the Wind.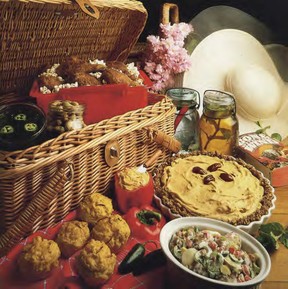 K-Paul's Premixed Cajun Martinis
1 fresh jalapeño pepper, cut top to bottom, remaining seeds
article content
1 bottle (750 ml) of vodka
3-4 oz dry vermouth
Garnish: pickled vegetables of your choice
Pour enough vodka (3 to 4 ounces) from the vodka bottle so that the jalapeño fits in the bottle without overflowing. Reserve the excess vodka for another use.
Put the jalapeño in the bottle, seal the bottle and refrigerate for 8 hours. (You may want to tie some string or twine to the stem of the jalapeno before adding it to the bottle to make it easier to remove.)
Remove the jalapeño from the bottle and refill to the top with dry vermouth.
Seal and shake lightly to combine. Store in the freezer.
To serve, pour 2 to 3 ounces of the mixture into a mixing glass, add ice, and stir to chill and further dilute.
Strain into a chilled cocktail glass.
article content
Garnish with your favorite pickled vegetable.
Jalapeno Potato Salad
3 pounds (1.5 kg) new potatoes, washed but not peeled
4 hard-boiled eggs, thinly sliced
½ cup (125 ml) thinly sliced ​​green onions
1 celery stalk, diced
½ cup chopped red bell pepper
1 – 1 1/2 fresh jalapeño peppers, finely chopped
Salt and pepper
½ cup (125ml) mayonnaise
½ cup (125 ml) sour cream
1 tablespoon (15 mL) Dijon mustard
Bring a large pot of salted water to a boil. Add the potatoes and cook until tender, about 20 minutes. Drain, cool slightly, and cut into ½-inch slices.
In a large bowl, combine potatoes, eggs, celery, green onions, and red bell peppers. Add salt and pepper and
shake gently.
In a separate bowl, combine the mayonnaise, sour cream, and mustard and gently mix into the potato mixture.
article content
Correct taste and seasoning.
Serves 6-8.
---
cajun drumsticks
2 pounds (about 12) chicken thighs
¼ cup (50 ml) all-purpose flour
1 cup (250 ml) cajun spice mix (see recipe below)
¾ cup (175 ml) peanut oil
Preheat oven to 375F.
Season the thighs generously by rolling them in the cajun spice mix, making sure all sides are evenly coated.
Arrange the drumsticks in a single layer in a pan. Melt the butter and brush evenly over the drumsticks.
Transfer the drumsticks to a baking sheet.
Bake for 30 minutes, remove from the oven, turn, and bake for an additional 15 minutes, or until the internal temperature of the thickest part of the thigh reads 165F (74C) on a meat thermometer.
For an extra crispy skin, remove the tray from the oven after baking. Position the oven rack about 6 inches from the heat source and preheat the kettle to high. Flip the drumsticks over, return the pan to the oven and roast for 5 minutes.
article content
Remove from oven and let rest for 5 minutes before serving.
Serves from 4 to 6
---
cajun spice mix
1 tablespoon (15 ml) each of white pepper, black pepper, cinnamon, thyme, oregano, and basil
2 tablespoons (25 ml) cocoa powder, ground cumin, dry mustard, onion powder, garlic powder
3 tablespoons (50 mL) each cayenne pepper, salt
Combine all ingredients and store in an airtight 1-cup (250 mL) container and label.
Makes 1 cup (250 ml).
---
peanut cake
walnut bark
2 cups (500 ml) ground walnuts
2 tablespoons (30 ml) brown sugar
1 extra-large egg white, beaten until foamy
2 teaspoons (10 ml) ginger powder
Zest of ½ orange
Combine all ingredients and press into bottom of 9- or 10-inch cake pan and chill.
peanut filling
8 ounces (250 ml) cream cheese
¾ cup (175 ml) smooth peanut butter
1 cup (250ml) icing sugar
½ cup (125 ml) light cream
1 teaspoon (5ml) vanilla
1 cup (250 ml) heavy cream, whipped
¾ cup (175 ml) unsalted blanched peanuts
Place cream cheese, peanut butter, sugar, light cream, and vanilla in a food processor fitted with a metal blade and mix well.
Put the dough in a bowl and add the whipped cream.
Add peanuts, pour into prepared crust and refrigerate or freeze.
Serves 8.
---
Kitchen tip: avoid rinsing the chicken
Rinsing is more likely to spread contaminants around the sink (or onto nearby food, like lettuce sitting on the counter) than it is to send it down the drain.