Isabel Torres shares heartbreaking video on social networks
The Spanish actress is torn between life and death from lung cancer
"La Veneno", a character he plays in the series of the same name, celebrates a different birthday
Piercing! Between life and death from lung cancer is the renowned Spanish actress Isabel Torres, who plays the character of La Veneno in the series of the same name, although that was not an impediment for her to celebrate another year of life.
It was the program Suelta la soup on Telemundo, through its social media, who shared this video in which the radio and television host, born on July 14, 1969 in Las Palmas de Gran Canaria, Spain, opened her heart with her followers.
Isabel Torres suffers from lung cancer
After greeting her followers, and remarkably tired, Isabel Torres shared that after a week of receiving chemotherapy, she is still "very ill", and that just on that day she was 52 years old, so she did not want to miss this date to share some reflections.
"Today I am a little sad because the truth is that I am on my birthday and I am very ill. It's not that it's the best, but hey, I wanted to do a live show because they have sent me many bouquets of flowers, they have sent me many plants, many gifts, many people who love me and all I wanted was to say thank you ".
He is grateful for the support and care of his family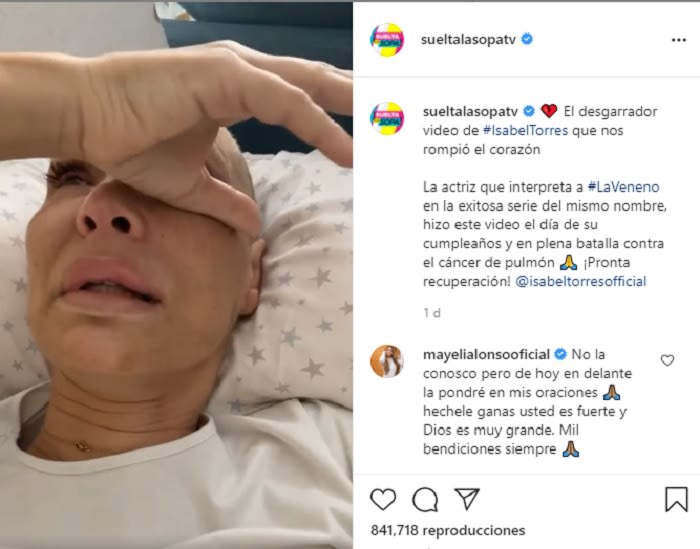 After thanking the support of her loved ones in this difficult time she is going through, Isabel Torres, who could not contain her tears, said excitedly on her birthday, although she confessed that her last chemotherapy "has been horrible."
"I have had a very bad time, with a lot of fear of not knowing if I am going to turn 53 years old. Of course I would like to arrive next year because life is super beautiful and there is nothing more beautiful than living, "said the Spanish actress, who apologized for crying.
"I have not been able to get out of bed," says Isabel Torres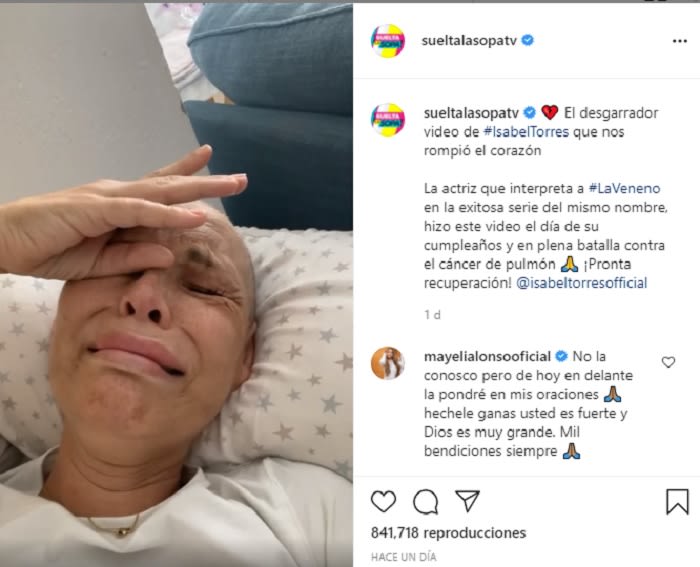 Unable to contain her tears, Isabel Torres shared that this particular week has been very hard and she has not been able to get out of bed: "Yesterday was the only day I got up to go to the hospital to revive myself because yesterday I was dead."
"Look at my face, bald head, but that's what it is, that's me. The success of 'Veneno' (his character in the series of the same name) has been so wonderful, all the awards they have given me have been so wonderful, but everything that is happening to me is also very hard, "he commented.
Outstanding career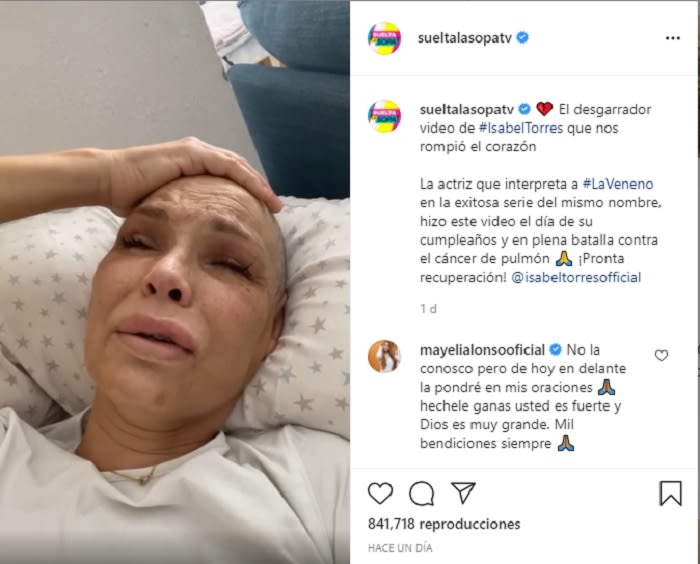 In addition to being an actress and radio and television host, Isabel Torres is a businesswoman and activist of the LGBT community. In 2005, she was the first transsexual candidate for Queen of the Las Palmas de Gran Canaria Carnival, as well as the first Canarian transsexual who in 1996 was able to adapt her ID to her sexual identity.
Isabel has participated in television programs such as Channel Nº 4, The Ana Rosa program or DEC. She also presented the summer program of Antena 3 Canarias in 2010. We go to the beach. Her first job in a television series was a Leading role in Veneno (Filed under: Actress Isabel Torres between life and death from lung cancer).
There is hope that I can beat cancer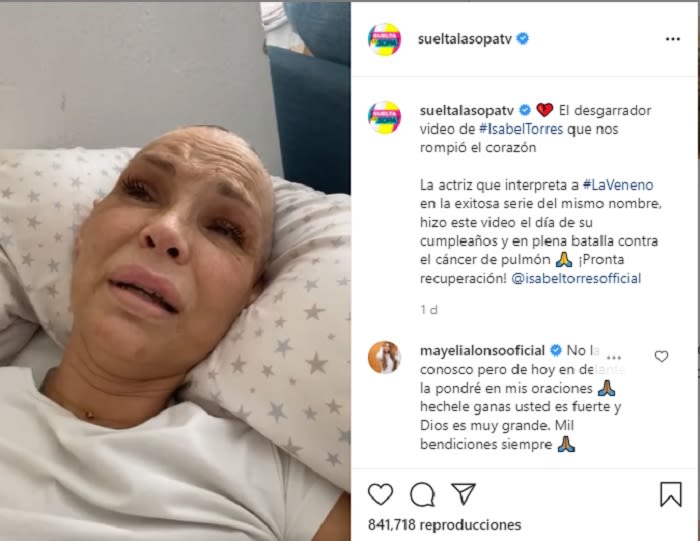 A little calmer, the Spanish actress commented that her doctors have told her that there is high hope that she will be saved and for that reason they have given her many medications, but they are so strong that they do not allow her to move out of bed.
"I have a very bad time because I am very active and when I was little I think I had OCD (Obsessive Compulsive Disorder), I was one of those children, and now suddenly at 52 years old I see that I cannot even move, that my head He doesn't stop thinking that I have to be doing meditation ".
"I have lost many people this year": Isabel Torres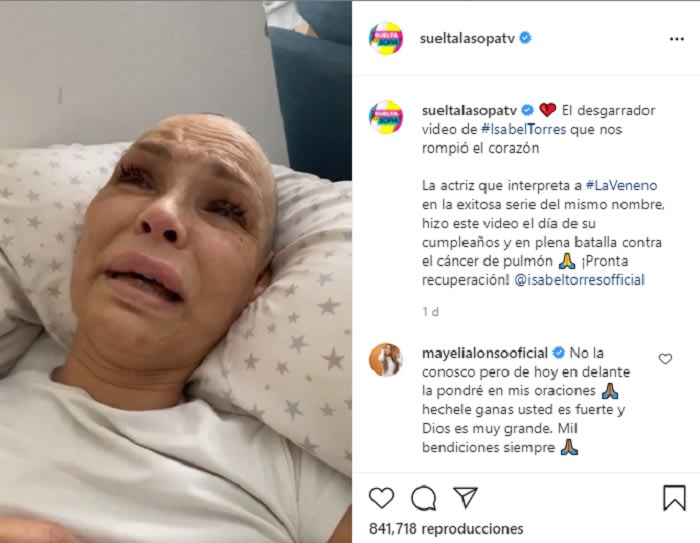 In case something else was missing for Isabel Torres, who is torn between life and death from lung cancer, the Spanish actress confessed that she has lost many people this year, including some 'friends' who insulted her and that He has given him "a very big stick."
"Sometimes things cannot be forgiven, and when you mess with the family … if I had messed with someone from your family, surely you would not have forgiven me, and well, here I am, trying to take it the best I can because it is very hard ".
His family is having a very bad time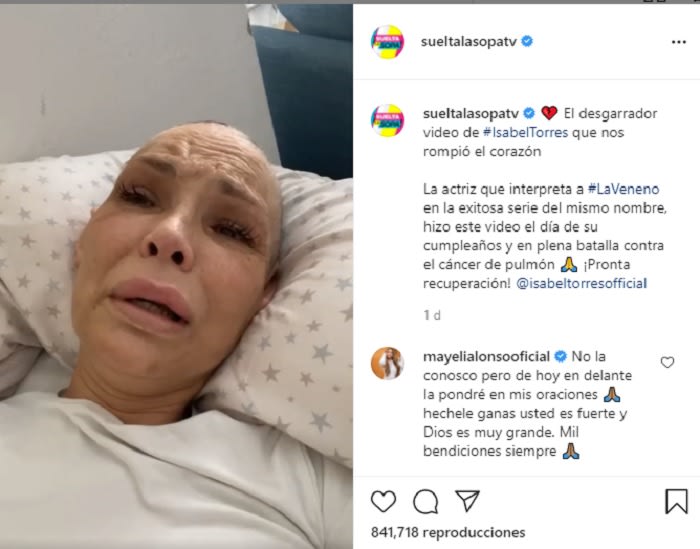 Once again, Isabel thanked all the people who have helped her in this stage of her life, in addition to confessing that the only thing she asks, apart from getting ahead of this battle against lung cancer, is to help her family, who he is having a very bad time.
"When the body sends you signals of pain, things that one feels are strange, pay attention, because the body is sending signals for us to take care of that part of the body. I've been dreaming super ugly things for several nights, as ugly as last night I dreamed of an ex of mine named Jacobo, "said the Spanish actress.
"I have loved many men in my life"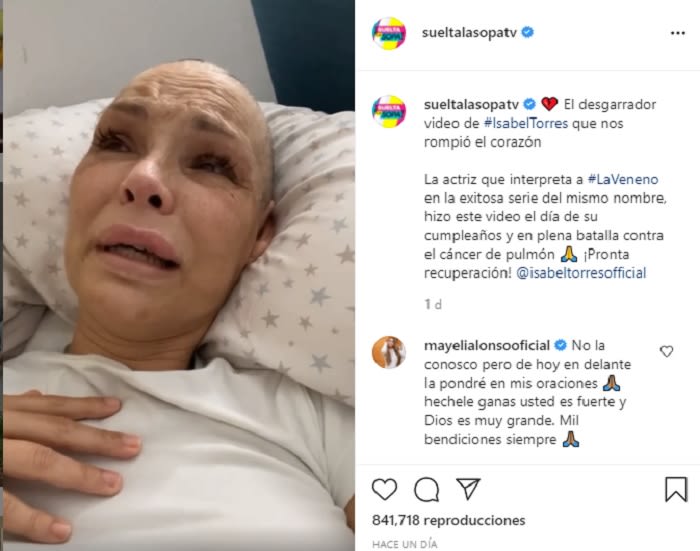 Almost to end this live broadcast, Isabel Torres confessed that she has loved many men in her life, but that her last partner was one of the people who hurt her the most, since she was not able to assimilate that she was at a side of a transgender woman.
"He hid me in a closet once the mother came to the house. Imagine, I saw myself when I was 40 years old, stuck inside a hidden closet so that the mother would not see me because the mother knew me from TV, well, I have suffered a lot for love and the sufferings remain in the body ".
"Fighting between life and death"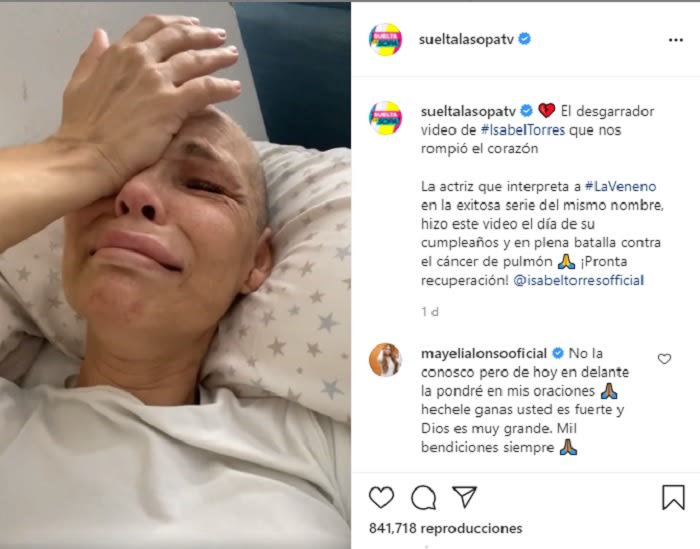 After saying that she lived through very strong things in her childhood and that she saw things that she should never have seen, the Spanish actress was 52 years old, with cancer and fighting between life and death: "I think I'm going to get over it. I hope so, for not letting you down and not letting myself down ".
"Life is so beautiful, really, I made a song that defines me, it's a song by Dany Martín, called 'How beautiful life is', which is so beautiful and talks about how much it goes up and down, sometimes that's how life is, always so complicated, but at the same time so wonderful ".
They show you their support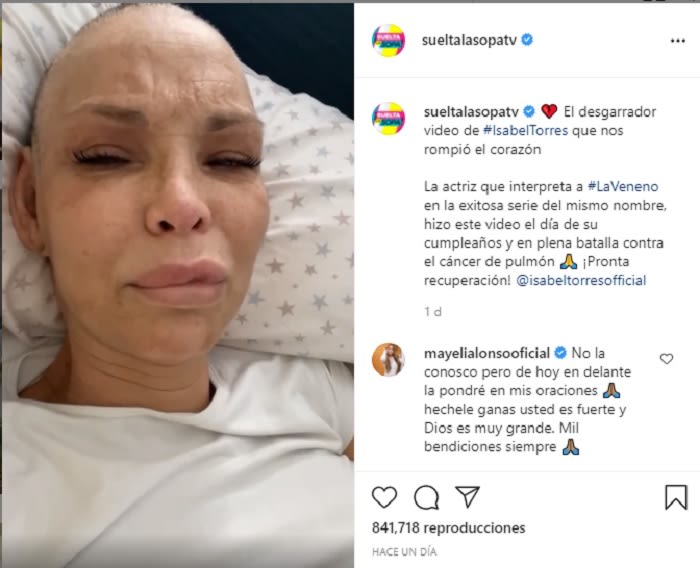 It didn't take long for users to express their support, including the businesswoman Mayeli Alonso, Lupillo Rivera's ex-wife: "I don't know her, but from now on I will put her in my prayers. Give it a try, you are strong and God is very great. A thousand blessings always ".
For her part, the Peruvian driver Laura Bozzo expressed herself as follows: "Strength, you are a warrior, everything will be fine, God is with you, He does not let go of your hand, never lose faith. These painful moments are going to pass, a survivor tells you what went through the worst and today I am here "(TO SEE THE VIDEO CLICK HERE).


mundohispanico.com
The Canadian News
Canada's largets news curation site with over 20+ agency partners