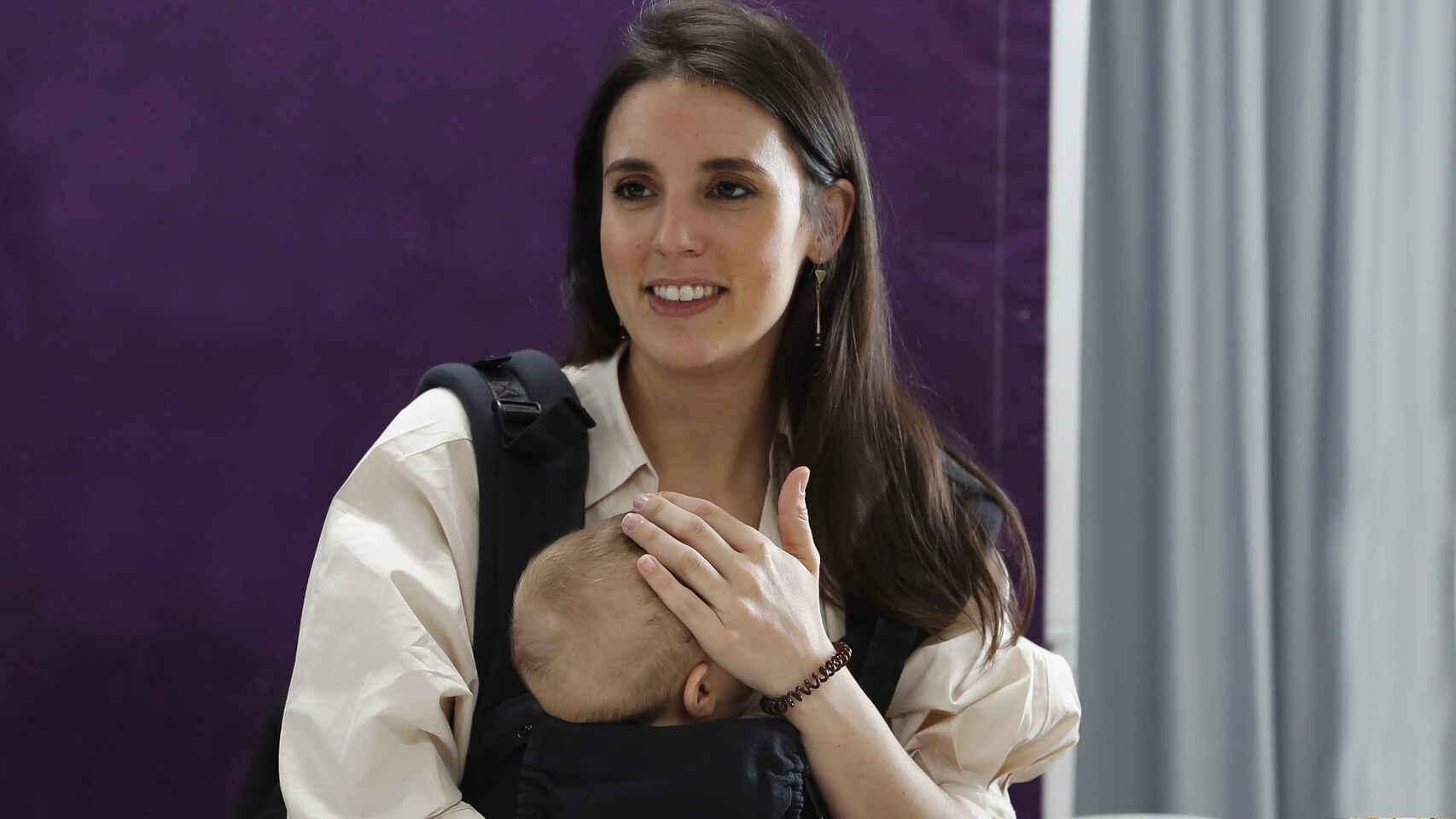 "No economy would sustain a single day without the women who clean, who scrub, who do the shopping, who breastfeed, who change diapers, who take care of our elders and dependents", said the Minister of Equality Irene Montero this Monday at the opening of the first Advisory Board for Care.
After noting that the Current "care crisis" has "worsened" With the pandemic, the minister has advocated that the field of care, from the care of children to that of the elderly, "ceases to be an obstacle course", and that these tasks "until now invisible and despised" become "respected".
"We want them to stop being activities that involve enormous difficulty and become the rights of the people who are cared for and those who are dedicated to caring for those people who need it ", has affirmed Montero.
Equality at home
In this sense, has insisted that equality will not be achieved either in the company or in the workplace neither in politics nor in any sphere "if equality is not achieved in the kitchen, on the way to school, parenting and in all activities related to care."
The minister has recognized that they have "arrived late" but, therefore, they have convened this Table to give a response "as urgent as possible". During the event, the Secretary of State for Equality and Against Gender Violence, Noelia Vera, also spoke, highlighting some steps that have already been taken, such as the Co-Responsible Plan; and the director of the Women's Institute, Toni Morillas, who stressed that this Roundtable is a starting point for a process of dialogue that allow to draw the steps so that the rights to care and being cared for can be translated into effective public policies. "
The Roundtable also has representatives from the Ministry of Social Rights and the 2030 Agenda, the Ministry of Education and Professional Training, the Ministry of Labor and Social Economy, the Ministry of Inclusion, Social Security and Migration, as well as various entities, social agents, agencies international associations, professional associations, the Council for the Participation of Women and more than a dozen experts.
Condemn the homophobic demonstration
First, has condemned the "brutal" aggression suffered this Saturday by a 25-year-old woman, that she is seriously admitted at the hands of her ex-partner, in Almería; And in second place, the homophobic and racist demonstration in Chueca, that they are going to bring to the attention of the Prosecutor's Office.
In this sense, Montero has reiterated its "urgent" commitment to the processing of the sexual freedom law, which is already in parliament, and with the processing of the LGTBI and Trans law.
"If there is hatred, intolerance and fear for LGBTI and racialized people, we will not be able to talk about democracy. It is not a message only for the neo-Nazis who demonstrated in Chueca, but also for those who are sitting in a Board of Directors of a media outlet, on a seat in Congress or in an autonomous assembly, which they are legitimizing and whitewashing those hate speech that become fear for LGTBI people, racialized people and women, "he stressed.
The Minister of Equality also wanted to show all its "support, affection and solidarity" to those affected by the eruption of the Cumbre Vieja volcano, on La Palma; and he has referred to two events that occurred this weekend that, in his opinion, are "incompatible with democracy."
Bad mothers raise their voices
Also the Malasmadres community has been part of this Table, ask compact days and bet on flexibility and guarantee work-life balance.The president of the Association Yo No Renuncio and founder of the Club de Malasmadres, Laura Baena It positively values ​​the creation of this table but considers it essential to advance in the labor field as well.
The association Yo No Renuncio asked Minister Irene Montero a series of measures in the workplace, which go through compact the days, adapt them to school schedules and, above all, bet on flexibility and work for objectives. In addition, they defend blended and regulated teleworking, which does not keep women away from the centers where decisions are made, but which allows protection of care when a son or daughter becomes ill.
"We have to end the reductions in working hours and leaves of absence, which were positive measures in their day, but which have been shown not to work and are one more trap than the non-existent conciliation, making the woman invisible and even pushing her to resign, and advance in compact days, which allow everyone to combine professional life with care, "says Laura Baena.
In addition, Baena highlighted the need for companies to design plans for returning to work after maternity leave to ensure that women are not harmed. At the Conciliation Yellow Telephone Line, the first free legal counseling service, many complaints arrive from women who have been relegated to their posts when they return from maternity leave.
In addition, this community provides data collected after a study that states that "1 in 3 mothers (37%) has suffered some type of Discrimination in the work area derived from motherhood, 6 out of 10 women they renounce their professional career when they became mothers (reducing their working hours, taking leave of absence or leaving the labor market) and 68% of Spanish women would have had more sons and daughters if they had conciliation measures that did not penalize their salary ".
Follow the topics that interest you
Reference-www.elespanol.com