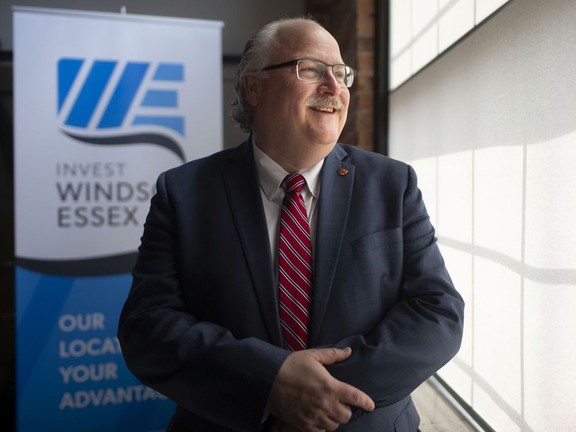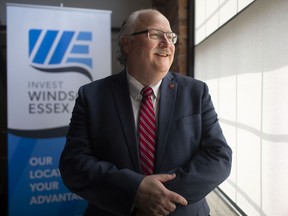 Article content
Looking to further diversify the local economy, Invest Windsor Essex launched a campaign this week aimed at drawing investment from small and medium-sized technology companies in Michigan, Ohio, Illinois and Indiana.
Article content
The three-month campaign, called Windsor-Essex: A Bridge to Your Future, will employ videos, social media, billboards, display ads and search marketing tactics to direct companies to the website thefutureiswe.ca where visitors will see a profile of the region's strengths and get information on how to pursue expansion.
"It's a friendly campaign, not one where we're aggressively trying to get companies to relocate," said Invest WindsorEssex CEO Stephen MacKenzie.
"It's aimed more at companies interested in expanding or getting involved with all the things that are happening in our region."
MacKenzie said the states were selected because of their proximity, growth in the tech sector, common economic interests and some history of companies from those regions already investing in Windsor-Essex.
Article content
In addition, the campaign will highlight the advantages US companies have in recruiting talent in Canada.
MacKenzie said the area has the advantage of two local post-secondary institutions, a location at the beginning of southern Ontario's tech corridor stretching to the GTA, easier access to international students and friendlier immigration policies.
The campaign won't have a strictly automobility focus, but is also aimed at attracting investment in other sectors such as financial, medical and information technology.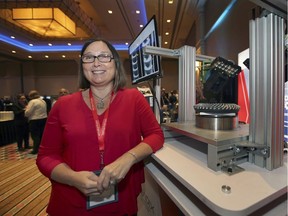 "This is building on the work that's been done by WEtech Alliance, First Robotics and grassroots things like Windsor Hackforge that have built the foundation," said Automate Canada chair Shelley Fellows.
Article content
"We do have a tech ecosystem and automation. We excel at manufacturing that's using it.
"In the long term, this (campaign) is part of how you shift and build an economic cluster."
Fellows added the timing is particularly fortuitous with LG Energy Solutions and Stellantis making multibillion-dollar investments in a battery plant, retooling the Windsor Assembly Plant to produce electric vehicles and the automaker also making the city the center of its EV research and development for North America .
Local officials only have to look to Detroit to find a target-rich environment for companies looking to grow.
Last week Startup Genome listed Detroit as the top emerging ecosystem in the world in its 2022 Global Startup Ecosystem Report. It also far outpaces emerging ecosystems with a value of $90.6 billion US.
Article content
Startup Genome is a world-leading policy and research consulting firm operating on six continents and in more than 45 countries.
Since 2018 Michigan has seen five startups obtain unicorn status with a value of $1 billion or more. It's also the fastest growing state for venture capital funding, something Fellows said the local region is still lacking.
"What Invest WindsorEssex is doing is very clever right now in marketing the region," Fellow said. "Success stories attract investment, employees and programs.
"They can say two large multi-national companies could've picked anywhere in North America to make their electric vehicles and batteries, but they picked Windsor over everyone else. That carries some credibility."
Article content
Harbor Technologies Windsor co-owner Andrew Glover also welcomed the campaign.
He noted his own company has had visits from US state senators pitching the very same ideas in reverse.
"Diversification in our market is the key to flatting out the impacts of recessions and having more consistent streams of revenues," said Glover, whose firm has expanded from being strictly automotive into the nuclear, aerospace, heavy construction and medical sectors.
"High tech, such as in advanced manufacturing, requires things like software development. More of those types of entrepreneurial companies would be a real benefit to our area."
Glover said growing the tech sector would bring more high-paying jobs, a more educated workforce and attract investment. He added it would also result in St. Clair College and the University of Windsor investing and developing new programs to meet the talent demands benefitting the entire sector.
Article content
"There's also a waterfall effect," said Glover of the entrepreneurial ecosystem that would develop.
"Someone will do something better or something that's not been done before here and that'll require new tools, molds or the creation of new companies."
Glover said the opportunities in the local tech sector are substantial as companies are increasingly looking to automation and robotics to help them re-shore production in North America.
"The global supply chains are broken and we're seeing a lot of business related to re-shoring," Glover said.
Local power supply not an issue, Invest Windsor Essex CEO says

Minister boosts Windsor's bid to transform into high-tech auto-mobility center

Invest WindsorEssex supports business development at any stage
He also agreed with Invest Windsor Essex's sales pitch that companies can draw talent from outside Windsor, especially after the many recent major investment announcements.
With Startup Genome ranking Toronto-Waterloo 17th in the world among established ecosystems and home to the world's highest concentration of artificial intelligence startups, there's certainly plenty of talent nearby.
"We're seeing a lot more resumes from the Toronto area and even London than we used to," Glover said. "People are definitely interested in coming here."
Twitter.com/winstatwaddell