"I'm just disappointed with how we responded to things that were happening on the pitch"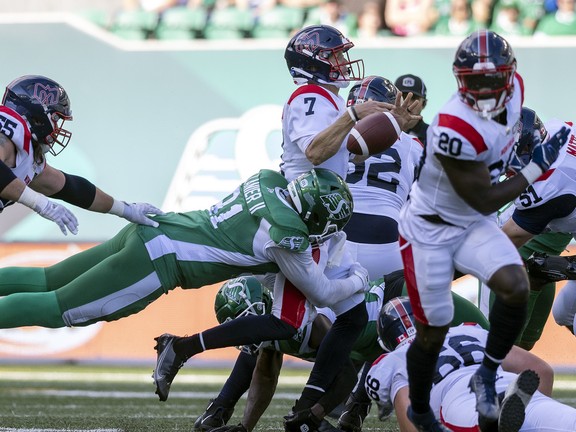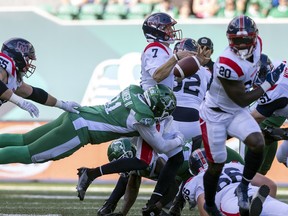 article content
REGINA – The Alouettes head into their first bye week of the season with a 1-3 record, their only win at home, against a Saskatchewan team that played its second road game in five days and arrived in Montreal after have only practiced once.
article content
As legendary former NFL coach Bill Parcells once said, "You are what your record says you are."
For the Als, that means they're not a particularly good team right now. The good news is that the Eastern Division is lousy and Montreal's only game outside of first place. But head coach Khari Jones has plenty to contemplate between now and the team's next game, July 14, against Edmonton.
"We're finding out who we are and it's a long season," quarterback Trevor Harris said after he and his teammates were roughed up, 41-20, by the Roughriders at Mosaic Stadium on Saturday night. "A lot of people will write articles and write this and that about our team when it's four games in an 18-game season. But this story is yet to be written.
article content
"I firmly believe that we have what it takes. I think, in September and October, we're going to like how this team looks."
Harris has been the Als' starting quarterback for two games, and Montreal has scored two offensive touchdowns in that span, relying instead on the foot of kicker David Côté and the legs of electrifying return specialist Chandler Worthy. He returned a kickoff 84 yards for a touchdown on Saturday, becoming the first player in team history to return kickoffs for a score in consecutive games.
While Harris completed 18 of 26 passes for 198 yards, decent numbers, he turned the ball over three times, including two interceptions. One, in the fourth quarter, was returned 90 yards for a touchdown by Nick Marshall as the Als trailed by 13.
article content
Harris was replaced by Vernon Adams Jr. with just over three minutes remaining in the fourth quarter. It was Adams who was replaced by Harris early in the second quarter of a game in Toronto on June 16.
"We were in position to win that game at halftime," Harris said. "We went out and none of the three phases (he got it right) in the third quarter. We got behind the eight ball, but we were in position to make it a one-touchdown game. We were driving to make it a one score game and I handed it over to (Marshall)."
While the Als' lead at halftime was slim at 13-11, it marked the second time in four games that Montreal has squandered a second-half lead. The Als couldn't hold a 10-point lead at halftime in Calgary to open the season, and when that happens, there's no one to blame but Jones and his coaching staff.
article content
Montreal was outscored, 21-0, by the Riders in the third quarter with the offense limited to just six plays. Defensive tackle Michael Wakefield, who received significant playing time due to the absence of Almondo Sewell, was ejected in the third quarter following his second misconduct penalty. He had a constant feud with offensive tackle Na'Ty Rodgers. At one point, Wakefield threw his helmet away in disgust and slapped Rodgers across the face.
Soccer is an emotional game, and some Montreal players might be justified in losing patience with referee Al Bradbury and his team. The Als were penalized 11 times for 105 yards. Incredibly, that was fewer than Saskatchewan's 16 violations for 155 yards. Nonetheless, Wakefield became the second Als player sent off this season. The lack of discipline, again, must be blamed on the head coach.
article content
It looked like the Riders' offensive linemen were getting away with it, which likely contributed to their 163 rushing yards, 103 just by Jamal Morrow, who had 16 carries.
Jones spent an inordinate amount of time in the locker room before finally coming out to meet with the media, and his ashen face spoke volumes.
"I'm just disappointed with how we responded to things that were happening on the field," he said. "We knew it was going to be this type of game. I warned the guys and let them know what they had to deal with. We did not respond in the right way. We left (the defense) on the field too long and they took advantage of it. You win and lose games, but you don't necessarily want to lose like that.
"It's horrible and it has to stop," Jones said of his players' discipline problems. "We fined the guys. We do what we have to do. I talked to Wakefield. He lost his mind. He just felt the play was dirty against him and retaliated. You can't retaliate. You can't answer that. Guys have to be able to keep their heads. If they can't, these kinds of things are going to keep happening and we're going to have problems."
article content
The Montreal quarterbacks were sacked six times; the loss of injured center Sean Jamieson is obvious. Without Sewell, whose wife gave birth, and once Wakefield was eliminated, the only replacement left was Canadian Vincent Desjardins, who was making his season debut.
"The offensive line wasn't as good as it has been in the past," Jones admitted. "They had some problems. I think that's where the game was lost, on both lines. We needed to be better."
Alouettes no match for the Riders after second-half collapse

Alouettes competing to defeat the Roughriders for the second week in a row

Inside the CFL: Undersized DB Najee Murray plays big in Alouettes secondary