Opinion: Here's a modest proposal to help those who camp in Hastings Street or die in the alleys, spoiling the view of tourists.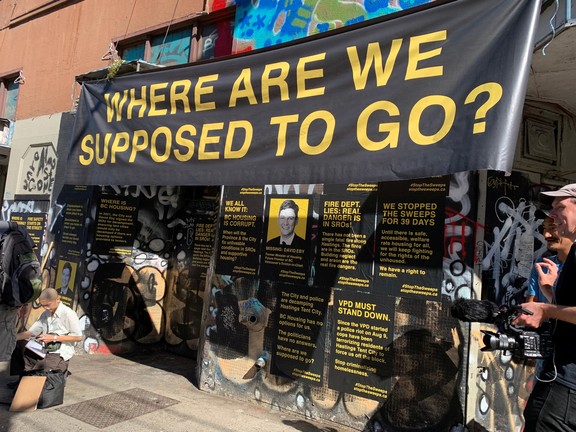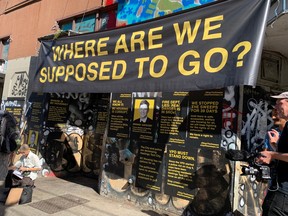 .
BC leaders of all parties sound more entitled every day, even though there is a homeless crisis and people are dropping like flies from toxic painkillers.
.
There are approximately 8,000 homeless people in the entire province, according to the annual count, although there are probably more.
.
In Vancouver, hundreds have been living in parks and then there are those who have camped out on Hastings Street.
There are hundreds more living in absolutely squalid conditions in pest-ridden East Midtown hotels that should have been torn down years ago.
The ongoing social nightmare and physical deterioration of the area is an indictment against the council and the provincial government's failure to provide sufficient health care and social services.
Politicians at all levels of government claim they don't have the money or the answer to these intractable problems.
.
Believe it or not, I have a solution, or rather a modest proposal, to help those who camp in Hastings Street or die in the alleys that spoil sight for tourists.
It's time for homeowners, who pay most of the costs through council taxes, to stand up and say enough is enough and take matters into their own hands.
Every year, more than 90 percent of them get government money just for being rich enough to afford real estate in Lotus Land.
Your home can be worth up to $1.9 million and you receive up to $570 in what's called a "homeowner's grant."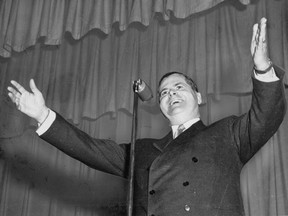 Those outside of Metro Vancouver, the Fraser Valley, and the Capital Regional District get an additional $200. If you have a disability or are a senior, you get an extra $275.
Why? By Prime Minister Wacky Bennett in 1957!
.
It should have been removed years ago. He was a political beard for vote buying and blatantly unfair.
Across the province last year, homes appreciated more than 20 percent, and double-digit increases have been the norm for years.
Let's face it: it's also offensive to reward those who already have the privilege of being among the landed gentry while vulnerable and needy people suffer on sight.
The grant will cost the province about $873 million this year and certainly seems like an old-fashioned savings gimmick during a health emergency and housing crisis.
Six a day die from toxic drugs and lack of medical care, while thousands are homeless in a land of plenty.
Let's take that money (which amounts to about $100,000 per homeless person) and initially build small, bedroom-sized, garden shed-like units on city property.
.
Provide a roof over their head, a bed, access to bathrooms, and a key, so they can have some privacy and respect for themselves, keep their belongings and pets safe.
Health and social workers could set up and work from the ATCO trailers. Let people stay until there are services and accommodations to meet their needs.
Those who have been avoiding shelters and care due to mental health issues, current nightmarish deals or rules could be allowed to stay as long as they want.
They could be dumped anywhere municipal land was available until the province provided the needed services.
For example, the city-owned parking lot that has been empty for about two years in front of the Keefer Hotel could be used. Restrooms in the nearly empty municipal mall next door could be used.
.
In the long run, this quick fix would be far cheaper than watching authorities helplessly wring their hands while fire department, police, and hospital costs skyrocket.
Not to mention the tens of millions it costs all of us city workers, park remediation, traffic congestion, and other disruptions. And then there is disorder and crime…
An ambulance ride costs more than a monthly welfare payment of about $900! Some people are being resuscitated several times a month.
A police officer is costing us over $100,000 a year and the situation is undermining the public's trust in them as they watch for the homeless.
If you tried to pitch a tent at Kits Point, you'd be rushed in a minute. There are people shooting in front of them, but crack open a beer and stroll through Denman on a sunny afternoon and they'll threaten you with charges too.
.
Everyone could benefit.
Homeowners will likely see much more than the few hundred they gave up as thousands in new money: lower public costs will lower taxes, and the improved community environment will dramatically increase property value.
It's a win-win.
British Columbia has changed dramatically over the last half century.
It is no longer a province of evaders, communes, smugglers, the wild wife of the prime minister, eccentric politicians, loggers, fishermen, miners… it is no longer the California of Canada.
But let's not become Toronto West.
Do we really want the spirit of BC to be: Mean & Miserly?
David Eby says a coordinated response is needed to solve problems in the Downtown Eastside

Dan Fumano: BC municipal leaders ask Ottawa to consider universal basic income

No rooms available, so residents of Vancouver's tent city struggle to find a home
---
More news, less ads, faster loading time: Get unlimited, ad-lite access to the Vancouver Sun, Province, National Post and 13 other Canadian news sites for just $14/month or $140/year. Subscribe now through vancouver sun either The province.