One person at a time can make a difference, says Wilhelmina Martin, who collects used air conditioners for seniors.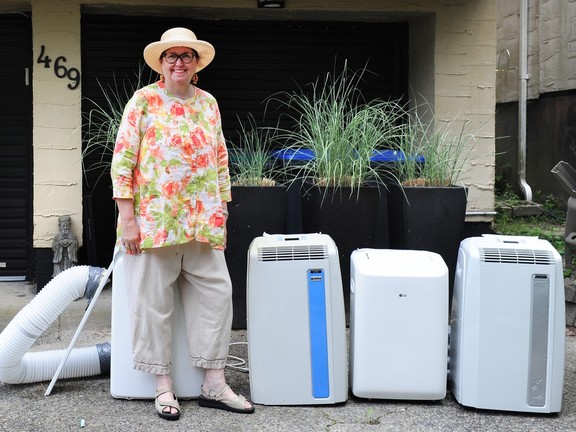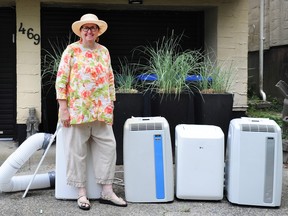 Article content
Wilhelmina Martin has been called various things in her life: Candystriper when she was 14, RN when she graduated nursing school in 1974, and simply "Willy" to her friends.
Article content
She is now known as "the air conditioning lady".
Article content
The 68-year-old Port Moody retiree is asking the public for donations of used portable air conditioners so she can donate the units to other local seniors in need.
"It's going to be very hot this year," said Martin, a longtime volunteer with the Dogwood Pavilion Senior Citizens Society and the Port Moody Senior Friendship Society.
When the heat dome struck in the summer of 2021 and killed 619 people, Martin sprang into action.
"I was watching the stories unfold and listening to the news. Most of the people who died were older people. My friends are old people, my neighbor is old people. I started calling, asking if they had air conditioning or if they needed help," Martin said.
"I was thinking about my own circumstances."
Article content
Fifteen years ago, when she was a full-time caregiver for her late father, she installed a heat pump. He complained about the air conditioning, but when the weather got hot, "he was the first person who asked me to turn it on," Martin said.
"I know a lot of people are upgrading to heat pumps. I want to connect with those people, donate the portable units that they are not using," said Martin.
That first summer, Martin obtained and donated seven refrigeration units. Last summer, he was able to donate six, and so far this year he has collected four units.
"A lot of people don't know where to go for help," said Martin, who recalls being approached by a low-income senior during the heat of 2021. "She had been admitted to the hospital due to heat stroke, and They wouldn't release her unless she could show she had a cool place to go."
Article content
Martin opened his own home to the elderly person to help her get through the heat wave. She was the first senior Martin got a donated air conditioner for.
It takes more than just air conditioning units: Martin said many seniors he donates to can't afford to run air conditioners for more than a few minutes a day, because of how it affects their hydro bills .
"My next proposal will be BC Hydro to subsidize the cost of additional cooling. There has to be a way to help low-income seniors with their water bills so they can afford to use their air conditioners," Martin said.
Some seniors are afraid to order, or even consider, an air conditioning unit because they are hesitant about the cost.
"The second half of this piece is finding a way to help them pay for it," Martin said.
Article content
You recently received an email from a man explaining that he was dying of cancer.
"He said he's trying to find the air conditioning lady so he can help."
"It's one person at a time that can make a difference," Martin said.
Anyone wishing to donate a working portable air conditioning unit can email: [email protected].
Five things to know about air conditioning in Metro Vancouver

Two years after deadly heat vault, BC still doesn't have a program to provide air conditioners to those in need
---
Spring Subscription Sale: Our in-depth journalism is possible thanks to the support of our subscribers. For a limited time, you can get full online access to the Vancouver Sun and The Province, along with the National Post and 13 other Canadian news sites, for just $40 for a year or $1 a week for 52 weeks. Support our journalism by subscribing today: The Vancouver Sun.