Bloc Montréal says it will campaign for a provincial sales tax reduction for Montreal, in part to fund free public transportation during peak hours.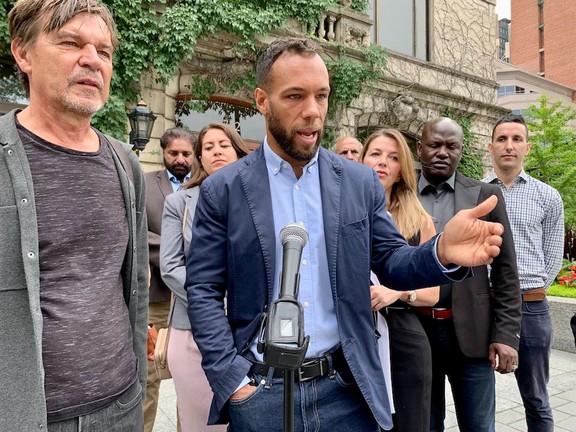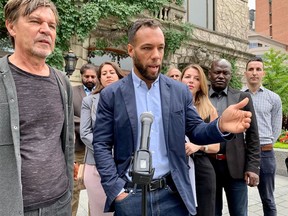 .
A vote for the Montreal Bloc in the fall provincial election would be a vote for Quebec to share a provincial sales tax reduction with Montreal, impose a $5 congestion fee on nonresident vehicles entering the island, and fund free public transport service during peak hours. , announced the party on Thursday.
.
"Bloc Montreal was created to represent Montrealers in the National Assembly and to advocate for greater fiscal and political autonomy (for the city)," party leader Balarama Holness told a news conference outside the offices of the Quebec premier in downtown Montreal at Sherbrooke. Saint W.
Holness, who ran for Montreal mayor in last year's municipal election on a platform calling for Montreal to become a bilingual city-state, said his new provincial party's fiscal table proposes leaving 20 percent of Quebec Sales Tax (QST) revenue generated from the sale of goods and services in Montreal with the city.
The injection of tax revenue, which the party estimates to be $2 billion a year, plus an estimated $500 million annual revenue that congestion pricing would generate, would raise Montreal's $6 billion municipal operating budget to $8, 5 billion.
.
The additional funds would fund free public transportation during peak hours between 6 am and 9 am and between 3 pm and 6 pm, Holness said. The additional revenue for Montreal would also help finance the construction of social housing and sports and recreation facilities, infrastructure repairs and more after-school programs, parks and green spaces, she said. Most of these are financed, at least in part, with subsidies from the provincial and federal governments, but the financial autonomy granted by part of the QST would mean the city ​​could address its pressing needs without having to wait at higher levels, he said.
The congestion charge is also in line with Bloc Montréal's environmental policy, which calls for achieving carbon neutrality by 2040, Holness said. He was surrounded by some of the 11 candidates announced by his party so far.
.
Earlier this week, Montreal Mayor Valérie Plante unveiled her pre-election wish list, asking provincial parties to commit in the upcoming campaign to providing a new fiscal compact for Montreal. Her demands include a reduction of the QST for Montreal.
In the 2018 provincial elections, the leader of the Avenir Québec Coalition, François Legault, campaigned on the promise of giving the province's municipalities one QST point, which he set at $1.3 billion. The other party leaders had made a similar promise. A year after being elected prime minister, Legault said he was not referring to "one point of QST" but to "one point growth" of QST, worth about $132 million a year.
Legault is expected to call elections for October 3 at the end of August.
.
Janusz Kaczorowski, a professor and researcher in family medicine, epidemiology, psychology and sociology, who plans to run as a Bloc Montréal candidate in Saint-Henri-Sainte-Anne, said provincial legislation passed in 2017 giving Montreal greater autonomy and powers over social housing, addressing homelessness and integrating immigrants is "a bit of a paper tiger because there is no fiscal support."
The CWC government, Kaczorowski added, is asking the federal government for more powers and autonomy for the province.
"We're doing the exact same thing," he said. "We are not asking for Montreal to become a city-state but (to have) greater fiscal and political autonomy."
Bloc Montréal's recurring message has been that Montreal is the province's economic and cultural engine, but CQA's policies that benefit the regions and its legislation that restricts minority rights, including Bills 96 and 21, disproportionately and negatively affect Montreal.
"We feel that Montreal needs that presence in the National Assembly," Kaczorowski said. "(You need) to have your voice."
Montreal needs voice in National Assembly, says Holness at new party preview

Holness will run for NDG in provincial elections