Alexander and Elizabeth de Halmy, last in a long line of Austro-Hungarian barons and baronesses, escaped the Nazi holocaust and communism to find peace in the Lost Lagoon.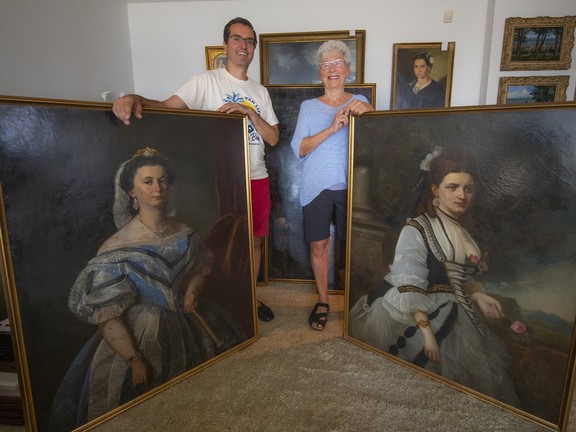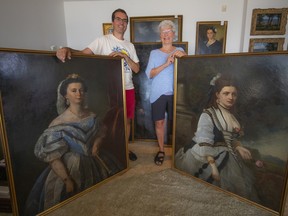 .
There's a large bench box in the hallway near the front door of a condo in Vancouver's West End, perfect for storing shoes.
.
So you do a double take. An inscription says that the box was built in 1699, it turns out for the Hungarian nobility.
The Sun King in France, Peter the Great in Russia, and William of Orange in England were reigning monarchs at the time, but it is also the year that most of Hungary was delivered to Austria by the Ottoman Empire.
"It's a sword box, for storing swords," Martin Cichocki said as he led a visitor through the Haro Street condominium, which is packed with artwork once belonging to the Hungarian Jewish aristocracy.
Cichocki's father inherited the treasure after Elisabeth Halmy he died at the age of 94 on a visit to his hometown of Feldbach in Austria. She had predeceased her husband Alex, a friend of Cichocki's father, and the couple had no heirs, ending a long line of barons.
.
The treasures will be shipped back to Hungary and Austria to find loving homes, but how they ended up in the West End is a microcosm of late 19th and early 20th century European history.
The Halmys had castles in Budapest and in nearby Vecsés, where the family's hunting ground was when World War II broke out and Hungary sided with the Nazis.
"Most of the family was sent to Auschwitz and to the different camps," Cichocki said. "Alex was in his 20s. He and his mother were hiding in the ghetto and, with the help of Swedish diplomats, they were able to leave the country with some kind of false pass to get to London".
In fact, Alex had already boarded a train bound for a death camp when he was rescued.
When he arrived in England, he met his future wife, Elizabeth, whose relatives included one of the last Austro-Hungarians. diplomats, artists and a Nobel Prize. With nothing in mainland Europe, Alex's partner and mother, Lily, the last Baroness Woffnersailed to Montreal in 1957.
.
Inside the Haro Street condominium, all kinds of glassware, porcelain and silverware lay scattered on tables and shelves that rest on the thick shag carpet.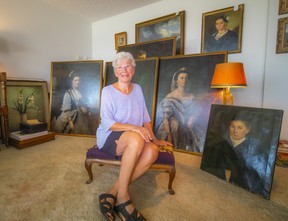 "This is what it's looked like all those years they've lived here," said Sjaan Lugtenburg, a neighbor of the Halmys. Lugtenburg and her husband have lived in the 22-story Huntington building since it was built in 1976, two years before the Halmys left Montreal for Vancouver.
"They liked old things," Lugtenburg underestimated.
Those old things came to Vancouver. Most of the family art had been lost, but friends and relatives had managed to hide some of it in the Budapest ghetto, and over the years it made its way piece by piece to the West End.
The photos of Alex's glamorous parents look like black-and-white stills from the Europa Hotel. Among the paintings that adorn the walls are portraits of Alex from when he was a boy in golden curls to a serious young man, as well as portraits of his parents over the years, including Lily as a flapper.
.
An enormous cupboard built in 1777, of wood so solid it could be used as lintels today, lay in pieces carefully disassembled for shipment, alongside silver trays on which the Cichockis enjoyed breakfast earlier that day.
"Why not?" said Cichocki, now a doctor in Vienna. "Breakfast on silver, just for fun."
Cichocki took his wife and three daughters on a "moving vacation" to start tidying things up before his father and mother, Bernd and Ilse, arrive from Austria at the end of September for six weeks of packing and shipping.
It was a literal scavenger hunt as I wandered the apartment with a guest, both delighted with every find.
In Alex's study, old maps of the landmarks of his life hang on the wall above his desk: Austria-Hungary, England, the St. Lawrence Valley, and a nearly 400-year-old map of the East Coast of North America. North from Greenland to Mexico (the west coast is a bit less detailed, looks like it was drawn by a three year old in pencil).
.
"1630, very rare, 45 guilders," says a tag on the back, or about $2,700 dollars today, according to dutchmoney.com.
The condo has a 180 degree view and looking out his studio window Alex could see Lions Gate Bridge, which reminded him of the Szechenyi Chain Bridge that crosses the Danube between Buda and Pest.
And he got to see Lost Lagoon.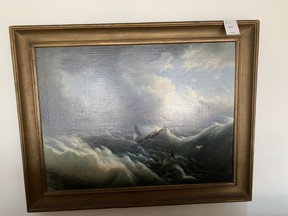 The tranquil Stanley Park pond contrasts sharply with one of the paintings on the living room wall, by Elizabeth's grandfather, depicting a two-masted sailboat tossing in a windstorm offshore, the boat tilting precariously on the crest of a wave, turbulent white water.
Alex once told Cichocki's father Bernd that the turbulence was a metaphor for how he, Elizabeth and art ended up in the West End, surviving the clash of empires, world war, the Holocaust and Stalin.
"My dad told me that's how Alex described his life: stormy," Cichocki said. "Here was the peaceful place where he ended up after all the struggles of running away from the war, being expelled as a noble family, hiding.
"In the end, a lot of things came to Lost Lagoon."