The Rolling Stones' tour manager dies
Mick Brigden lost his life in an accident at the age of 73
He passed away while he was digging the grave for the family dog
Rolling Stones manager Mick Brigden dies. Sad news for the world of music especially for one of the most famous rock bands in history The Rolling Stones, since the death of the tour manager of the famous band has been announced after suffering an accident domestic a few days ago, according to The Sun.
Related
It is tour manager Mick Brigden, who for several decades managed and directed tours for rock acts like Humble Pie, Mountain and Peter Frampton, died after an accident on September 5 at his hilltop home in north of Santa Rosa.
Rolling Stones manager dies
Apparently Brigden was helping to dig the grave of the family dog ​​who had died, it was at that time the manager of the group suffered an accident. He was immediately taken to a hospital where doctors could do nothing to save his life.
During his long career in music management, Brigden led tours for The Rolling Stones and Bob Dylan and is best known for directing the career of Grammy-nominated solo guitarist Joe Satriani for the past three decades. This made him a recognized figure.
Rolling Stones manager Mick Brigden dies: he was digging a grave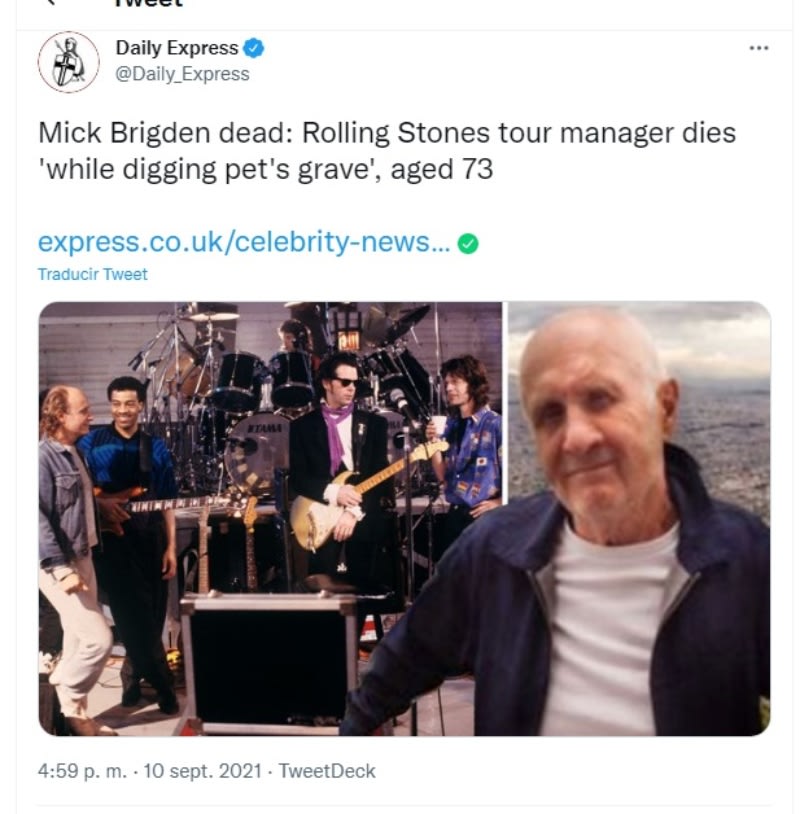 Mick Brigden was at home helping dig a grave for the family's pet dog when the terrible accident occurred, according to his wife, Julia Dreyer Brigden, who were together for 34 years. They took him to a hospital in Santa Rosa, where he died at the age of 73.
His wife constantly joined the manager on concert tours he led and fell in love with his efficiency. "It was so organized. That's why he was so good at his job. When you got to the hotel, the cars were waiting and the places were ready, "said Julia.
Muere manager Rolling Stones Mick Brigden: " Era tan original "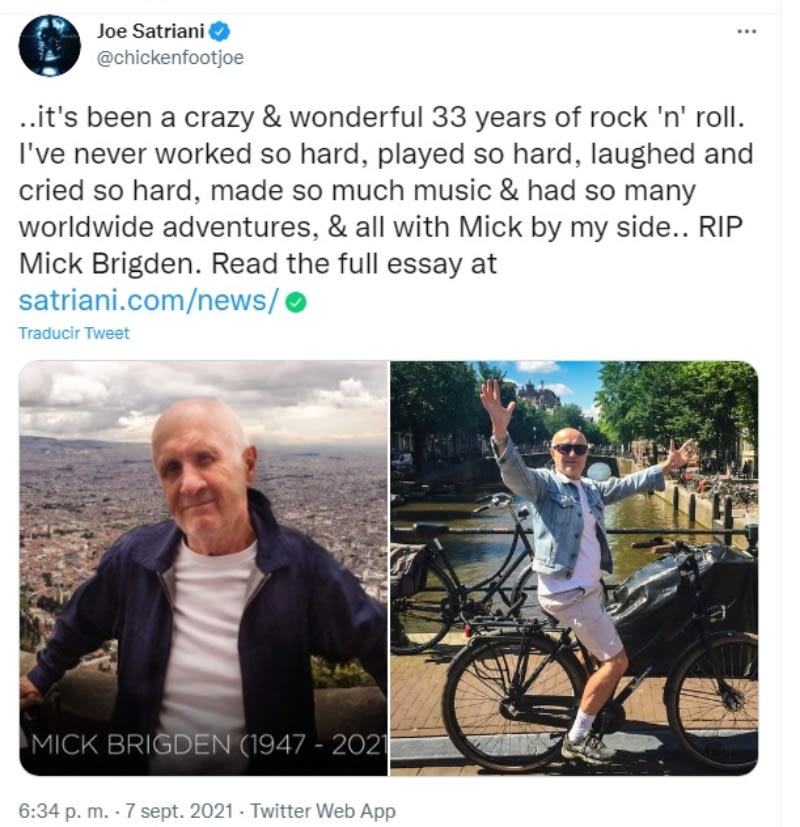 It should be remembered that in 1988 he began a relationship with guitarist Satriani when he was hired to play two tours with Mick Jagger: "I was on the east coast touring a club, and Mick Jagger was struggling to find a guitarist. They had been through something like 60 guitarists. After the audition, Mick Brigden said: 'Hello again. Let's talk business, "Satriani recalled.
"Mick Brigden was a force to be reckoned with. It was so original. I hesitate to say he was an old school rock 'n' roll manager because it doesn't do him justice. He put emphasis on doing things well and doing things well for people, "added the famous guitarist in his speech.
Rolling Stones manager Mick Brigden dies: "Mick had a unique skill set"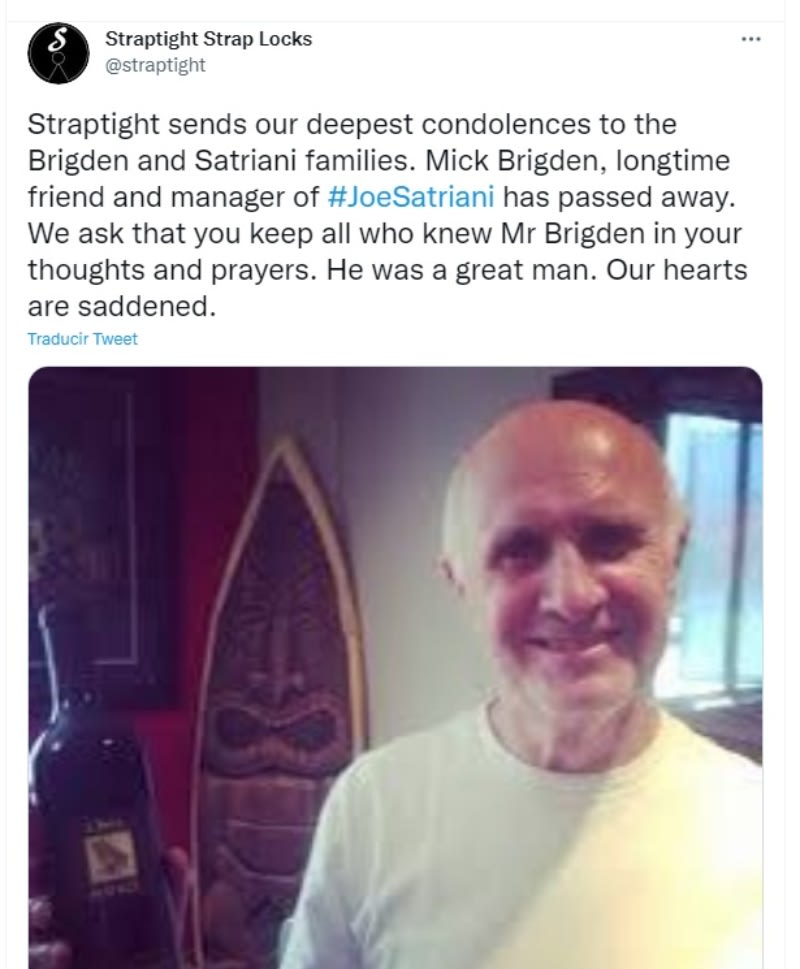 A few years ago the Rolling Stones tour manager hired Bill Graham Presents alumnus Morty Wiggins as a partner to handle the day-to-day running of Satriani. Wiggins also serves as CEO of the Second Octave Entertainment company, which promotes some concerts and events, according to The Press Democrat .
"Mick had a unique skill set. Most people in the music industry have experience on the touring side, the business side, or the creative side. His skills covered all three categories and he was able to communicate with musicians on an artistic level, "Wiggins said.
Rolling Stones manager Mick Brigden dies: a great legacy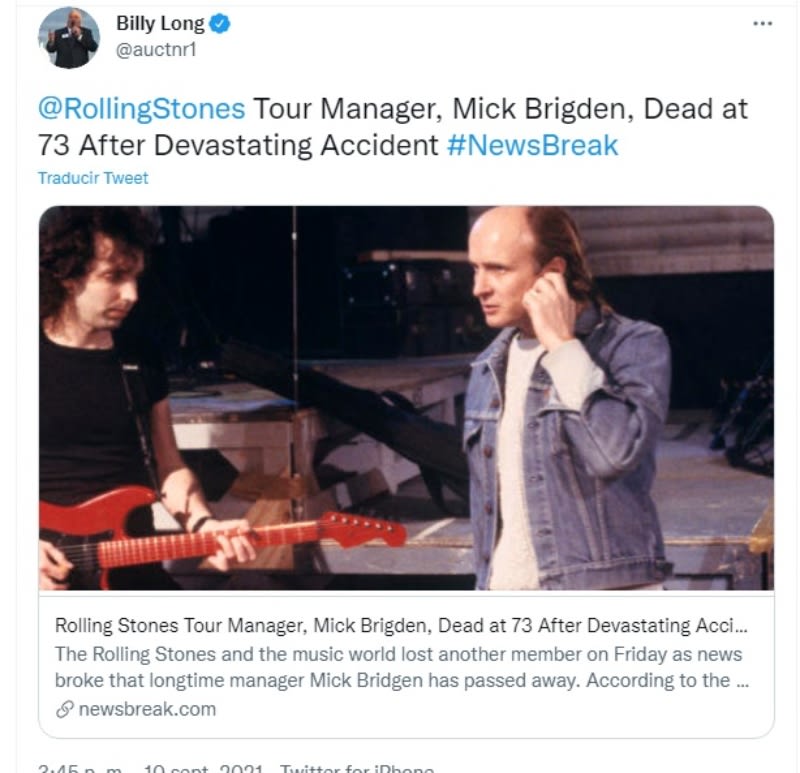 The manager had great talents and aptitudes recognized by various celebrities, including guitarist Satriani said that Brigden was a manager who could design a poster, book flights and design sets. Even in his early days he grew grapes in his vineyard that were used to make an Owl Ridge cabernet.
"Mick really loved Sonoma County. He was biking all over the county, "" Wiggins added in his speech. In addition to his widow, Brigden is survived by his son Jack Brigden of Santa Rosa, his stepdaughter Jessica Merz and his grandson David Merz of Novato.
Rolling Stones manager Mick Brigden dies: Roberto Carlos in mourning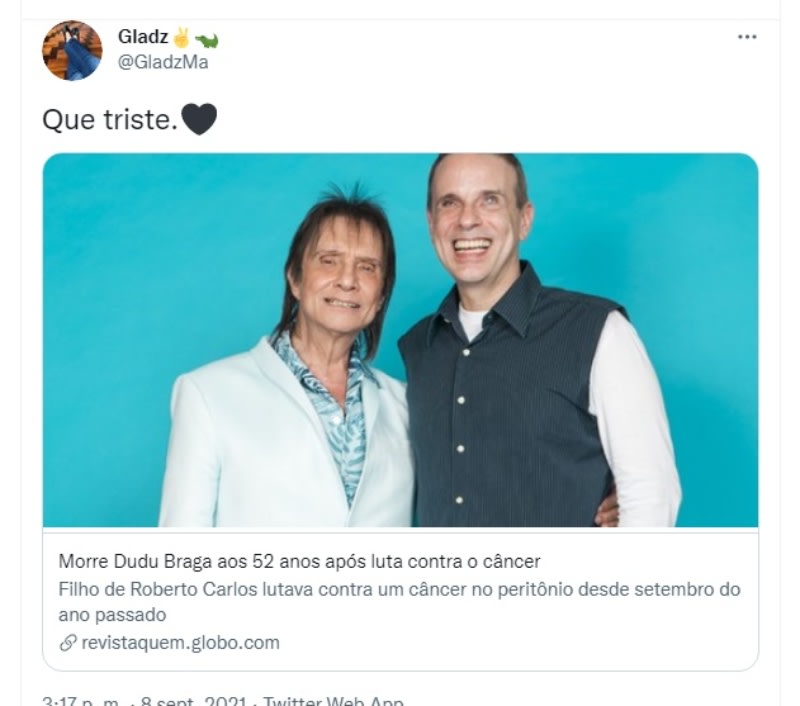 A few days ago the famous singer of classic songs such as "A million friends", "Trucker" and "The cat is sad and blue", shared on his account Instagram and Twitter the terrible news of the death of his son Dudu Braga. The Brazilian is in a very sensitive moment and thus he fired his son Roberto Carlos Braga II, dedicating a few words to him.
"Dudu, to us you are unforgettable and irreplaceable. See you soon! "Was the message he posted on his social network profile accompanied by a sad video where you can see the life of Dudu Braga since his birth. You also see the best moments they spent as father and son.
He was born with glaucoma
Netizen reaction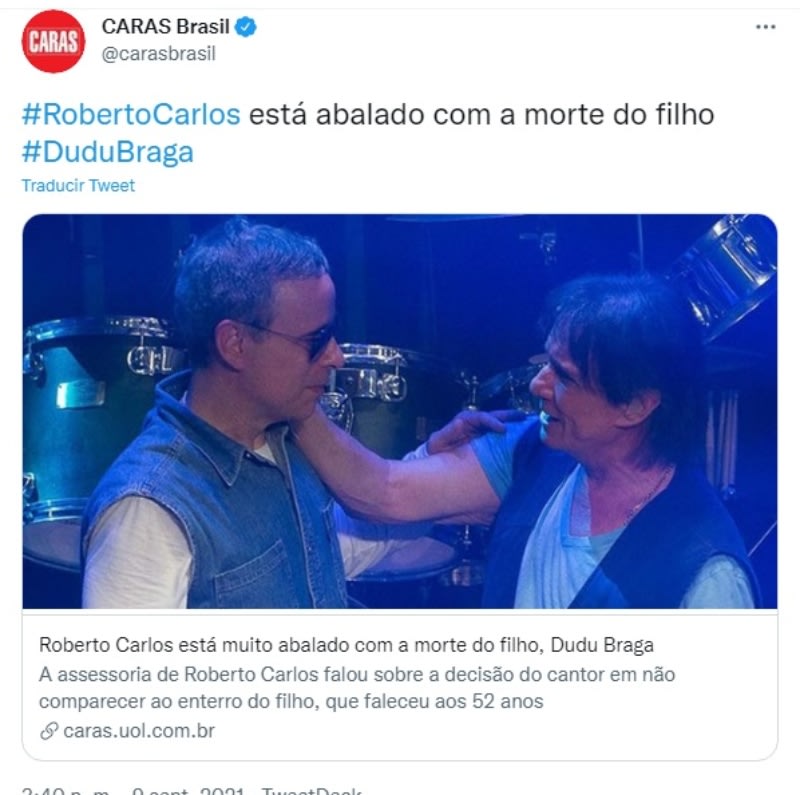 The singer's followers reacted and sent their support to the Brazilian: "King of strength, may God comfort you", "My feelings may God comfort the hearts of the family members", "My. Feelings Jesus comfort your heart "," PEACE AND WELL Dudu, a great dear! "," Strength of the Braga family! ".
"Only the certainty of a reunion makes pain and absence less crazy. Dudu fulfilled his mission in this life with praise and now he follows the paternal side: faith, strength and a lot of courage. For him and for the whole family "," May God give strength to our King "," My sentiments my Roberto Carlos and his son's entire family and may he rest in peace ", were some of the comments. Filed Under: Rolling Stones Manager Mick Brigden Dies
Sad news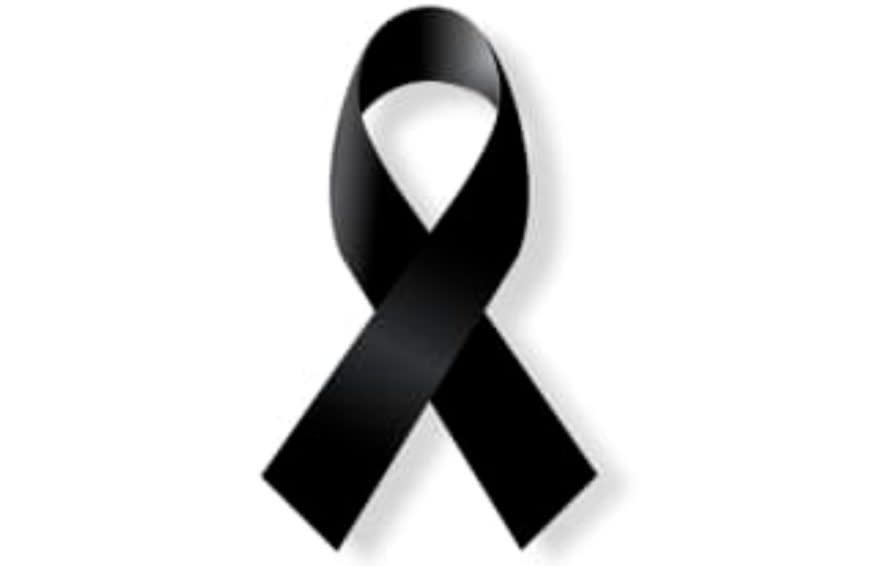 A few days ago a sad news was released to the world of radio, and that is that the news about the death of the Cuban announcer Adrián Mesa has shocked several colleagues from the same profession. Where they immediately used their social networks to send their condolences and say goodbye.
The death of the Cuban announcer Adrián Mesa, who featured on the radio station Zeta 92.3 FM on Miami radio, suffered a stroke, as he announced on his account Facebook, the journalist of Gossip no like, Javier Ceriani, where he also states that he will be disconnected. Filed Under: Rolling Stones Manager Mick Brigden Dies


mundohispanico.com