The Stanley RM is dealing with major ground flooding throughout the borough. MP Reeve Ike Friesen says that there is hardly an area of ​​the MR that is not affected at the moment.
"There have been a hundred places, at least, where the water runs over the road," Friesen said Sunday afternoon. "We have several houses with flooded basements in various areas throughout the RM. It appears that the water in the western part of the RM is beginning to show signs of receding, but the east still receives a tremendous amount of water. As If we see warm temperatures in the next few days, we could easily see another spike in water flows."
Friesen noted that because water levels are so high right now, pumping water to solve one problem area is creating other problems downstream.A country lane south of Friedensruh on a Sunday afternoon. Photo submitted by Jake Fehr.
"Right now it's hard," he said.
Meanwhile, Friesen stresses that many of the township's roads are impassable and crews are trying to block off problem areas, but there are still numerous washouts that may not be blocked.
Due to unsafe road conditions and weather, the Western School Division has announced that buses will not be running and classes will be canceled on Monday, April 25. Staff must report when it is safe to do so.
"We're thinking there's going to be a next peak in the northeast area of ​​the RM, north of Winkler," he added. "It looks like the water level is rising there."
Friesen pointed out that there may also be a second peak in some of the towns in the municipality depending on the forecast in the coming days.
"If we see some warm temperatures fairly quickly, we'll see more water coming in and there's still a lot of snow to melt in the bluff area," he explained, reflecting on how much snow west of the bluff will flow east. through Stanley's RM. "Our trenches are full, so that just raises the levels again."
The current forecast, at this point, looks favorable for a slower melt which should allow water levels to recede, but with heavy snowpack on the escarpment moving east, only weather will decide how quickly it arrives. .
In the meantime, the Southern Emergency Response Committee (SERC) is coordinating a response, and if you can volunteer or have equipment available to help, please email [email protected] . If you need volunteers for assistance with sandbags or equipment, please email [email protected] . SERC cannot guarantee attendance, but will do its best to match volunteers with need.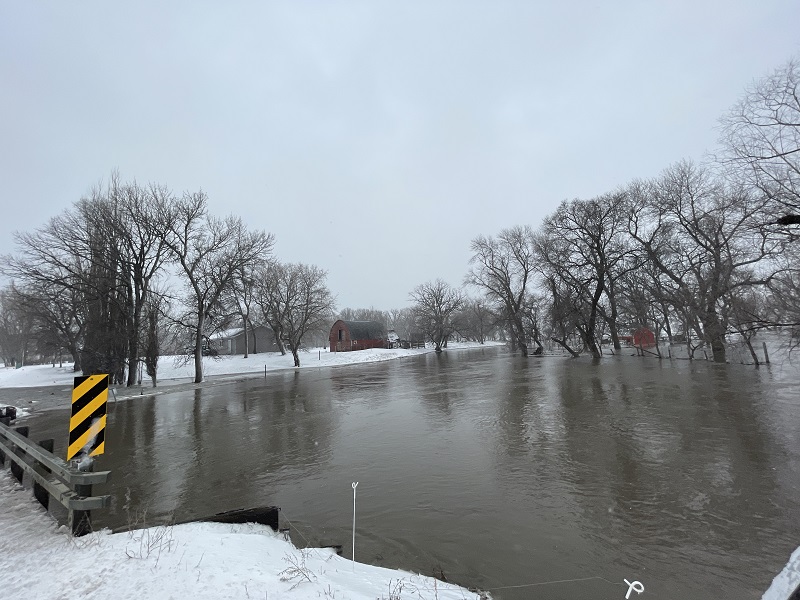 High water running near Schanzenfeld. Posted by Marven.Reflecting on the past twenty-four hours, Friesen had this message for the RM's public works crews.
"I just want to thank our public works staff," he shared. "They've been working hard. They've been working around the clock and they're doing everything they can to help. Also, the resiliency of our community. They're showing their support, they're helping their neighbors as much as possible." as they can. We just can't do it all by ourselves as RM, so it's been amazing. We have many contractors willing to help, and have provided their numbers in case we need additional help somewhere. to the boys for all the work they are doing. The public works guys are working hard."
Sandbags are now available at the Stanley RM Administration Office at 1-23111 PTH 14 as the road to the Public Works Shop is now closed in both directions.