Janis Qavavauq-Bibeau's reality "is the reality of almost all indigenous people… And I realized, 'Okay, it's not just me.'"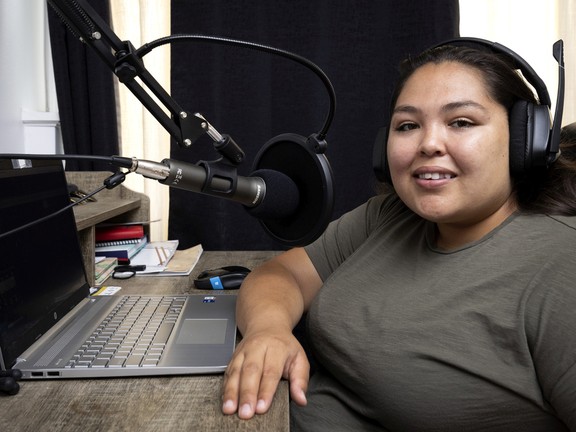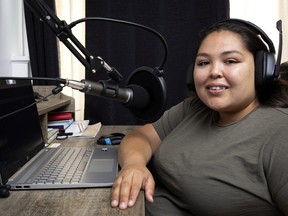 .
The exasperation in Nakuset's voice is evident as he describes a case in which youth protection services wanted to kidnap the children of an Inuit family because they were sitting on the floor eating during a home visit.
.
"They don't get it. They see it as unhygienic; they don't understand that it's a cultural form," says the director of the Native Women's Refuge during an interview at her office, describing the disproportionate number of indigenous children in custody in Canada as a continuation of the residential school system.
This is not an ordinary interview. This is a recorded conversation with Janis Qavavauq-Bibeau, who is a social worker at the Native Women's Refuge and director of research for the center. Iskweu project.
Qavavauq-Bibeau is also a podcast host and debuted on the third season of the 150+ Indigenous Podcast Serieswhich will be launched with virtual listening party thursday night. The frank and unexpected exchange with Nakuset is featured in his first episode and illustrates his approach to storytelling as well as the kind of stories he intends to tell.
.
Behind the scenes gained from their frontline work, this is a discussion between two women intimately familiar with the maddening injustices of child welfare policies that still rip indigenous youth from their heritage, cultures and communities. Nakuset was put up for adoption at Sixties Scoop and Qavavauq-Bibeau also grew up in foster care.
Sharing the lived experiences of indigenous peoples, traumas and tragedies, as well as everyday microaggressions, is one of the main reasons Qavavauq-Bibeau got into podcasts.
"I had a difficult upbringing with my family. I thought it was just my family because I was in foster care, so all my friends didn't have their grandmothers killed, her mother passed away very young, she killed herself with an 's'. And then I started working at the Indigenous Women's Shelter and I realized, 'Oh wait, my reality is the reality of almost all indigenous people. They had their grandmothers murdered, their aunts disappeared. And I realized, 'Okay, it's not just me,'" she told the Montreal Gazette.
.
"I was like, 'You know what? Maybe it would be useful to make a podcast that talks about the realities of indigenous peoples and what they go through.' There is nothing wrong with us genetically and that is why many indigenous people are in care. It's actually due to trauma."
With one foot in two worlds, Qavavauq-Bibeau said she has the ability to speak to people from all backgrounds.
"I like to say that I am like a colonized Inuk, because I was raised in a white foster home, so I fit into the system, but I can see both sides. I get along well with members of the community and the homeless population of Montreal, but I also get along with people from the government and I can talk to them very well," she said.
Qavavauq-Bibeau draws on his work as inspiration for the podcast. Through the Iskweu project at the Indigenous Women's Shelter, she acts as a liaison between the families of missing indigenous women and the Montreal police. She compiled a database of murdered and missing indigenous women in the city, connecting the dots and scanning files to uncover many more cases.
.
"I found an article that said the RCMP only estimated around 46 cases of women who have been killed," Qavavauq-Bibeau said. "So I created a database and since then I've found 205 names, which is like four times as many, at least."
In another episode, she interviews Cree journalist Connie Walker, who was instrumental in exposing the shameful apathy long shown toward missing indigenous women. Public pressure from such stories of institutional indifference resulted in a federal investigation that filed a report in 2019 with hundreds of recommendations, the vast majority still unfulfilled.
By inviting the listener into her conversations with other indigenous peoples, Qavavauq-Bibeau seeks to amplify their voices and reclaim a narrative that is often co-opted by outsiders.
.
"Traditional media has dehumanized indigenous people for so long. When an indigenous woman disappears or is killed, they focus on the wrong things, like being a sex worker or a drug addict. But it's like, 'She was a person. Someone cared about her,'" she said.
"I'll give you a quick example: My mom passed away in 2006 and I got the coroner's report. And the first sentence of the coroner's report is: 'Client is obese and dirty.' And I asked a journalist who he's used to reading forensic reports: 'Is this something you see a lot? You can feel the judgment in the first sentence of the coroner's report. And she said, 'No, I've read many, many forensic reports and I've never read that.' I was like, 'Wow, that's super hurtful. "
.
Qavavauq-Bibeau hopes to educate. Its target audience is indigenous and non-indigenous people alike. For example, after Nakuset expresses his frustration on the podcast, Qavavauq-Bibeau steps in to demystify why Inuit don't always eat at the table.
"When we eat traditional foods, we sit on the kitchen floor with various foods, such as frozen meat or fish, placed on top of cardboard. The cardboard is sometimes placed on a flat piece of plywood to protect the floor, and everyone gets together and sits around the area and collectively cuts and shares food," he explained.
The third installment of his podcast for Indigenous 150+ will be piloted on the Iskweu site, where Qavavauq-Bibeau intends to continue telling stories through this accessible medium, thanks to the training he received from Good Influence Films.
.
She wants to do a show on the indigenous experience in health care and invite some of the homeless indigenous people she knows through her outreach work as speakers.
"I think I give off a confident vibe and they just tell me all their stories and I'm like, 'Wow, I get why you're addicted to alcohol or drugs. I really understand why and I don't judge you. It is very easy to ignore them and pretend you are not seeing them. They fall through the cracks in society, so I would really like indigenous homeless people to come and share their stories."
Hanes: One year after Joyce Echaquan's death, systemic racism festers

Hanes: Sometimes the word sorry isn't enough.