The CAQ leader's reassuring words on election night are at odds with his divisive campaign rhetoric.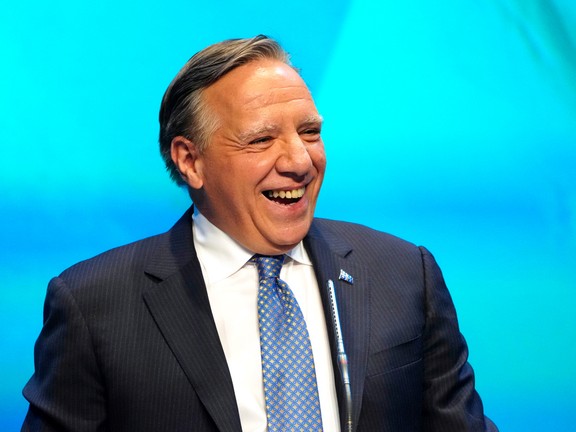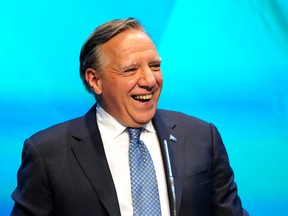 .
Prime Minister François Legault was magnanimous in victory Monday night, as his Coalition Avenir Québec won an even stronger second majority.
.
In his speech to the party faithful, and to a broader audience of Quebecers, he reached out to younger generations and pledged to reduce greenhouse gas emissions. He spoke of "reconciliation" with the Indigenous Peoples and a law to protect their languages. He called immigration a source of great "wealth" and promised a "respectful" debate on how to strike a balance between integrating newcomers and protecting the French. He promised to work with opposition parties, which have lost seats to the growing CQA. He even threw in a few words in English, saying that he will be the prime minister of all Quebecers "of all regions, of all ages, of all origins."
.
At a press conference on the Île d'Orléans on Tuesday, he echoed this message, reaching out to Anglophones and cultural communities "to work together" to safeguard French.
.
In other words, Legault said all the right things, all the things that a re-elected leader with a resounding majority should tell the people, whether they voted for him or not.
But after a campaign in which he was at times moody, testy and touchy, he downplayed the climate crisis, repeatedly vilified immigration, was forced to apologize for making hurtful statements, pitted Montreal against the regions and accused his critics of insinuating that he is a racist. , Quebecers can be forgiven for experiencing cognitive dissonance.
Which Legault should people believe: the one who fanned prejudice to win support, or this statesman who opens his arms to embrace one and all in his vision for the nation of Quebec? What was pure rhetoric and what is the true reflection of the prime minister's thinking? And what should those who are upset by his earlier rebukes do now? Let what is past be past? How do people trust someone who expressed such mixed feelings in such quick succession?
.
"An election divides, but I think there are a lot more things that unite us than things that divide us," Legault said Monday and reiterated Tuesday, appearing to explain his more objectionable comments as a mere election stunt.
This would sound more reassuring if Quebecers, especially Montrealers of diverse origins, had not earlier been lured into a false sense of belonging, only to end up alienated by the divisive government policies of the CAQ.
The passage of Bill 21, which prohibits certain public sector employees in positions of authority from wearing religious attire, excluded, stigmatized and marginalized some minorities, particularly Muslim women seeking to teach in the understaffed classrooms of the Province.
.
Anglophones were told that Bill 96, to strengthen the protection of the French language, was "nothing against English Quebecers" and yet the community found its interests, rights and services under attack on all fronts. .
The concerns of indigenous communities about the protection of their own languages ​​were ignored during the debate on Bill 96.
Legault's repeated denials that systemic racism exists in Quebec were at odds with the basic facts surrounding Joyce Echaquan's death. Her most recent blunder in stating that all is now well at the Joliette hospital, where staff verbally abused the Atikamekw woman, was a new and callous blow to Echaquan's family on the second anniversary of Echaquan's death. she.
Many people were deeply hurt by Legault's recent attempts to link immigration to "extremists" and "violence," his claims that too many immigrants would be "suicidal" for Quebec, and the lying of current immigration minister Jean Boulet, that 80 percent of immigrants "leave." to Montreal, do not work, speak French or adhere to the values ​​of Quebec society."
.
Legault insists he's a real guy who sometimes speaks without thinking first, but then is willing to apologize for his mistakes. That would be an admirable quality if he didn't seem to make the same mistakes, on the same issues, hurting the same people over and over again.
The prime minister's actions will speak louder than words for the next four years. If he means what he said and said what he means, then Legault must honor the commitments he made during his victory speech.
If you really value immigration, you should refrain from making it a hot topic, no matter how politically tempting, as Quebec seeks more powers from the federal government.
If he really wants to be the premier of all Quebecers, Legault must be a true partner of Montreal. Even if the CAQ failed to turn a profit in the city, keeping its 2018 total of two seats, by losing one and regaining another, Montreal is Quebec's economic engine and the metropolitan region is home to half of the province's population. . Legault cannot afford to continue pitting the city against the regions, a break from the campaign that he did not explicitly promise to smooth over. He must work to overcome Montreal's political isolation while acknowledging that his voters made different decisions than most of Quebec.
.
"The prime minister lives in Montreal, I'm from Montreal, I know Montreal, I like Montreal," he said Tuesday, though it hasn't always felt that way.
And if he is as magnanimous as he seemed, Legault must avoid the arrogance that could easily come from a second term with a larger majority. He should note that while the CAQ won 90 of the 125 seats in the National Assembly, it only got 41 percent of the popular vote. He must remember that the now diminished opposition parties that will hold him accountable together represent the will of more than half of Quebecers, even if their seats do not show it.
Quebecers of all backgrounds and origins may want to believe that Legault has turned a page. In fact, they may desperately want it to be so. But rightfully so, they'll be careful until they see what he does.
Hanes: cultural weight versus weak political influence is the Montreal paradox

Hanes: By attacking immigrants, CAQ bites the hand that feeds Quebec

Complete coverage of the Quebec elections