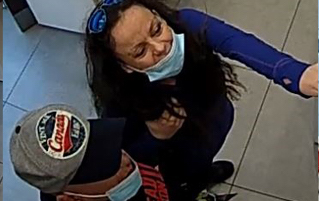 Halton Regional Police are trying to track down a couple they claim are responsible for a robbery and the theft of a purse in Burlington Center Mall while with her two young children.
Police released multiple images of the suspects this month in hopes of triggering arrests in the case.

The incident occurred on September 26 when, according to police, a couple broke into Laura Secord inside the shopping center and stole several large quantities of chocolate and an employee's purse.
The man is described as white, 30 to 35 years old, of medium build, full forearm tattoo on the left arm, and dark hair. He was wearing a "Red Dead" redemption t-shirt.
The woman is also white, between 30 and 35 years old, with a thin complexion and long dark hair. She was wearing a blue sweater and dark pants with a four to five year old boy and a baby in a stroller.
Anyone with information can call the police at 905-825-4747 o Crime Stoppers in 1-800-222-8477.
Reference-www.thestar.com