Tuesday is a day of memory in Montreal. Many across the city are expected to be following along with the funeral of a Canadian legend – Guy Lafleur.
A funeral procession will leave Center Bell at 10:30 am and will travel along Peel Street to René-Lévesque Boulevard making its way to Cathedral Basilica of Marie-Reine-du-Monde.
Scènes émouvantes au Center Bell alors that Guy Lafleur rests in chapelle ardente jusqu'à lundi.

Emotional scenes at the Bell Center as Guy Lafleur lies in state until Monday. pic.twitter.com/ylhs8AQygu

— Montreal Canadiens (@CanadiensMTL) May 1, 2022
Canadian fans and Montrealers will be able to gather outside the Basilica. Screens will be set up outside the Cathedral in designated viewing areas for those in attendance.
---
RELATED:
---
For those not able to make it, Sportsnet and SN NOW will have complete coverage of the ceremony, hosted by Ron MacLean and Stephen Brunt. Christine Simpson, Kyle Bukauskas and Eric Engels will provide coverage from the Cathedral in Montreal. Coverage will begin at 10:30 am ET.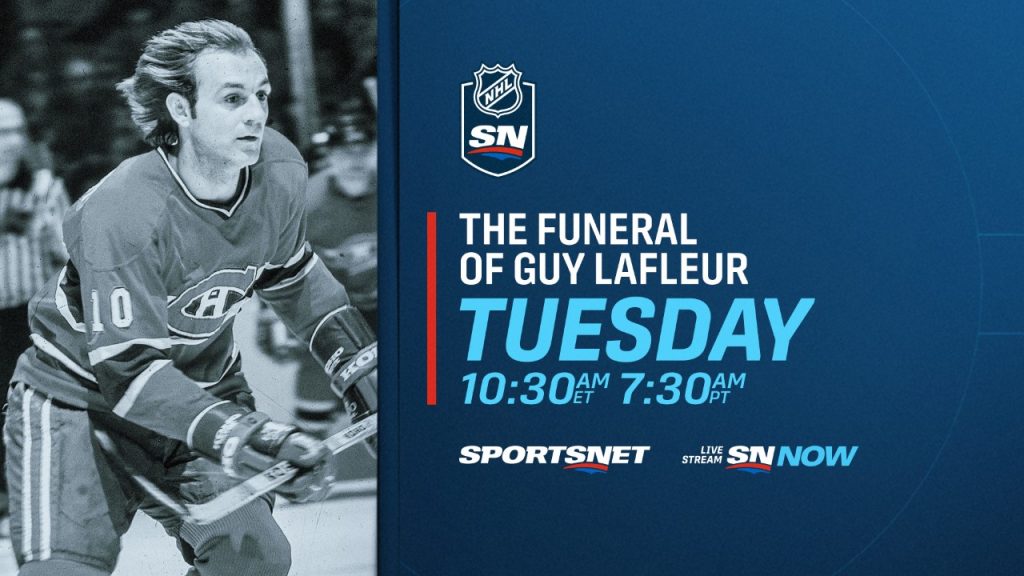 Lafleur's sister confirmed his death in a Facebook post on April 22.
"Guy I love you, you are done suffering we will miss you greatly," Lise Lafleur wrote.
Guy Lafleur was 70 years old.
The exact cause of death was not immediately known, however, Lafleur had been battling a recurrence of lung cancer since October 2020.
Following a spectacular junior hockey career with the Quebec Jr. Aces and Quebec Remparts, the Quebec-born Lafeur was drafted first overall by the Montreal Canadiens in 1971, stepping into the void created by the retirement of the legendary Jean Beliveau. Nicknamed "The Flower" – the English translation of his name – Lafleur led the Habs to five Stanley Cup titles including four in a row from 1976 to 1979. He was a two-time Hart Trophy winner in the late 70s as the NHL's most valuable player and won the scoring title three times during the Canadiens' dynasty years. He was the first player in NHL history to score 50 goals in six consecutive seasons.
Lafleur played 14 seasons for the Canadiens and retired as their all-time leading scorer with 1,246 points in 1985.
After he was inducted into the Hockey Hall of Fame in 1988, Lafleur returned to play three more seasons with the New York Rangers and Quebec Nordiques in the late 1980s and early 1990s, becoming only the second player in NHL history to return to play after being induced into the Hall. He called it a career for a second and final time following the 1991 season.
As part of the NHL's centennial celebration in 2017, Lafleur was named one of the 100 greatest players in league history and his iconic number 10 is one of 14 jerseys that have been retired by the Canadiens.
Due to Tuesday's funeral and procession, from 8 am to 2 pm the following roads will be closed in Montreal:
Peel Street will be closed from St-Antoine to the north,
René-Lévesque Boulevard will be closed between Lucien-L'Allier Street and Robert-Bourassa Boulevard,
Avenue-des-Canadiens will be closed completely.
– With files from Sportsnet and John Marchesan