Article content
On this date, Sept. 15, in history:
Article content
In 1773, the ship, Hector, arrived at Brown's Point, near Pictou, N.S. Hector carried 178 Scottish immigrants — the first large wave of immigration that made Scots the predominant ethnic group in Nova Scotia. A replica ship was later built to commemorate the voyage and is on display in Pictou harbour.
Article content
In 1821, independence was proclaimed for Costa Rica, Guatemala, Honduras, Nicaragua and El Salvador.
In 1830, the first passenger railway opened, running between Manchester and Liverpool, England.
In 1835, Charles Darwin reached the Galapagos Islands aboard HMS Beagle.
In 1860, Edward, Prince of Wales, visited Niagara Falls, where he witnessed a performance of the great French tightrope walker Blondin.
In 1884, Lt.-Col. Frederick Denison and about 400 Canadian voyageurs sailed for Egypt to try to rescue British Gen. C.G. Gordon, who had been trapped at Khartoum, the capital of Sudan, by the Mahdi and his followers who were revolting against British and Egyptian control. By the time the Canadians, participating in an overseas war for the first time, reached Khartoum, Gordon was dead.
Article content
In 1916, tanks were used in combat for the first time by the British at the battle of Flers-Courcelette, during the First World War.
In 1917, Russia was proclaimed a republic by Alexander Fyodorovich Kerensky, whose government was overthrown two months later by the Bolsheviks.
In 1935, the Nuremberg Laws were passed in Germany, segregating Jews and adopting the swastika as the official German flag. The laws barred Jews from professional positions, stripped them of property and segregated them into ghettos.
In 1940, the Germans launched heavy bombing attacks on London and lost 60 aircraft.
In 1946, 21 members of the Royal Canadian Air Force died in a plane crash near Estevan, Sask. The plane carried a load of pilots, all members of No. 124 Squadron, who had been engaged in returning lease-lend Cornell aircraft to the United States. The cause of the crash was determined to be human error.
Article content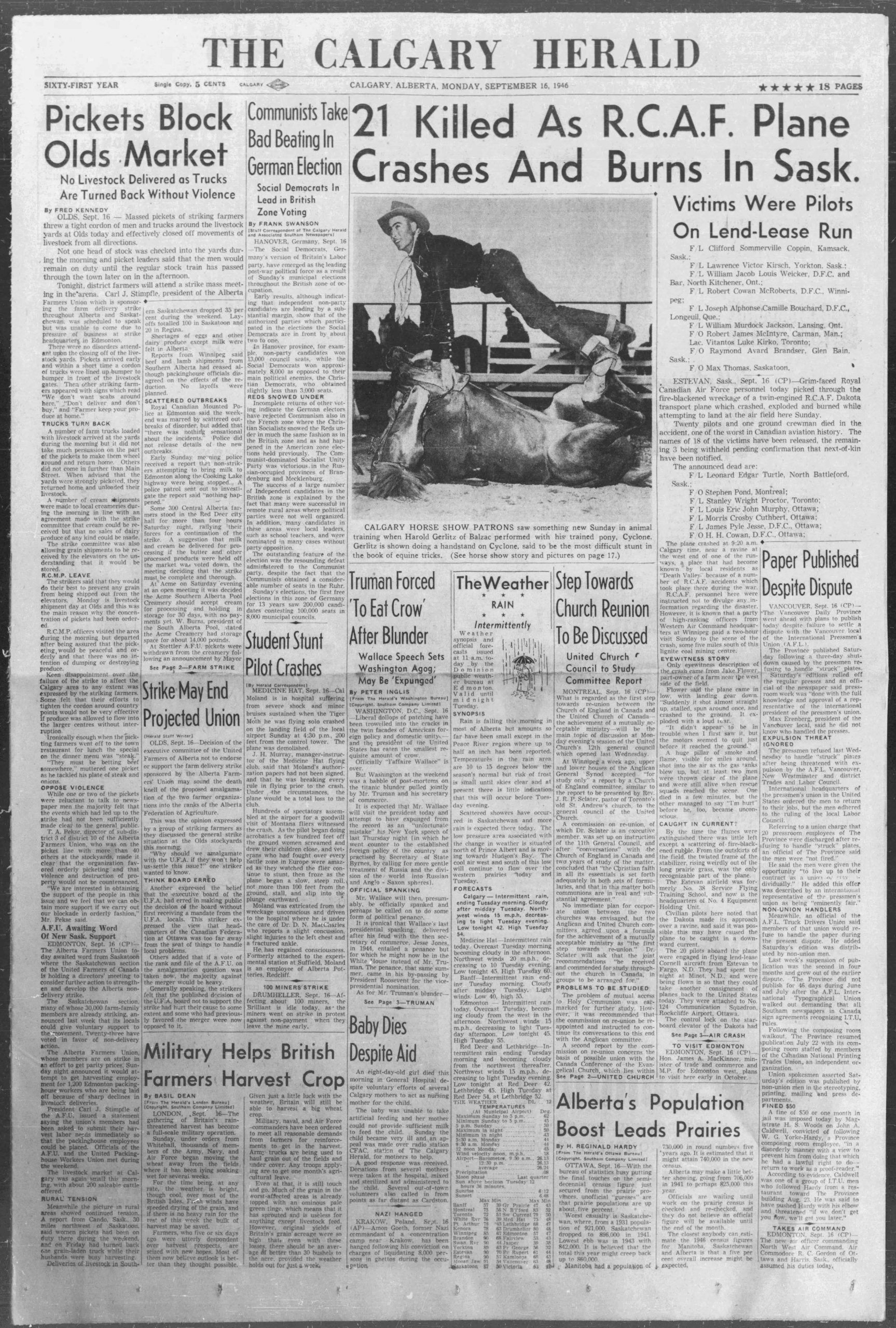 In 1958, Cecile Langlois became the first Dionne quintuplet to become a mother when she gave birth to a son.
In 1959, Gen. George Vanier was appointed Canada's 19th governor general.
In 1959, Nikita Khrushchev became the first Soviet head of state to visit the United States as he arrived at Andrews Air Force Base outside Washington, where he was greeted by President Dwight D. Eisenhower. The two leaders then met at the White House; a joint communique afterward described the talks as "friendly and frank."
In 1960, Maurice (Rocket) Richard announced his retirement from hockey after playing 18 seasons with the Montreal Canadiens. Richard was the greatest goal-scorer of his era, with a regular season total of 544 and he once scored 50 goals in 50 games. He died in May 2000.
Article content
In 1966, the Queen Mother launched Britain's first nuclear submarine at Barrow, HMS Resolution.
In 1970, Canada's first sex change patient, Dianna, formerly a man, told reporters in Toronto that three operations, innumerable hormone pills, and several electrolytic hair removal treatments had transformed her/him into a green-eyed, redheaded woman. Dianna, a native of Winnipeg, was the first person to have a sex-change operation in Canada. She did not reveal her surname in order to prevent harassment of her parents.
In 1970, Manitoba lowered its voting age to 18.
In 1976, Team Canada won the first Canada Cup hockey tournament when Darryl Sittler scored in overtime to beat Czechoslovakia 5-4.
In 1978, Muhammad Ali became the first heavyweight boxer to win the world title three times when he won a 15-round decision from Leon Spinks in New Orleans.
Article content
In 1978, Syncrude Canada opened the world's largest oilsands production facility at Mildred Lake in northeastern Alberta.
In 1984, Pope John Paul II celebrated Mass before 500,000 people at a Toronto military base.
In 1984, Harry (officially named Henry Charles Albert David), the second son of Prince Charles and Diana, Princess of Wales, was born.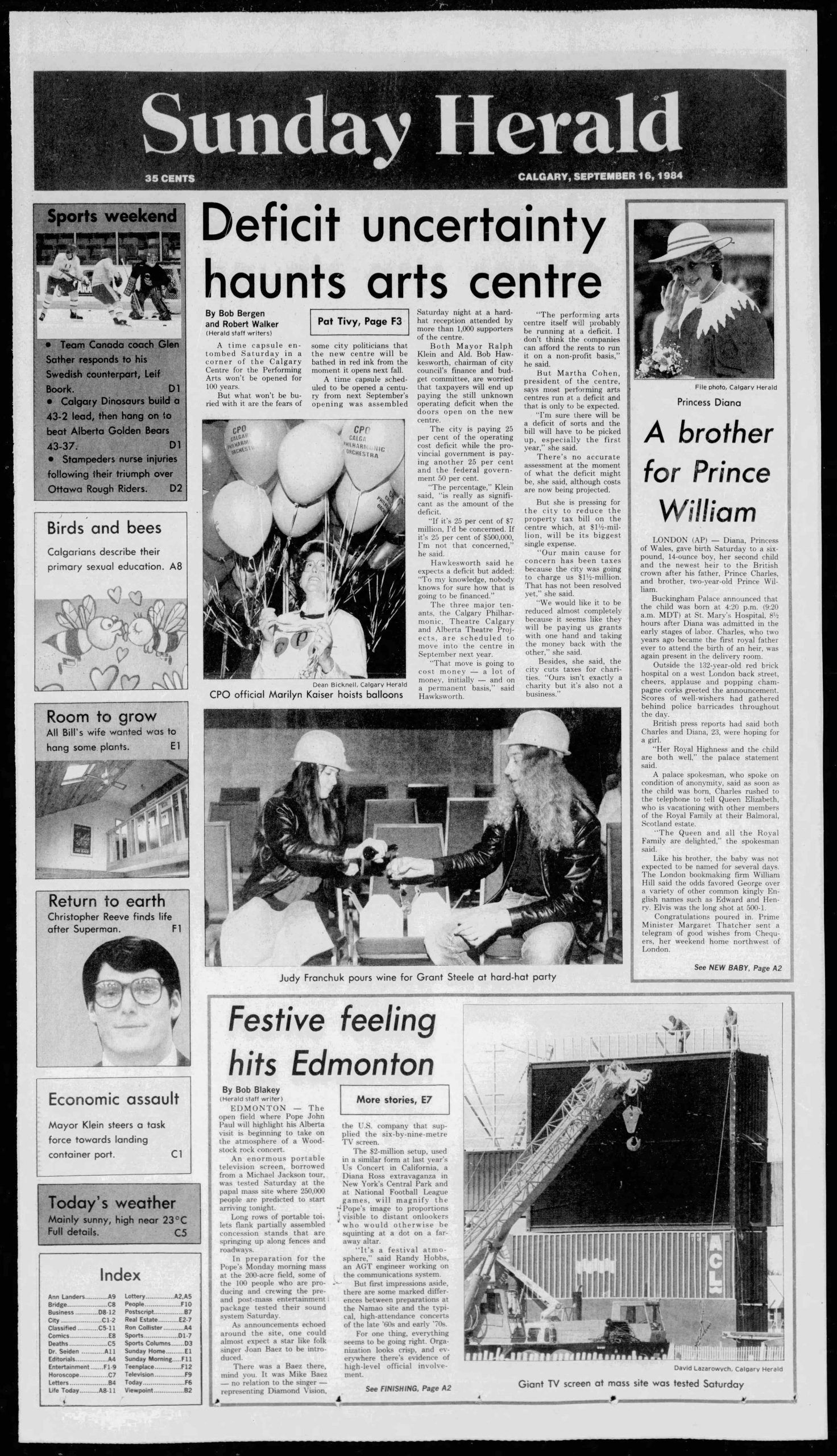 In 1987, Team Canada defeated the Soviet Union 6-5 in the third and deciding game of the Canada Cup hockey tournament final in Hamilton. Wayne Gretzky set up Mario Lemieux for the winning goal — one of the most memorable in hockey history. All three games were decided in overtime by 6-5 scores.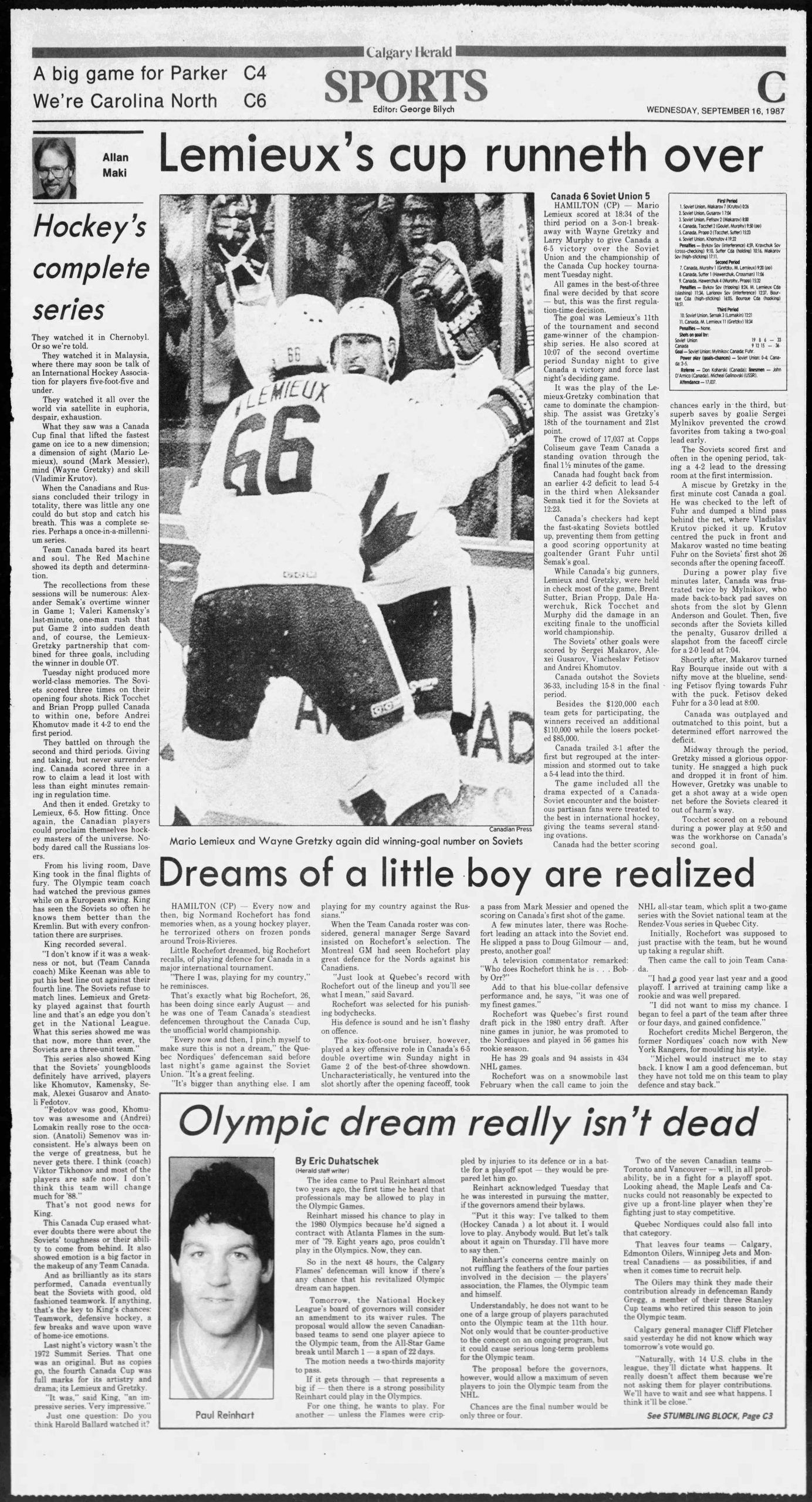 In 1993, a compensation plan was announced for people who contracted HIV through tainted blood products before Canadian officials started screening blood for the virus. The plan was approved by most provinces and both territories. They joined Nova Scotia and Quebec, which had announced their own compensation packages earlier. The following day, the federal government announced an inquiry would be held to recommend how to make the blood system safer and more efficient.
Article content
In 1997, for the first time in history, Sinn Fein, the political arm of the IRA, attended Northern Ireland peace talks in Belfast.
In 2000, BCE and the Thomson family announced a $4 billion joint venture combining the Globe and Mail and its associated Web sites, CTV and the Internet portal Sympatico.
In 2003, Torstar Corp. announced it would shut down the money-losing Cambridge Reporter as of Sept. 19 after 157 years.
In 2004, Prime Minister Paul Martin and Canada's premiers and territorial leaders signed a six-year deal worth $18 billion to reform medicare. The federal government later signed a separate deal with Quebec exempting the province from some promises other provinces made, such as expanding certain home-care services. The side deal was hailed as a pattern for future federal-provincial agreements.
Article content
In 2008, global markets plummeted after investment bank Lehman Brothers Holdings Inc. filed for bankruptcy protection, rival Merrill Lynch agreed to be taken over by Bank of America and the U.S. Federal Reserve threw a lifeline to the battered financial industry. In Toronto, the S&P/TSX composite index dropped 515.26 points to 12,254.32.
In 2011, the Ford assembly plant in St. Thomas, Ont., closed after a 44-year history, leaving 1,200 hourly-paid employees out of a job.
In 2011, Swiss banking giant UBS said a rogue trader caused it an estimated loss of $2 billion, stunning a beleaguered banking industry that has proven vulnerable to unauthorized trades. Police in London arrested Kweku Adoboli, 31, in connection with the loss. (He was sentenced to seven years in prison.)
Article content
In 2012, the NHL locked out its players at 11:59 p.m. after failing to negotiate a new collective bargaining agreement. It was the league's fourth shutdown since 1992. A tentative 10-year deal was struck on Jan. 6, 2013, enabling the league to salvage a season with a truncated 48-game schedule that began on Jan. 19.
In 2016, an Edmonton judge convicted Travis Vader of second-degree murder in the deaths of seniors Lyle and Marie McCann, an Alberta couple who vanished shortly after they left on a camping trip in 2010. Their bodies have never been found. (Vader's lawyer appealed the conviction, citing a major error in the ruling hinged on Section 230 of the Criminal Code that had been declared unconstitutional in 1990. In late October, the judge acknowledged the error and changed his verdict to manslaughter. Vader was sentenced to life in prison and eligible for parole in seven years.)
Article content
In 2016, convicted sex offender Graham James, the disgraced former junior hockey coach who abused players under his charge, was granted full parole. Several conditions will remain in place until his seven-year sentence expires in 2019.
In 2017, NASA's Cassini spacecraft disintegrated as expected in the skies above Saturn in a final, fateful blaze of cosmic glory, following a remarkable journey of 20 years.
In 2017, Ontario's Wiarton Willie, the albino groundhog at the centre of Canada's most high-profile weather forecasting tradition, died at age 13.
In 2018, a Russian-Canadian member of the protest group Pussy Riot was flown to Berlin for treatment after falling severely ill in Moscow. The hospital said it was "highly plausible" that Pyotr Verzilov had been poisoned with a toxin attacking his nervous system. Verzilov was in hospital for nearly two weeks.
Article content
In 2020, the United States stood down in its tariff dispute with Canada, lifting a 10 per cent levy on Canadian raw aluminum. The office of the U.S. Trade Representative said it expects Canadian exports to "normalize" over the remainder of the year. The backpedal comes after the Trudeau government announced it was about to impose retaliatory tariffs. The U.S. imposed the tariffs last month at the request of two American manufacturers, prompting an outcry from Canadian producers.
In 2021, the NDP confirmed two of its candidates had dropped out of the election with days left to go. The party said Dan Osborne, the candidate for Cumberland-Colchester in Nova Scotia, and Sidney Coles, the candidate for Toronto-St. Paul's "agreed to educate themselves further about antisemitism." Coles reportedly tweeted misinformation that Israel was linked to missing COVID-19 vaccines while Osborne was reported to have sent a tweet to Oprah in 2019 asking if Auschwitz was a real place.
Article content
In 2021, CP Rail won the battle against CN Rail over Kansas City Southern. CN announced it was dropping its takeover bid for the American railway, days after KCS said CP's proposal was the superior offer. CP Rail said the merger would create the first rail network that stretches from Mexico to Canada, and would provide new competitive transportation options and support North American economic growth.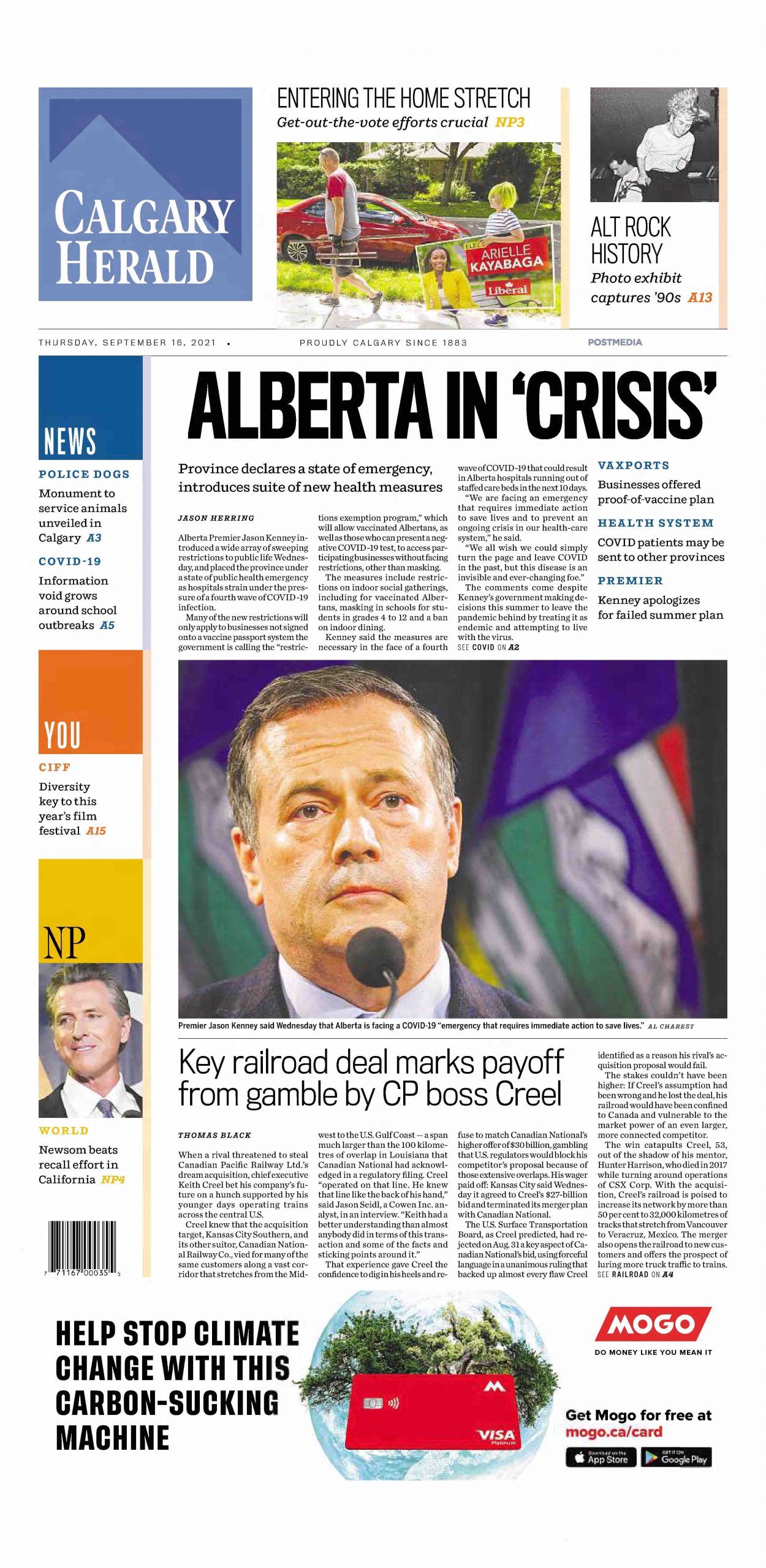 In 2021, Olympic gold medallist Simone Biles cried as she told a Senate committee that the FBI and gymnastics officials turned a blind eye to USA Gymnastics team doctor Larry Nassar's sexual abuse of her and hundreds of other women. Biles said USA Gymnastics and the U.S. Olympic and Paralympic Committee knew that she was abused by their official team doctor.
Article content
In 2021, for the first time in nearly 25 years, members of the Shoal Lake 40 First Nation had clean, running water. The community on the Manitoba-Ontario boundary had been under a boil-water advisory since 1998. Its new water treatment plant finally opened, ending one of the longest boil-water advisories in the country.
In 2021, U.S. President Joe Biden announced that the United States was forming a new Indo-Pacific security alliance with Britain and Australia that would allow for greater sharing of defence capabilities — including helping equip Australia with nuclear-powered submarines.
In 2021, Alberta's United Conservative government made an abrupt about-face as the fourth wave of COVID-19 threatened the province's health-care system. Premier Jason Kenney offered a mea culpa, admitting that lifting almost all public health restrictions more than two months ago was the wrong call.
In 2021, SpaceX's first private flight streaked into orbit with two contest winners, a health-care worker and their billionaire sponsor. It was the first time a spacecraft circled Earth with an all-amateur crew and no professional astronauts. SpaceX's recycled rocket soared from the same Kennedy Space Center pad in Florida that was used by the company's three previous astronaut flights for NASA.
—-