One analyst said he expects regular gasoline prices to hit $2.50 a liter this year.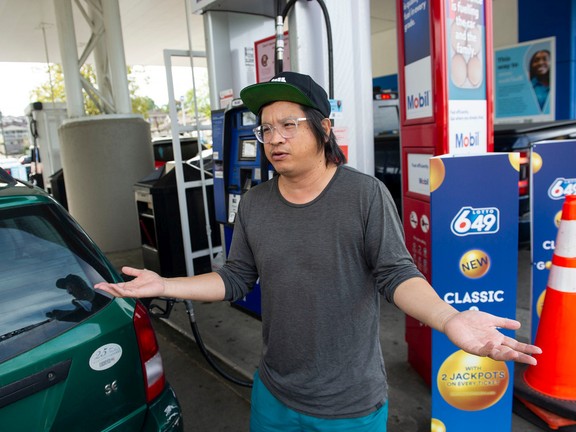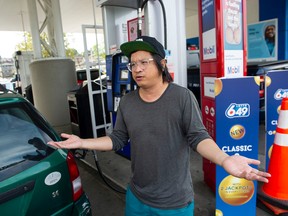 .
The pain at the pump — and at the grocery store, restaurant and seemingly everywhere else — is far from over, leading British Columbians to upend their routines and scramble to find creative ways to cut costs. .
.
One analyst said he expects regular gasoline prices to hit $2.50 a liter this year.
.
"It all depends on what happens south of the border," said Dan McTeague, president of Canadians for Affordable Energy. He said refineries in the Pacific Northwest are "operating at 10-year lows."
Fuel prices affect everything from delivery costs to food prices, far more than just driving up the cost of what you pay at the pump.
Hoa Chung, who runs the Happy Thyme Coffee at Musqueam Golf Course, she said she cut back on deliveries and started picking up food for the restaurant herself.
"I have a little time to shop around," Chung said, loading groceries into his car outside the superstore on Grandview Highway. "Save a little money, but you have to spend time."
.
So far, he has managed to avoid passing costs on to customers, as he worries about losing business. But the jump in food prices has made it difficult.
Chung said what he pays for cooking oil has more than doubled, from around $25 for 16 liters before the pandemic to $52 now.
"It's very difficult for a small business like me," Chung said.
At the gas bar outside the nearby Superstore, Gip Mar said he and his wife were exploring ways to lower their fuel costs. He was trying to walk more and his wife recently bought an electric bike.
"I like to think about how I can adjust my lifestyle in a way that is really healthy for you," she said. "I have learned to drive less."
He recognized that not everyone can change their lifestyle so easily.
"There are people who have families," he said, "or their budgets are already stretched."
.
The rising cost of living is one of the top three reasons new customers sign up with the food bank, according to Cynthia Boulter, chief operating officer of the Greater Vancouver Food Bank.
"It could be, 'I can't keep up with rising inflation. I can't keep up with the price of gas,'" she said.
Boulter said the food bank has been signing on 1,000 new customers each month. It has affected all kinds of people, from families to seniors and more.
Before the pandemic, Boulter said the food bank served about 1,500 seniors a month.
"We're looking at 2,500 to 3,000 a month now," he said.
On top of that, Boulter said the food bank's operating costs have also increased.
"We have a fleet of refrigerated trucks and all of our suppliers send us notices" that prices are going up, he said, adding that costs have gone up "quite noticeably."
.
Boulter said that cash donations are the most effective way to support the food bank.
"Our purchasing power averages two to one," he said. "We buy it locally and we buy a lot."
The recent crisis has also spread to the digital world.
Subscriptions to TooGoodToGo, an app that combats food waste, have grown steadily since the app launched in Vancouver in 2021.
"When we launched there was a lot of interest from environmental and sustainability groups and people motivated by the issue of food waste and loss," said Sarah Soteroff, public relations manager for TooGoodToGo. "Now we're hearing a lot more about people looking to lower food bills."
She said that because the app launched mid-pandemic in Vancouver, its data shouldn't suggest trends related to inflation. However, data from Europe, where the app has been running since 2016, clearly indicates there was "a huge increase in downloads and active paying users in the last two years," he said, which coincided with inflation. post-pandemic.
.
Fewer Canadians are confident they are making financial progress this year compared to last year, according to a recent BMO survey. The drop in confidence is particularly pronounced in Vancouver, where confidence fell 10 points to just 14 percent.
For comparison, in Toronto, confidence fell five points over the same period. In Montreal, it was unchanged, with 43 percent of respondents confident in their financial situation this year.
Mar pointed out that this was not the first time that Metro residents had to change their habits due to forces beyond their control.
"Remember when the buses were on strike? Everyone learned to adapt," Mar said. "I'm in that kind of mindset, trying to adapt to the situation."
Gas prices in Metro Vancouver on the rise again, expected to continue rising

Gas trip calculator: How much do you spend every day on fuel?
[email protected]
twitter.com/njgriffiths
---
More news, less ads, faster loading time: Get unlimited ad-lite access to The Vancouver Sun, The Province, National Post and 13 other Canadian news sites for just $14/month or $140/year. Subscribe now through The Vancouver Sun or The province.